Upcoming
Past
More events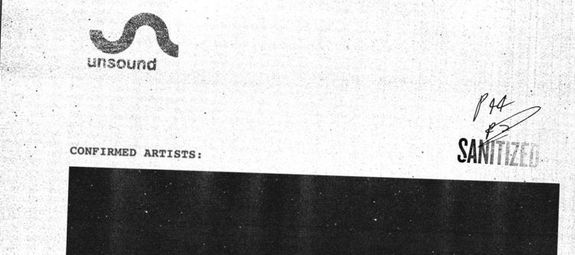 SHAPE ARTISTS PRESENTED (announced as of end of August 2015):
LOW JACK
Unsound Krakow 2015 will take place this year between 11 – 18 October, and as always will take place in a number of venues – most of them unique adapted spaces – across the city.
Mirroring the theme of this year's festival, the line-up hasn't been announced yet.
The aim is to play with perceptions: pre-show perception, performance perception and post-show perception. Do we listen differently, when we do not know and/or cannot see who is performing? How do our expectations affect the value we place on music?
This year's program will also have a focus on collaborations; in a world premiere, electronic musician SHACKLETON joins guitarist Masako Takada and drummer Sayaka Himeno of Japanese band NISENNENMONDAI; SURGEON performs with LADY STARLIGHT, the Lady Gaga collaborator who is indebted to Birmingham's techno scene; as well as CHARLES COHEN performing with RABIH BEAINI. There's also ROMANS, the collaboration between TIN MAN and GUNNAR HASLAM, who met in The Bunker during Unsound New York 2011. RIMBAUD finds Polish legends Tomasz Budzyński, Mikołaj Trzaska and Michał Jacaszek creating a brutal hybrid of jazz and noise.
Commissioned projects include a collaboration between electronic musicians RABIT & KUEDO, with WERKFLOW providing visuals, while another collaborative commissioned performance on Thursday night at Forum will be kept secret.
The week also features shows where one side of the collaboration is unknown, including those with jazz stalwart ROB MAZUREK, French shaman GHEDALIA TAZARTES and the brilliant DJ HELENA HAUFF. Each will collaborate with an artist or artists whose identity remains a mystery until the show. Acclaimed drummer GREG FOX participates in a "GREGIDENCY", where he'll be joined by musicians which neither he nor the audience will know about in advance.
The opening concert at Unsound this year presents work by recently "rediscovered" minimalist composers JULIUS EASTMAN and TOMASZ SIKORSKI, presented together with Poland's BÔŁT RECORDS. Other artists in the first part of the week work on the outskirts of jazz – MATANA ROBERTS with the third chapter of her "Coin Coin" project, and Japanese duo SAX RUINS featuring drummer Tatsuya Yoshida and saxophone player Ryoko Ono.
The ever-changing lineup of CURRENT 93 will also bring surprises to St. Catherine's Church, with David Tibet's band being joined by Jack Barnett of THESE NEW PURITANS and Bobbie Watson and Jon Seagrott of COMUS.
Other church shows this year include special secret morning perfomances in another new venue, the 16th-century St. Peter & Paul Church. If that's not enough to calm minds after evening performances, new-age legend LARAAJI will also run special yoga and meditation sessions.
Additional world premieres include the first-ever live shows from the new face of footwork JLIN (also her first European appearance) with visual artist Florence To, and VISIONIST, who will perform with video artist Kevin Bray. UNTOLD will present a fresh audio-visual show with Emmanuel Biard, who last appeared at Unsound 2014 with Evian Christ.
A special concert will be played by HEALTH, touring in support of their recent "Death Magic" album – they'll present a more noise-based set, tapping into both their old and new sounds. The noise-rock spirit will be also be present in a show from BILL ORCUTT of HARRY PUSSY fame, now a solo artist strictly on acoustic guitar. Also fitting the Surprise theme is controversial American black-metal group LITURGY, who play on a bill with NINE INCH NAILS keyboardist ALESSANDRO CORTINI.
Praised for a futuristic sound exploring themes of egalitarianism, capitalism and privilege, HOLLY HERNDON will present "Platform" with special guest Colin Self, one of the album's collaborators. Herndon is not the only politically-minded and outspoken artist at Unsound 2015; ELYSIA CRAMPTON, a self-proclaimed "trans-evangelist" will present both music and her own writing, and artists from NON Records – ANGEL-HO and NKISI – will subvert societal binaries through their use of sound.
This year's lineup at Hotel Forum also aims to present a wider range of club music with a geographically and stylistically varied group of performers. Key appearances from ANDY STOTT, techno duo ZENKER BROTHERS and deep-house hero LEVON VINCENT will be joined by up-and-coming producers such as AURORA HALAL, GALCHER LUSTWERK and LOW JACK – but there's also the Principe Discos contingent with the Africa-through-Portugal rough percussive sounds of DJ FIRMEZA and NIDIA MINAJ; UNIIQU3 will bring the sound of New Jersey; Footwork originator RP BOO returns to Unsound after the release of his acclaimed new album; NINA showcases the way of Hamburg's Golden Pudel; Endless crew's LEXXI and ENDGAME represent the new London club scene; and special extended sets come by way of Poland's JACEK SIENKIEWICZ, Japan's DJ NOBU, Detroit's DJ BONE and Glasgow's OPTIMO.
Room 3 on Saturday will be curated by BRUTAŻ, the Warsaw-based transgressive club night that is shaping Poland's underground through thoughtfully curated parties and strong politics behind their grassroots ideals. Brutaż Pain Box will feature a host of surprise guests, as well as a gay poetry recital and a speed-dating session.
Mid-week at Kraków's club Szpitalna 1, Detroit DJ/producer/label owner/distributor FIT SIEGEL will have the room almost all to himself. Then there's THE BLACK MADONNA, the new face of Chicago undergound music, fighting for inclusiveness in dance music. She will be the only pre-announced artist at the free closing party.