Posted on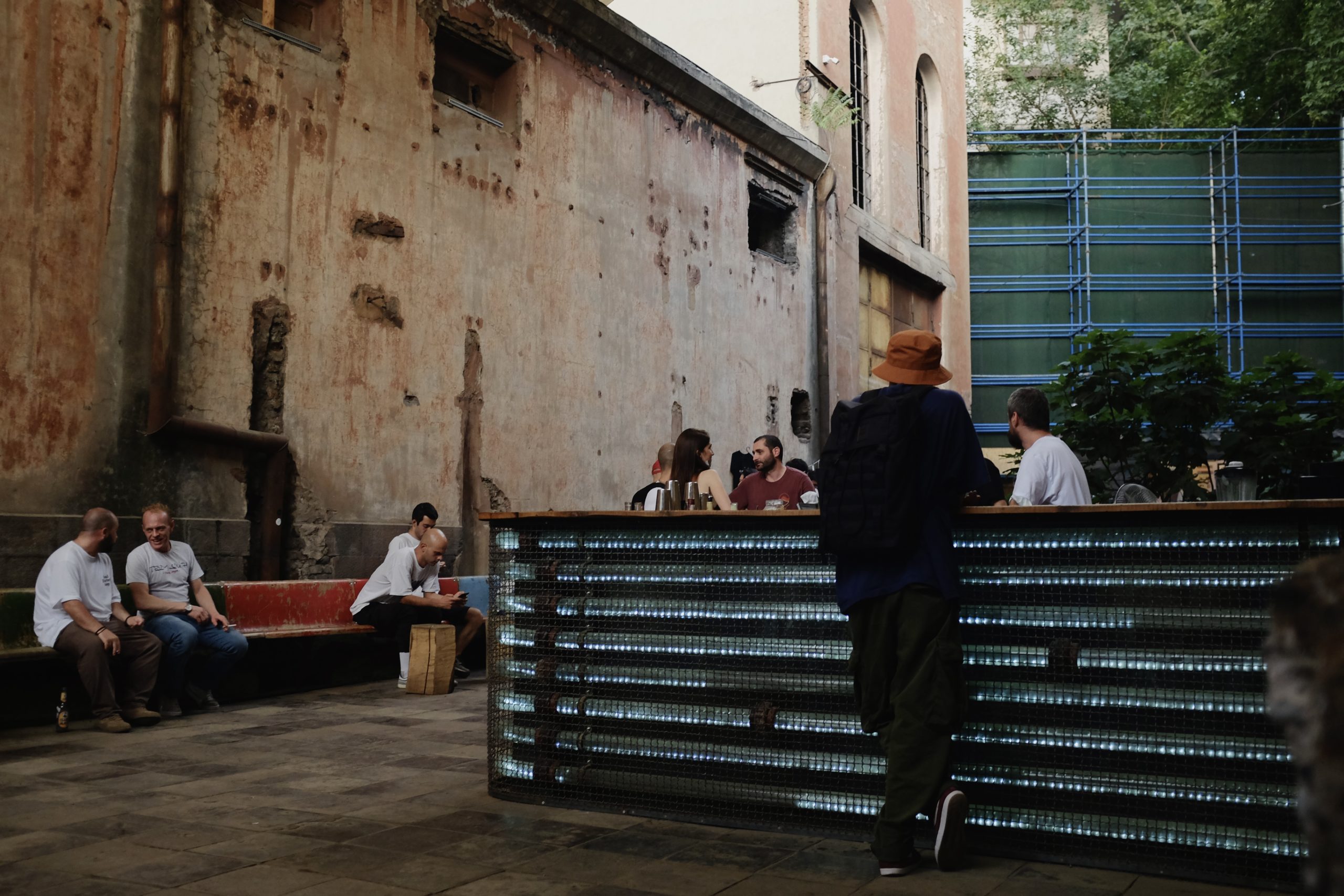 SHAPE+ platform for innovative music and audiovisual art, co-funded by the European Union, announces the second and final wave of acts of the collaborative showcase with Tbilisi's Mutant Radio. The two-day event will happen over two nights – June 23-24 – at Mutant Radio's outdoor space and will gather more than 12 SHAPE+ artists alongside Georgian acts selected by the radio station.
Second wave of SHAPE+ artists at Mutant Radio showcase
UPDATE: Due to health reasons, Hui Ye and NZIRIA will not be performing at this event.
m.a.t.a.d.a.t.a. is the latest dance/not dance solo moniker by electroacoustic musician, film and theater composer Toms Auniņš from Riga, Latvia. It came to life as a film score for Matīss Kaža feature film Neon Spring, a film for which Toms Auniņš attempted to create a full and total Riga underground techno and rave scene sound score with the help of local (Latvian-built) Erica Synths Techno System. Individually m.a.t.a.d.a.t.a. also serves as an instrument to sail the long presence in extreme music into a new, unknown sonic territory.
For the musician himself m.a.t.a.d.a.t.a. is a transfer to origins of consciousness, and ultimately a vessel for change.
NZIRIA is an experimental project by artist Tullia Benedicta, the project integrates the main forms and themes of the Neomelodic song, while regenerating the cis-heteronormative scenario. Through a powerful and androgynous singing, they reinterpret the
stereotyped, almost archetypal stories of the Neomelodic genre, welcoming narratives of the LGBTQI+ community and singing of queer love and mercurial identities.
NZIRIA debuted on Gabber Eleganza's imprint Never Sleep with a full-length titled XXYBRID. Recorded during a period of worldwide lockdown, the album represents the artist's psychomagic act to redeem their Neapolitan origins and to reinterpret some of the topoi of the Neapolitan culture.
Felisha Ledesma is a sound artist and musician living and working in Berlin. Over the past decade, Ledesma has run project spaces, overseen festival curation and events programming, helped establish community programs around modular synthesis education, and performed live. More recently, Ledesma's focus has widened to releasing solo compositions – two debut releases titled 'Fringe' and 'Sweet Hour' released on Ecstatic Recordings and Enmossed x Psychic Liberation, respectively.
On both releases, Ledesma draws extensively on a custom-made synthesizer called AMQR developed together with instrument designer Ess Mattisson, a collaboration that has since flowered into Fors, a music technology project focused on creating software instruments and effects. Exploring an emergent lowercase sound, Felisha Ledesma's music shimmers with elusive timbres that occupy a unique space – neither electronic nor acoustic, but more a sort of observational sound that radiates tenderness and warmth.
Qow, aka Omar El Sadek is an audiovisual artist specialising in electronic sound design and animated visuals. His works focus mainly on documenting the fragile nature of his surroundings, including himself. He takes a similar visual approach, investing in poetic imperfections and unexpected intimacies. This principal appears mostly through his collaborations with artists such as MSYLMA & Ismael, ZULI, Drew Mcdowall and KNOW V.A. His works have been previously exhibited at audiovisual festivals such as Unsound Festival 2019, Lunchmeat Festival 2020 and Rewire Festival 2022.
Hui Ye (b. in Guangzhou, China) is an artist and composer based in Vienna. Her works use various media (semi documentary, video, sound installations, and live sound performance) to address questions relating to individual social identity and its entanglements with different cultural and political contexts. In her recent projects, the artist focuses on sociopolitical aspects of the act of listening in contemplation of exploring diverse correlations between sound and the different social phenomenon in contemporary societies.
Jaka Berger is one of the most active, creative and diverse drummers, percussionists, composers and improvisers on the Slovenian music landscape in the last fifteen years. Since 2014, he has been creating music for a prepared drum kit, with which he regularly releases solo works that are regularly published in international publications for improvised music. He is also active in the field of ambient music, experimental hip hop (DUF), and dub (Darla Smoking), experimental composition (Cornelius Cardew's Treatise), noise, contemporary jazz and improvised music (Fresh Dust Trio, Shoe & Shoelace, Niemoy, …), installations (Party) and electroacoustic music. In recent years, he has been intensively involved in the field of modular sound synthesis, establishing and expanding new sound fields in his work.
ABADIR (Rami Abadir) is a music producer and sound designer born in Cairo, Egypt. His work focuses on experimental, club, glitch and ambient music, and he's one half of the duo 0N4B. ABADIR holds an MA in Digital Media Design from University of the Arts, Bremen.
Mutant Radio has also added the following names to the Georgian line-up of the event: Levan Luka Nakashidze, Zesknel, JD J, TINA & TEDI.
Program overview
Summarizing both artist announcements,, here is the program overview:
Friday, June 23
Levan Luka Nakashidze (DJ SET), ESI , Nziria*, m.a.t.a.d.a.t.a.*, Hui Ye*, The Stanley Maneuver*, Ale Hop*, Thea Soti*, ABADIR*, BMI (DJ SET), Nino Davadze
Saturday, June 24
JD J (DJ SET), TeTe Noise, TINA & TEDI, Zesknel, Roxane Métayer*, Maria Bertel*, Jaka Berger*, Qow*, Felisha Ledesma*, undo despot*
*Artists of the SHAPE+ platform.