Posted on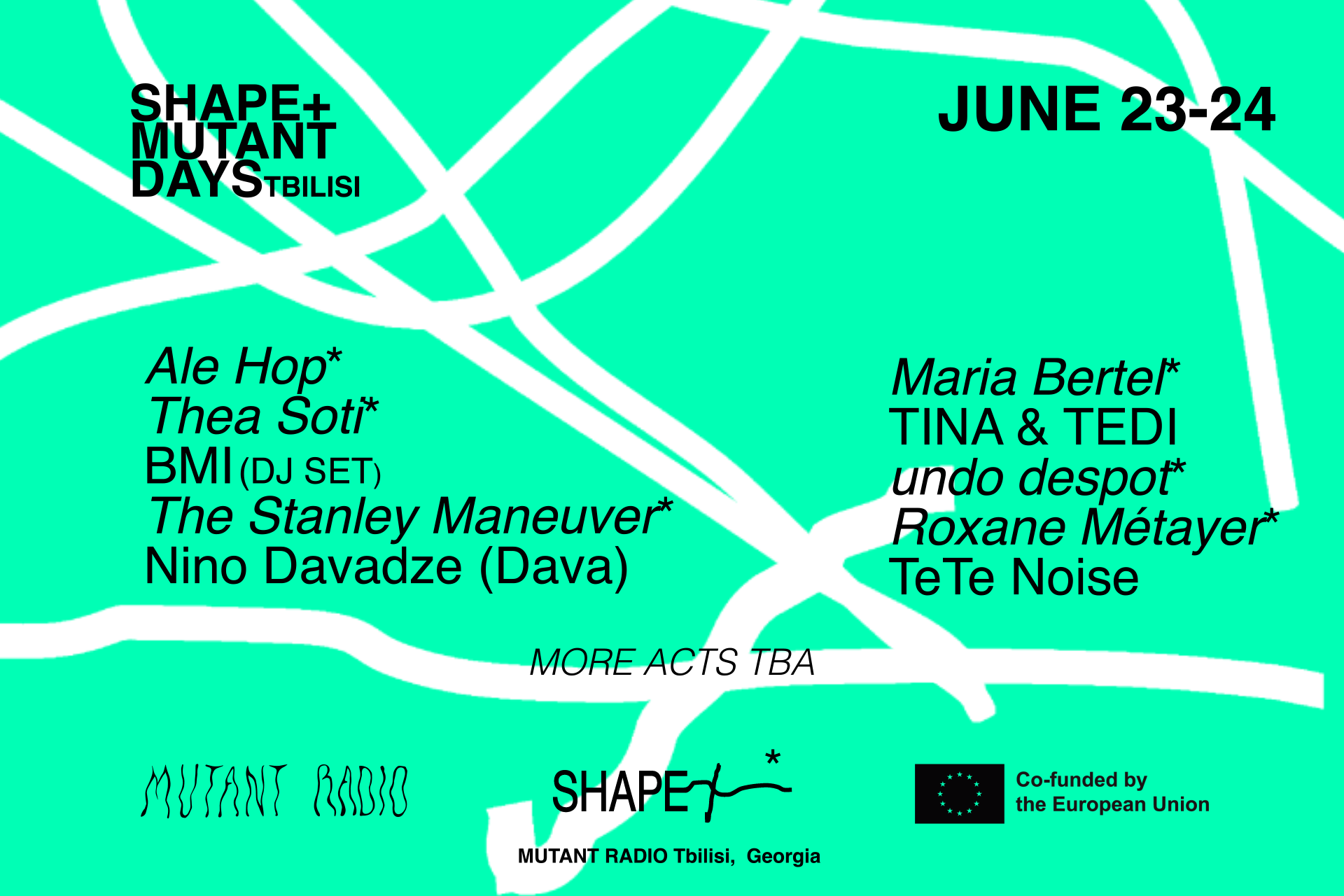 SHAPE+ platform for innovative music and audiovisual art, co-funded by the European Union, announces the first acts of the collaborative showcase with Tbilisi's Mutant Radio and two new partner organizations, starting with its next working period. The two-day event will happen over two nights – June 23-24 – at Mutant Radio's outdoor space and will gather more than 12 artists. The new partner organizations will permanently join SHAPE+ after July 15, 2023.
First wave of SHAPE+ artists at Mutant Radio showcase
Alejandra Cárdenas Pacheco (also known as Ale Hop) is a Peruvian-born artist, researcher, and experimental musician based in Berlin. Her body of work includes live shows, record releases, sound and video artworks, research on sound and technology, and original music for film, dance and theater projects.
Thea Soti is a multi-disciplinary artist, working within the fields of experimental vocal music, electronic sound, installation, text-based media and video art. She uses digitally manipulated sound, human voice and poetry in various formats, continuously manipulating and processing her own voice. Her pieces often go over the auditive experience and bravely explore space and movement, thus creating dynamic spaces. She often reflects on current socio-political issues, such as modern escapism, non-binary identities, beauty myths or collective fear.
The Stanley Maneuver is the solo project of András Molnár, a musician, dj and organizer based in Budapest. His practice focuses on weaving a web of fragile environments that have their own histories, desires, faults and secrets. Building upon improvisational and generative techniques he constantly repurposes his materials to explore territories in and around experimental music and intimacy.
Maria Bertel is a Danish trombone player, improviser and composer. The acoustic sound of her instrument amplified creates an output that draws inspiration from drone and noise music. What is normally not hearable is presenting itself, movements, metal and breath becomes a swirling part of her compositions. Changing organic patterns are emerging, tiny sounds becomes brutally clear as well as the range of overtones of the instrument.
Roxane Métayer was born in France in 1992. She learned to play the violin at a young age, and then continued her studies in Belgium, at the Ecole de Recherches Graphiques, where she obtained her Master's degree, in Speculative Narration, Narratives and Experiments.
She continues her practice as a visual artist and musician, based in Brussels. She has released several albums with the labels Primordial Void, Kraak, Morc, Wabisabi tapes and Vlek with the duo Sage Alyte.
undo despot is an experimental audio-visual artist from Odesa, Ukraine. Her musical practice is focused on combining deconstructed visual and music influences, coupled with academic techniques. At the same time she's most known as a live artist, who combines various genre influences.
The event will also present a string of Georgian acts: BMI, Nino Davadze, TINA & TEDI, TeTe Noise.
Stay tuned for the full lineup announcement!
New partner organizations
After the showcase in July, Tbilisi's Mutant Radio will become a permanent partner of SHAPE+.
Mutant Radio is a media platform that focuses on various directions: mixes, interviews, educational shows, live performances and discusssion broadcasts that are either live-streamed or filmed and streamed later on. It gathers various artists, DJs, and interesting personalities that have an opportunity to focus on the subject of their preference and their interest. What is unique about Mutant Radio is that it is mobile.
The physical station is a fully-equipped caravan-wagon that is based in Tbilisi yet also streams from other regions and special locations around Georgia. Apart from the live streams, Mutant Radio also has an open-air cafe, where like-minded people have an opportunity to enjoy quality music and a friendly vibe.
The second new partner is Portugal's OUT.RA, responsible for organizing OUT.FEST. Started in 2004, and continuously held in Barreiro, Portugal, OUT.FEST is an annual festival celebrating adventurous and experimental music in all its diversity (improvised music, electronics, jazz, contemporary classical music, metal, new idioms), gathering and mapping, in its programme, music vanguard's history, present and future.
Both organizations will start their work within SHAPE+ after July 15, 2023.