Posted on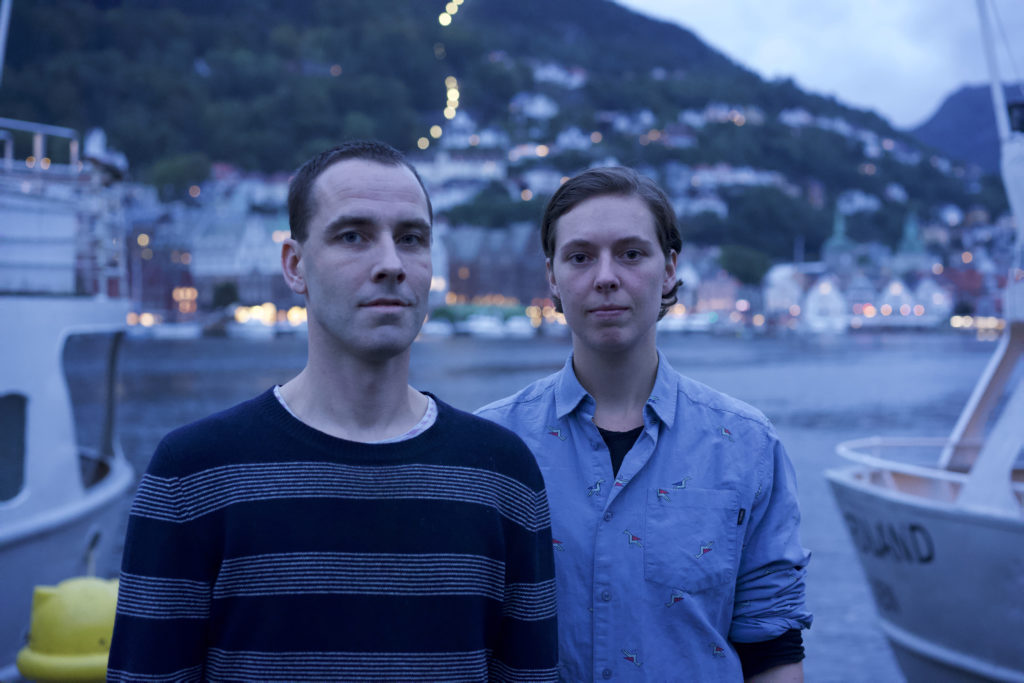 The duo Jiska Huizing (NL/NO) and Rudi Valdersnes (NO) make club music for the edges of the dance floor. They mix interesting rhythms made by Valdernes's home-made wooden percussion instruments and drum machines, with curious, alluring sounds created from Huizing's field recordings or her electric violin and voice. Together with Julie Silset, Huizing and Valdersnes also run the Ideophone Records label.
How and where are you? Could you send an image of where you are at the moment?
We are doing well, thanks! We are in a busy working period, juggling several creative projects with side jobs, finding some free time and still having enough hours to sleep. After this long quiet period with several lockdowns and many restrictions here in Norway, a lot has opened up again, and it seems everything is happening at double speed to catch up. So, while we enjoy being able to work and meet in these ways again, it's also important to remind oneself to take enough time to rest.
We live in two different cities in Norway, Rudi in Bergen on the west coast and Jiska in Oslo, on the southeast side. In July, we were able to meet and work together again for the first time since a year ago! But now we are on different sides of the country again.
– Picture Jiska: The view I have from my studio at home in Oslo.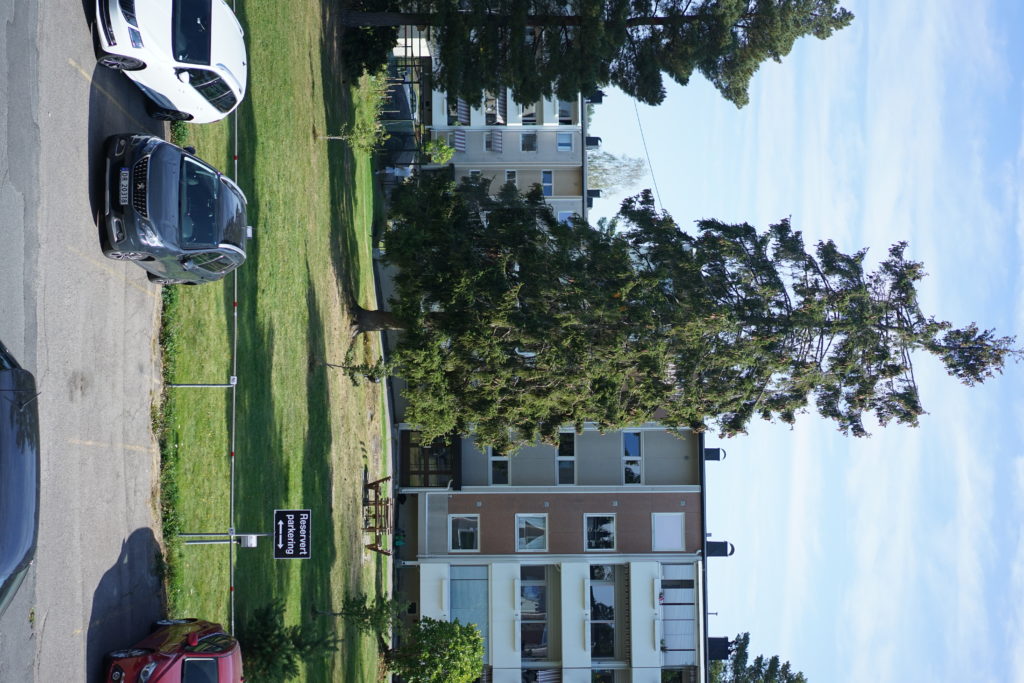 – Picture Rudi: The view from my workspace at home in Bergen.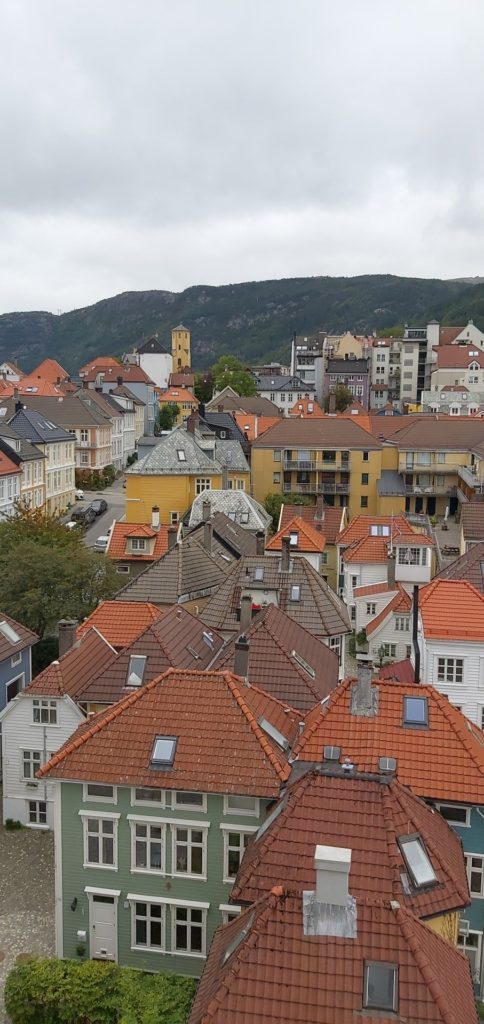 Can you send a link to the last piece of sound you heard?
– Jiska: Track: Untitled 1, The album: 咾咕厝 ló​-​kó͘​-​chhù ('Coral House') – Penghu Experimental Sound Studio Vol​.​2 by Yannick Dauby, released on Discrepant (2017)
– Rudi: Track: Angel's flight, The album: Angel's flight, by Biosphere (originally composed for the Ingun Bjørnsgaard projekt), released on AD (2021)
You make "club music for the edges". How would you describe these edges?
These edges are of course always moving and changing, but we see them as an area where an exchange can happen between the dance floor and the world outside of it. Both in relation to different 'non-dance floor genres' blending in and between who gets space on the dance floor (and the stage) and who stands on its edges.
We are not interested in making straight four on the floor techno, we want our music to make weird turns and be more like spaces and places you can inhabit for a while. To not create a zoning out-experience on the dancefloor but more of an attentive listening situation where you can choose to be on the dancefloor or stand on its edges.
The question of who gets space on the dance floor and stage and who doesn't or is on its edges, is one that we work with at Ideophone Records, the record label that we run together with Julie Silset.
Can you talk about your musical collaboration – how do you make music together in practice?
When we meet to work on new stuff together, we often take with us specific instruments, field recordings and/or ideas about what we want to work on. For example, a specific kind of rhythm or tempo we want to explore, a newly made driftwood percussion instrument, or what kind of space/place we want to create within a track. But then when we start playing, we let the improvisation guide us.
We are very interested in the type of place or landscape that is created within a track, and the field recordings Jiska makes are an important starting point for this and for building the place's structure. All the other sounds then start to find its place in this landscape.
We tend to work in concentrated, intense bulks of time. We meet for a week or two to work together, after which we go back to work on our own, separate projects while fine tuning parts of our collaboration separately, and then we meet again for the next round.

You have a label called Ideophone Records, focused on "on the adventurous dancefloor". Can you describe your dramaturgy and focus?
We started Ideophone Records in 2018, together with Julie Silset based on our common interest in experimental club music and a wish to contribute to a more diverse environment in both musical expressions, productions and events.
We have a focus on electronic and electro-acoustic music that is grounded in the organic. Genres of interest include leftfield techno, experimental electronic, ambient, field recording-based music and sound art, but we always keep a certain openness that allows future collaborations and musical expressions to move freely instead of being limited by specific genres. We want to challenge what you dance to on the dance floor. Ideophone Records explores the countless inspirational possibilities of experimental club music, and our aim is to release music that, in addition to being listened to, can also be used as a tool by other DJ's.
We are intent on focusing more on diversifying the label and the club scene, by making conscious choices of who we collaborate with, not only for the production of the music itself, but also in all the other parts of releasing a record – its production and promotion, events, etc.

Do you find it difficult to combine your role as a music producer with that of a music curator (label owner)? What are some of the challenges you encounter?
It is mostly very inspiring to be both, to get input and become inspired in different ways. But, of course, these roles are also quite different from each other. One of the challenges is the balance between them, especially in terms of time.
Next to running Ideophone Records, Rudi is a musician, DJ and producer and Jiska is an artist, musician and DJ. Often, we work on several projects within these creative practices that are our main occupations, but when you run a label and work on a release, that music and its production deserve and need your full attention to be put out into the world with care. So, it's about shifting between priorities and ensuring we bring this care to all parts of our professional lives.
Also, we did not have experience with running a label from before, so of course we had a steep learning curve starting up and we still learn and grow while working with Ideophone Records all the time. But that is also the beauty of it, to be able to learn while doing and being involved in the production of very interesting projects.
Interview: Lucia Udvardyova