Posted on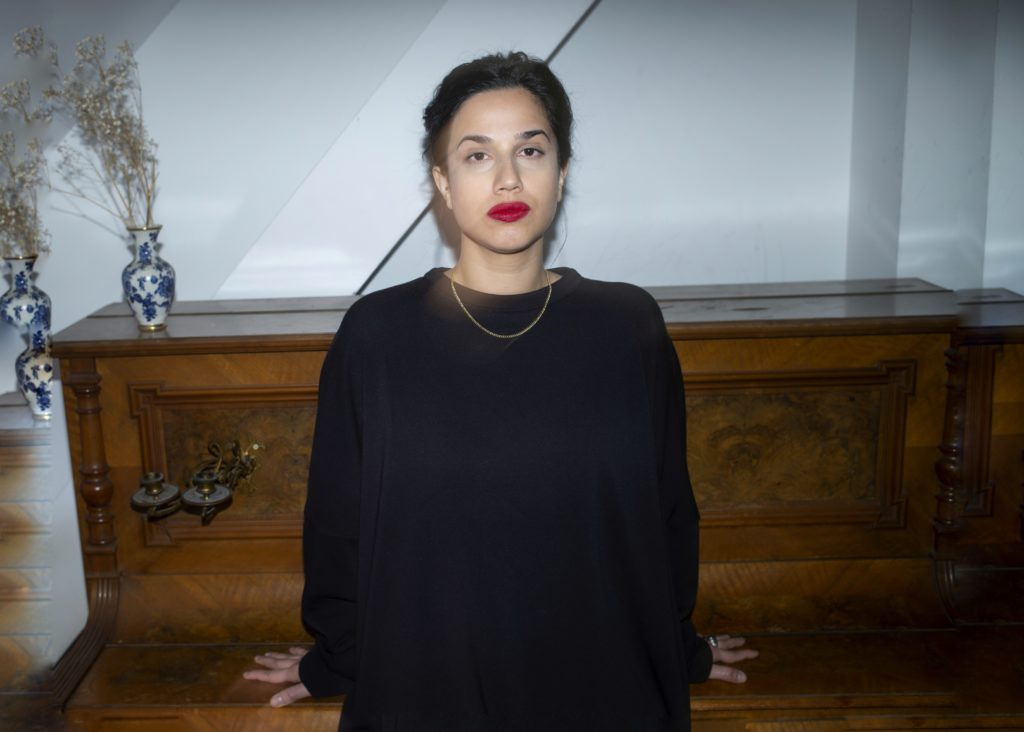 Born and raised in Istanbul, Berlin-based electronic music composer and sound artist Hüma Utku explores the possibilities of how sound textures and rhythm can be used to evoke a sense of the ancient within electronic music. With an overall disregard for musical genre divisions, she fuses field recordings, acoustic instruments, and atmospheric ambience into harmonious noise and harsh ritualistic rhythms as a means to utilising sound and music as tools for storytelling. Combining her practice of music with her studies in psychology, Utku's works draw inspiration from the human condition, Jungian psychology, mysticism and folklore. Her debut album ​GNOSIS ​(DL/LP) was released in July 2019 via Karlrecords.
How have you been in the last year? How do you feel about the return of nightlife and cultural events in general?
Honestly, I'm an introvert who has taught herself to be sociable when needed. So I'm OK with spending extended periods of time with social restrictions. Also, Berlin as a city teaches one about individual time and social time, like, we're all alone, but together. That aside, I was extremely lucky to be able to complete my residency at Elektronmusikstudion (which was delayed from May 2020 to October 2020) in a short window of time when the studio was open last year. I recorded a lot there, so when I came back to Berlin just in time for a long lockdown, I had a lot of material to work with and build on. So, I spent the following eight months composing and recording, completely undisturbed.
Obviously, this whole period has been a rough time for the collective so I tried to keep myself centred and support my people & community throughout this. Still trying to do so. Now it feels motivating to see cultural events slowly coming back. It was extremely distressing to watch culture workers and nightlife being shut down. I fully believe that arts and culture are the arteries of society, this is what makes us human.
In your work, you explore a certain sense of the ancient, the primordial. Can you talk about the concept of the ancient in your music? Do you have a specific image of an era or history in mind?
I don't necessarily refer to a linear sense of time. It's more about what is primitive, instinctive in us. Culturally ancient, but not necessarily traditional. It transcends words and trends. It is cyclical; a place we visit every time, but in a different state each time.
Is the concept of the uncanny something you feel close to in terms of creative work?
I don't necessarily intend to sound that way, but I always find myself investigating dualities in sound and concept – so I guess that might feel a bit uncanny.
You studied psychology. What concepts and ideas from this field can be applied in music? (Is psychoacoustics something you're into?)
Music and sound actually have a special place in the science of psychology. Aside from having its own centre in the brain, the auditory cortex, listening to music will fire up a whole neural network, while playing a musical instrument would be a strong exercise of the brain, given the simultaneous physical effort and auditory processing of it. If you add scale progressions and the emotional response they trigger in the person, this takes a whole other form. I am interested in all these things; however, I am nowhere near being a professional who has spent their lives researching this. Yet I am a conceptual artist and my concept is the core of my art. I draw a lot of inspiration and I give direct references to topics of studied psychology, especially through the lens of analytical psychology. Recently, Gestalt psychology and neuropsychology have also inspired my works.
What do you think about projects like Endel, which claim to create functional/utilitarian (for sleep, for relaxing) soundscapes based on neuroscience?
I actually recently found myself on a website where I could very easily set up ambient sound and music, even mix it to my taste. I thought it was genius, I listened to a Gregorian chant in a church on that website (I wish I remembered the name). I think these are merely the followers of how ancient spiritual systems have used sound, without necessarily knowing the complete science behind it. It also makes you think how weak the human will is when triggered by sound. We physically react to it, beyond our control.
Your debut album Gnosis was recorded across Greece, Egypt and Turkey, and explores various forms of human experience across time and space. What does this album mean to you and how did you source and implement its various elements?
Recording Gnosis was a complete adventure on many levels. I did field recordings during 2017 and 2018 in Cairo, Luxor, Crete and Istanbul. These years were also personally intense for me, so when I started processing them and composing around them in the summer of 2018, the stories pretty much started unravelling themselves. Higher knowledge of the universe and the truth are the main inspirations behind that album. I'm already a very spiritual person, with the mindset of an explorer, and some revelations I experienced during that time resulted in Gnosis. The story wanted to tell itself and I just put it into chapters.
How does it differ from your previous release, Şeb-i Yelda?
Şeb-i Yelda is a work that was based on political unrest. It has a darker tone to it, although I chose to narrate it into hope. Also, feeling-wise, Şeb-i Yelda is rather raw and unfiltered. Gnosis, I think, is a bit lighter in colour and has a different sonic tone to it. I also had a bit more confidence when I was producing Gnosis, as Şeb-i Yelda's release had done so well, so I dared to push myself further.
Soon, it will be the third anniversary of your EP Şeb-i Yelda, which was inspired by the verses of the Ottoman era Bosnian poet Sabit Efendi, and which fuses traditional instruments with electronic sounds to express feelings of anger and grief, but also empowerment and anger. Can you talk about this record?
I drew my first inspiration for Şeb-i Yelda in December of 2016, I think. I saw the verses of Sabit Efendi, where he was referring to Şeb-i Yelda (meaning the longest night in Farsi), not as an astronomical event but as it being the dark night of the soul, saying that Şeb-i Yelda cannot be understood by scholars of time and space, but by a soul that is troubled. This struck a chord with me. From that point on, I drew a parallel between my personal experiences and the experience of a whole geography, that is the middle east. How this was our long, long night of dealing with political turmoil. This is why I ended the EP with the concept of the coming day ('Sabah') and being a servant of light ('Kul'). Call it wishful thinking.
Interview by Lucia Udvardyova