Posted on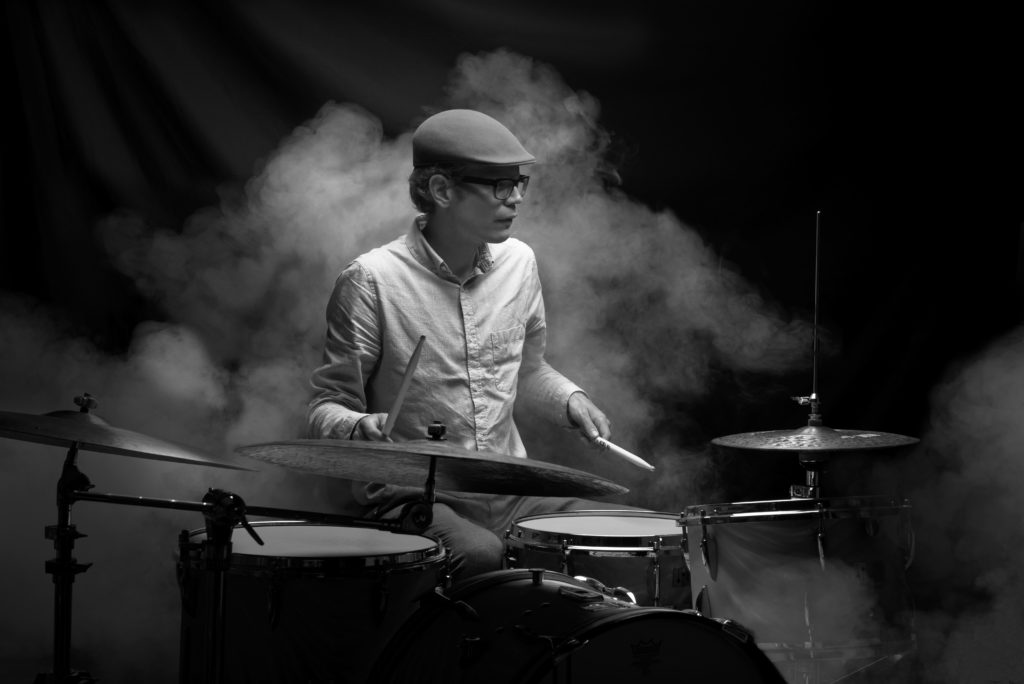 Richard Eigner is an Austrian electronic musician & drummer based in Vienna and Linz. With his main musical project Ritornell, he has released three albums on the Karaoke Kalk label. His studio drumming has been featured on productions by the likes of Flying Lotus, Dorian Concept, Dimlite, Flako, Patrick Wolf and Patrick Pulsinger, amongst others. Richard's doctorate work dealing with the artistic research of the conceptual topic »The Denoising of Noise« has been presented in Hanoi, New York, Québec, Beirut, Madrid, Bangor, Florence, The Hague and Düsseldorf. He will present this work at the upcoming Musikprotokoll festival in Austria. 
How and where are you at the moment? How have the last few months been for you?
At the moment I am spending my last hours at Villa Rabl, located right in the centre of Bad Hall, a health resort in Upper Austria. I was lucky enough to be selected for an artist residency at this place. On Friday, I played a concert in the local museum's attic, which features a collection of ancient doors from this area. Great acoustics! I spent the last months trying to continue my activities as much as possible, I even managed to open a physical exhibition with my students in a botanical garden in Vienna!
In October, you are presenting a piece called Denoising, which draws upon your doctoral work on 'The Denoising of Noise', at this year's musikprotokoll festival. Can you explain the concept?
For my Denoising project I am 'misusing' denoising techniques as an aesthetic research tool. Instead of utilising noise-reduction algorithms for their intended purpose (the restoration of damaged audio signals), these processes are applied to either so-called noise music or various field recordings of trains, streets, indoor swimming pools and public transport. Due to the fact that these recordings consist entirely of noises, this operation transforms the originals into an uncanny hybrid of newly introduced processing artefacts, occasional silence and sporadically audible traces of the original field recordings.
Apart from noise music itself, you have 'denoised' streets with heavy traffic and indoor swimming pools. What is the role of noise in our societies, and why have you decided to eliminate it?
To attempt to answer your questions, it is crucial to define the term noise. There is a saying: "One man's noise is another man's music". The role of noise is thus a very subjective one. What is for me disturbing and unwanted sound can be a source of great joy for another being.

To clarify the idea of my project: I did in no way 'decide to eliminate' noise; I was driven by my curiosity about the possible outcome that can emerge when pushing denoising algorithms to their outermost extreme. The results I was confronted with were in some cases really amusing.
You have also worked in theatre and academic contexts. Can you talk about the various avenues for your sonic work?
Well, a year ago I was asked if I wanted to join the TransArts department of Vienna's University of Applied Arts, to provide a sound-focussed seminar. So, this is my academic context. I always try to work on a tangible project with the students. Last semester we worked on sound installations in the botanical garden of the University of Vienna, where the focus was on composing sound pieces focussing on interior plant processes. I always try to be as open as possible with different avenues for my work: I score short films, work on sound logos for companies, podcasts. Working on the music for theatre plays is always a great joy as it's such a different way of rehearsing, very intense, with many people involved, intensely working on achieving a great result.
What is the most interesting space where you've performed/recorded sound?
That's a tough one to answer as there have been so many great spaces, but one definite highlight was opening with Ritornell for The Cinematic Orchestra in the sold-out Burgtheater in Vienna.
For recording sound, I will always remember staying a week in a secluded alpine hut in the Gesäuse National Park in Styria. It was so far off grid that I had to walk for two hours to find the next human being.
Ritornell is another project of yours that sees a relatively different part of your musical spectrum in practice: drumming. One could say – at least superficially – that the sound art work is more clinical and analytical, while drumming is more physical, immediate, primal.
Ritornell is my main musical project, which exists in several line-ups of musicians; most of the pieces are either written by Roman Gerold or me and for the live presentation I am mainly seen on drums. Of course, playing an instrument is a completely different challenge than so-called sound art projects. Playing an instrument well means complete dedication and lifelong practice. It just never stops. Once you understand one aspect of the instrument, you need to move on to the next.

I would never call drumming primal, especially if you advance with the instrument a bit. Most people who approach a drumset for the first time and try to play a simple beat are amazed by how much coordination is necessary to even play the most basic backbeat. If you listen to genius Jazz players like Elvin Jones, you can witness polyrhythmic playing in its highest form.
It's interesting that, perhaps in contrast to many others, your Instagram account doesn't focus on self-promotion, but rather displays photos of food, landscapes, etc. Is this a conscious decision? (avoiding promotion of your work)
It seems that my asocial media accounts seem to be confusing for some folks, which amuses me. I use them to promote concerts and exhibitions whenever they happen, but since the last months were a bit extraordinary, I shifted my interest a bit to baking and cooking, for example, I spent some time trying to figure out how to make a perfect soufflé. So why not feature it on my Instagram? Check out my soufflé!
What are your current projects?
At the moment the preparations are starting for another project with students, which will be presented at the Sonic Territories festival in Vienna at the beginning of October. In addition to this, I am working with the Friendship agency on a podcast series for the region of Vorarlberg.
Interview: Lucia Udvardyova
Photo: Lorenz Bruckner