Posted on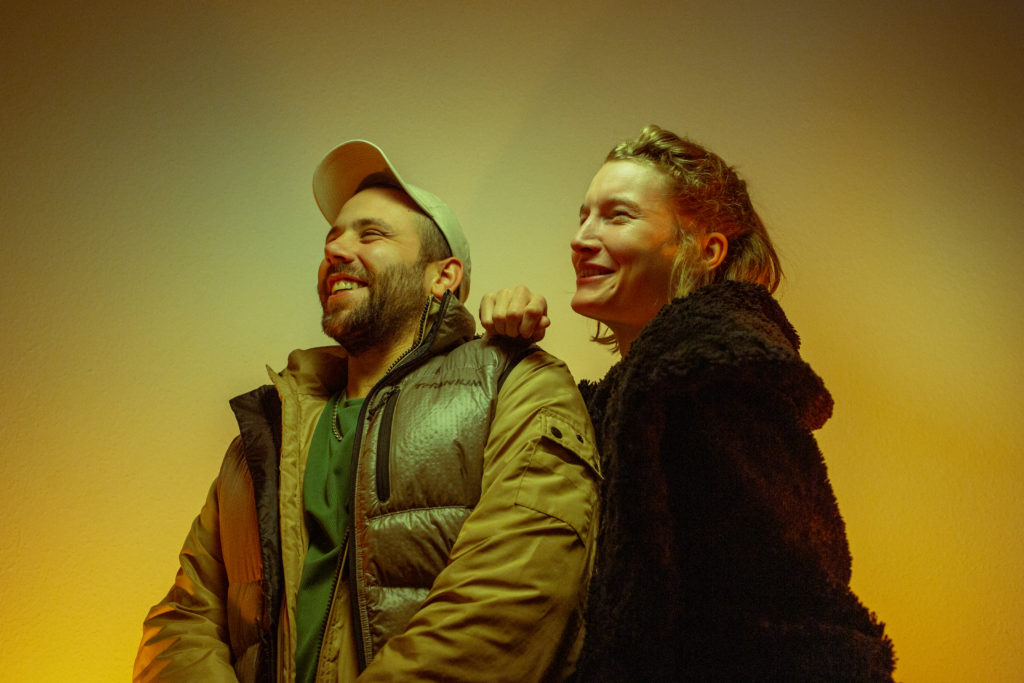 Ma'iwa is a collaboration of two Hungarian electronic musicians, MA'AM & AIWA. Their debut album, Goldfishing, is a stroll into the unknown. The result is a conceptual brainstorming by two experimenting minds in spoken word, dream noise, and various electronic genres – with a lot of synthesisers. MA'AM (Anna Makay) is a Budapest-based vocalist, electronic musician and improviser whose pieces focus on ancient languages in a digital environment. She concentrates on private spheres, sexuality, language reflexions and personal experience. She also runs the AZVLM collective and programme series. Lajos Nadhazi (AIWA) is also based in Budapest and creates performance-based, genre-bending electronic improvisations. His distinctive sound builds up hazy melodies and overdriven drum machines that loop into the abyss. A member of Hungary's own Farbwechsel Records, he's also released on SEAGRAVE, videogamemusic, Always Human Tapes and Banlieue Records.
Have you had any limitations because of the COVID pandemic? Were you able to work? Anna, you are also a music promoter.
Lajos: I had a bit of a break, because I work in clubs to a large extent. I was also searching for other jobs and during the lockdown, I was freelancing as a painter & decorator and audio engineer.
Anna: Like everywhere else, we were hit by all sorts of closures. In Hungary, the music industry was brought to a halt quite early on. We were supposed to have our III AZVLM festival in early April, a one-day multi-arts, large-scale event (which also functions as a creative collective), and we were forced to cancel it. I was working in a folk music company, and was quite lucky because I was able to get paid for home office work. To be honest, I got to like the fact that there were no live shows. In March I actually cancelled all my gigs until the summer. This break allowed me to rest a bit. I was making a lot of music, teaching and renovating my house.
Were you also collaborating with Lajos on Ma'iwa?
Anna: Yes, a bit. Lajos was sending me demos. We've put together new material, composed from live recordings from last year. I do miss playing gigs though.
Lajos: Our debut album, Goldfishing, was made through sending stuff back and forth, but in the future, we'd like to work on live material. Our strength lies in live playing.
What is your opinion on live streaming?
Anna: I did some, but didn't enjoy it so much. A lot of my friends have been doing it, but primarily those who have a large audience and fanbase. It was interesting, as an engaging sort of communication developed. But this also became boring after a while.
Lajos: I've also done a live stream; personally, I felt quite stupid without a public. It was like rehearsing alone without the adrenaline of a live show. It was an interesting experience, but I wouldn't like to switch to online performances only, though one perk was that I didn't have to drag half of my bedroom across the city/country.
You also have your solo projects (MA'AAM and AIWA). How did your collaboration come about?
Lajos: We were asked to improvise at the opening of a Budapest venue: Anna – Pándi Balázs on drums – EJtech Esteban visuals – me on the synths, and that's how we first met.
Anna: Afterwards, Krisztián Puskár (a music promoter and one of the curators of UH Fest) invited us to play at a local club, Auróra, with Budokan Boys. Then we released our album, Goldfishing, based on live recordings and hidden tracks.
Lyrics play a big part on the album. Could you talk about the texts, Anna?

Yes. For instance, "reggel" is the brainchild of one of my close literary friends, which he offered to us. In Hungarian, at first listen, it sounds as if it was about nitpicking, but it is really about cleansing, about cleaning your brain.
Lajos, how do you work with these lyrics? Which comes first: sound or text?
Lajos: Which comes first varies. The meaning of the lyrics doesn't influence my music production, it's more about how it sounds. In this way, an interesting contrast can develop between the mood of the music and the meaning of the lyrics. We don't really discuss in advance what sort of music we'd like to make; we express ourselves freely.
Anna, your texts are ancient languages in a digital environment. You concentrate on private spheres, sexuality, language reflexions and personal experience." Could you talk about this?

I don't believe in lyrics, but I can't abandon them totally as a singer. I have developed my own language system. I imagine that everyone understands it, and that is how it becomes universal. It is based on vocal techniques and mostly arises from experience. There's a lot of improvisation involved. My writing session looks a bit like this: improvisation with an existing text or vocal elements which I then write down and develop. The music base influences me a lot. I like to incorporate it. I can't imagine it any other way.
Anna, you work in the folk music industry. Does this influence your work in the electronic scene? How do these two worlds compare?
Anna: The localisation influences me. Everything is in pentatonic scale :). I've learned many genres and one of them is Hungarian folk music, which is quite idiosyncratic. I absorb quite a lot, obviously because I've known these songs from my childhood. It's interesting that these folk elements haven't been incorporated into electronic music much. Perhaps more in free jazz. Unfortunately, I no longer work in the folk music business, but it's still close to me. The adrenaline of a live performance is perhaps something these two music worlds have in common. I think improvised music resembles folk music a lot. Everything is based on experience and you have to be present in order for the chemistry to work. Folk music has much more rigid structures, which everyone knows. The folk industry is built on dancing. Currently, we are trying to bring together the folk music industry and the digital world with my AZVLM initiative.

Could you talk about this project?
We started a crowdfunding initiative to gather money for software which will trace dance moves and project them back as avatars. This would be the Digital Dance House software. The other part involves workshops in residential areas where Romani people live, and materials we record there will be released on an album, the proceeds of which will go to the Bagázs Association, which encourages the inclusion of Romani people. The main aim is to enrich digital education with art and create a mutual language with people who might seem distant from our subculture.

Could you talk about the subculture you are part of in Budapest: Lajos, you have been part of Farbwechsel, a noteworthy electronic label, and you, Anna, are signed with the Exiles imprint and organise events.
Anna: I regularly release music via Exiles, which is a great community. This week I released my first self-release, but I'm giving tracks to compilations whenever I can. Erik Kolbehnyer, the boss of Exiles, is one of my biggest mentors. With AZVLM, we've been doing a party series, which always has some sort of social or other concept behind it. My other favourite place in Budapest is Lahmacun community radio, where we have regular shows. The radio is based at Golya, one of my favourite venues.
Lajos: I've encountered and worked with many subcultures over the last 12 years. Farbwechsel has surely been the most important for my AIWA project. I started making music on hardware (synths and drum machine) thanks to this label. It has developed into a community of friends, and we spend our free time together, we don't just make music. I'd like to mention Nightdrive, a collective I've been part of. We've managed to book artists who've been influential on my own work, including Dam Funk / Joyce Wrice / Egyptian Lover / Funkineven / MNDSGN / Knxwledge / Eclair Fifi / Kyle Hall / Greg Beato / Sofie / Peanut Butter Wolf… In Hungary, funk/soul-influenced genres are under-represented and that's what Nightdrive tries to rectify.
Interview: Lucia Udvardyova
Photo: Liza Lukacsi