Posted on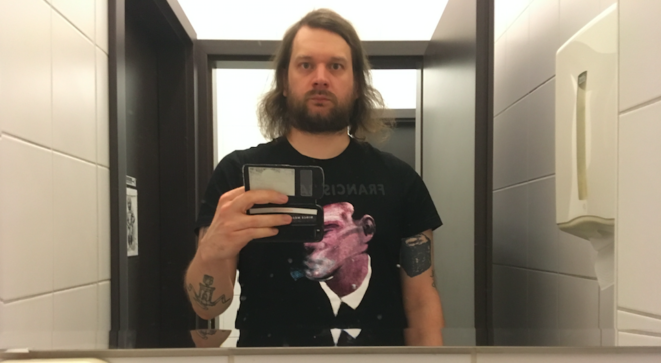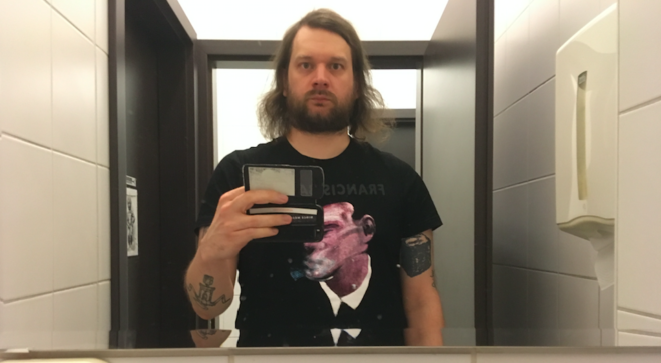 "When the time predicated finally comes & human clones are reproduced en masse': my vote for the first musician to be dubbed is the almighty Balazs Pandi. Home base as Budapest, Hungary: this looming drummer has all the corner chops covered from Repulsion-blast beasts to the futuristic urban free scree of the New York Art Ensemble. Starting out a metal thrash & hardcore skin pounder of local energy units: Balazs soon got hit headfirst into the avant jazz world and has since jammed with Wadada Leo Smith, Arthur Doyle, Trevor Dunn, Jamie Saft, Joe Morris & Roswell Rudd. 
If that wasn't threatening enough: Pandi has also branched into the PA-Mangling World of free electronics scattered with continued live and studio recordings with the master of noise Masami Akita aka Merzbow, free-sludge rockers Porn, world consumer Bill Laswell and Mr. Godflesh himself Justin Broadrick- and jazz crossed-stream polluters Mats Gustafsson & Sonic Youths' almighty Thurston Moore…" John Olson: Life Is a Rip Off
You started organizing gigs in Budapest pretty early on. Can you talk about this period, and how it formed you?
I started to book punk/hardcore shows when I was 17, and I keep booking sporadically to this day. For me, it has always been an important part of touring: to offer something in return, and to make things happen locally. The pre-GPS, pre-EU, pre-"cellphone on every broke person" routine was like this: cooking all day, going with the pot to a specific gas station outside Budapest to make sure we won't miss each other. Go to the venue. The next day, getting up, sightseeing Budapest as much as possible so the bands leave with something to remember. Coming from the DIY punk scene, touring squats with my grindcore bands at a young age, sleeping on the floor, cooking for bands had made me prepared for the road by the time I started to tour more frequently, and helped me appreciate the smallest things. I still consider myself part of this scene.
You've been gravitating towards the more "extreme" sides of music: metal, breakcore, noise. What attracts you to them in particular?
There is nothing conscious about this. This level of energy seems to be my comfort zone when I play. When I listen, its quite different. Outside of the stack of Merzbow records that I have, I might only have a handful of noise records. I prefer to listen to jazz, blues, dub and folk music from the Caucasus these days.
Can you describe how your drumming developed over the years, and if you have some special techniques, could you mention them?
Not sure if I use any special technique. In my approach, I was conscious about expanding my vocabulary, instead of building a completely new one, as people who used to be in punk bands do, and want to be strictly jazz drummers. I don't want to erase my past. The shit I play might not sound perfect, but perfection is not in my nature, polished things have never resonated with me. An important part was, when I started to travel more frequently to the US, and play with masters like Jamie Saft, Joe Morris, Wadada Leo Smith, Trevor Dunn, Roswell Rudd, Marshall Allen, Danny Ray Thompson, Mats Gustafsson, etc.etc. They were all supportive and interested in my approach, and I can't give them enough credit. I think those sessions in Jamie's upstate studio, and their acceptance were pivotal in shaping my approach to drums and my role as a drummer in any situation.
You've been touring and working with several legendary musicians, such as Merzbow, Keiji Haino, Thurston Moore, etc. Do you have any memorable moments from these collaborations?
Once I had breakfast with Masami (Merzbow) and Haino-san (Keiji Haino) in Vienna. It was great that they both helped each other with translation, so they could explain me the social climate of their teenage years. We had a deep conversation, and I really appreciate their efforts to tell me everything about these things. Another Keiji Haino story is from a year ago, when we were recording our upcoming album on which he plays bass guitar on the majority of the record. We were supposed to do 5-7 minute takes. Then we found this bass guitar in the studio, the first take ended up lasting for over an hour. When we finished the take, he looked up and said with a great smile: "I, enjoy!" I could probably go on and on, like the story about getting thrown out from a record store in Berlin with Masami during our first tour. But it's been almost 10 years of touring and recording and there are many things to remember.
You also work as a journalist at the Hungarian online portal Index.hu. Can you talk about your "day job", and how you manage to balance it out with your music-making and playing?
I have great colleagues, and when I started to work at Index, I had an agreement with the former editor-in-chief that allows me to have a healthy balance between working as a journalist and playing a lot of music. I'm grateful that I don't have to keep playing all the time, and I don't have to push music all the time, and can do everything on my own terms.
Working as a journalist, organizing gigs and generally living in times that are quite politically turbulent – especially in the Central European region – what potential do musicians and music have in terms of politics and activism?
Locally, I think our main problem is apathy, which comes from the fact that we don't have a coherent, organized option on the left either. The fact that the former far-right party and the left are marching next to each other at protests says it all: how desperate the few people, who still care, are. I feel that after them (the governing Fidesz party) winning another term with a 2/3rd majority, a lot of people just gave up. The night they won, I posted a quote from a Townes van Zandt interview, where he says his songs are not sad, but hopeless. I'm not sure what we can do as artists. I'm vocal about my opinion. Recently with Masami, we kicked out a band from the bill because it actually plays with Nazi bands. This is the type of shit I can't tolerate on any level. I think this whole populist stuff got so far because we thought we've learned the lesson, and buried these currently reemerging ideas long time ago, so we weren't vocal about it.
What are you currently working on and what has 2019 got in store for you?
A lot of records unleashed, some that have been sitting on the shelves for years. This is the year where I plan to clean up all my archives, and then only record and release fresh stuff from now on. I'm also trying to break out from the usual touring cycle, and try to go to places where people don't take music for granted. I found great joy in visiting the Caucasus.  I met some of the coolest people recently in Georgia, so I plan to go back there, and tour the region more frequently. Also, there is an insane amount of great music that is hard to access, being entrapped in the Western cultural ghetto. 2019 will bring about lots of releases.
We already released a duo album with KK Null, a recording with my trio Cement Shoes, and a duo with Jon Wesseltoft. We have a Records Store Day 3XLP release with Marshall Allen, Danny Ray Thompson, Jamie Safe, Trevor Dunn and maestro Roswell Rudd called Ceremonial Healing coming up on RareNoise Records. We're also releasing a quartet album with Jim Jarmusch, Lee Ranaldo and Marc Urselli on Trost in the coming months, as well as our sophomore LP with the trio with Merzbow and Keiji Haino in the fall on Rare Noise Records. A fresh duo, Hiedelem, with Attila Csihar is in the works, too. We have a few shows already booked, and a record ready for release.
By Lucia Udvardyova