Posted on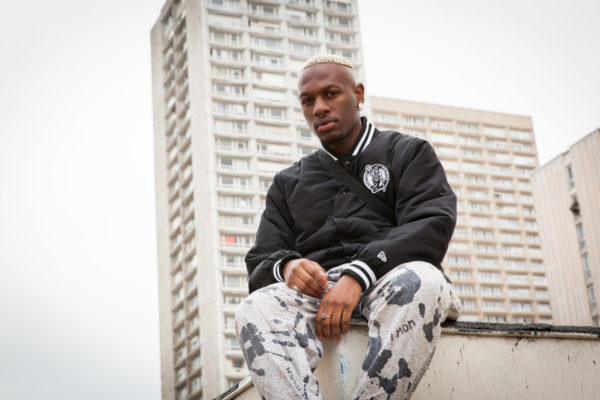 There's no doubt switched-on night owls are already aware of Bamao Yendé's work alongside his Boukan Records team: they've promoted atmospheres in Paris which were previously marginalized in the capital, between Garage House, Peckham broken beat, Kuduro, Highlife and Batida from the four corners of Africa via Lisbon and ebullient house tuned to the global sound-system.  The young producer-curator from Cergy is implicitly driven by one and only intention: to break down the barriers that exist in nightlife by cueing up bangers released on his label and destroying dance floors by playing some of the warmest (black) music produced these last decades. Graduating from the most underground clubs to main festivals in a few months, constantly working on his next EPs, there's no doubt his mission will be highly successful.
Can you describe a musical epiphany, a moment connected to music that is important to you?
If I must recall one in particular, I think the time I heard Roy Davis Jr.'s Gabriel for the first time, something clicked, like, a new door had opened in front of me. I was particularly happy; it was a turning point in my life – in my learning and my musical discoveries. Until that point, I had never heard electronic music with vocals so captivating, so close to R'n'B. You can say that this is the first track that made me love UK garage. It's one of my favourite tracks.
Kuduro, batida, garage house all find place in your work – music without geographical boundaries; spread across different continents. Can you talk about which elements and styles of music do you look for and how you produce?
So, yes, there are a lot of different styles and genres in my work, both when I work as a DJ or a producer. I draw a lot of influences from the African continent: from Kwaito from South Africa; Angola or off-cuts from the Ivory Coast. You can feel it in my production work – the drum has a very important place in my songs, they are practically articulated around the drums. On top of this, there are my influences from UK garage, with the subs and the break side. I grew up with American rap and R'n'B from the period of 1995 to 2005 with all the R'n'B, hip hop divas… Boom bap – Jay Dilla was and still is a great influence. In my productions, I try to draw a little from each of my influences and to translate them in my own musical language. I have several production aliases. Depending on the specific alias I work under, I put more emphasis on one style or another.
You run a label called Boukan Records. Can you talk about the imprint – its A&R, philosophy and future?
I created Boukan Records about two years ago. When I set it up, I wanted to create a label for those to whom the vibe of the music is the most important, without distinction of genre or style. A label where R'n'B, drums tools, house music and baile funk all rub shoulders. I wanted the label to be like the parties that are organized in Paris, my DJ sets, my friends… But I think we can extrapolate it to a whole generation that can go to a club or a warehouse and listen to electronic music all night, and meet up after listening to Jennifer Lopez and it's not a problem for anyone. I want Boukan Records to flirt with electronic music but also with hip hop culture and African music. The label is tied to, but is also equidistant from these 3 poles with a leitmotif "100% Fun 100% Faya 200% Love".
You are based in Paris. Can you describe the scene you are part of there?
The current Parisian scene is rich and in turmoil. There are many collectives that have this openness to some extent, and that are juggling between genres in their outings and events. I can mention the Parisian collective La Créole. The new ballroom labels like to merge dancehall and footwork.
Is music your full-time activity? If so, can you describe your usual day?
Yes, I am very lucky; music allows me to live and to pay my rent every month. I have the chance to devote myself to it 100%. In general, I wake up early, usually with R'n'B, then comes the moment to awake fully and to be really alert – I respond to emails about the label, etc., then I work with my machines or I do sound mixing for about 3 or 4 hours. After that, I make more sounds with my friends of NYOKŌ BOKBAË, a new project that I produce beats for. Then we usually go to the bar of our friends where we check out concerts and get some fresh air into our lungs and decompress a little. After that, I go home and I listen to the work done during the day with different ears, I make changes, I acknowledge the structures. I like to work this time of the day. Most people sleep, but I find that I'm more focused, my phone rings less, there are way less distractions and temptations at these hours. And then I go to bed in the early morning.
As both a producer and label owner/curator, how do you view the music industry and independent culture as such nowadays?
As a producer, what motivates me is the love for music and my desire to create and disseminate the vibe I believe in. As a label boss, I must try to represent the artists with whom I decided to collaborate as best as possible by respecting their desires and wishes while trying to bring them the maximum possible exposure. After all, we can't really make a living from streams, especially a label of our scale, but we try to organize parties to sustain a certain spirit around the label, to create a community that supports us and is faithful to us. Our audience is very dear to us and it is for them that we get up in the morning to make beats.
https://soundcloud.com/i-d-online-1/i-dj-bamao-yende
By Lucia Udvardyova