Posted on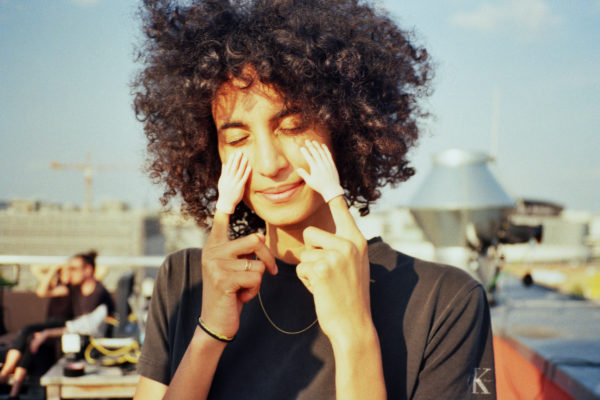 Sarah Farina sprinkles positivity over the darkest bass. What you'll hear from Sarah Farina's sets is seamlessly blended bass-heavy footwork and futuristic beats, with fearless forays through R&B and UK Funky. It's inclusive, forward-thinking and unrestrained. It's a genre-rejecting style that she's named rainbow bass. Led by the early releases of Aphex Twin, Timbaland and Boards of Canada into the dark clubs of Berlin, she was a driver of the 2010 formation of Through My Speakers. The event production collective has grown to become a burgeoning record label, thrusting underground producers and DJs onto the decks of progressive club nights and the playlists of bass fans across Europe and beyond.
This interview took place during Nyege Nyege Festival 2018, where SHAPE was one of the partners of the event and Sarah Farina one of the SHAPE Platform performers. 
You grew up in Bavaria, southern Germany. How did you get into music?
When I was 12, I met a guy called Johann who became one of my best friends. He introduced me to a lot of amazing music like J Dilla, Madlib, a lot of good music from Detroit. I think that was the point when I became a music nerd. I started learning the guitar, a little bit of bass and drums as well. Johann was also a drummer and he was playing keyboards, so we started making music when we were around 12 or 13.
Did the environment you were growing up in encourage your musical activities?
It did to a certain extent. Like a lot of others, my parents became a little worried that music would affect my school performance. We had a youth centre and they provided us with rehearsal rooms for free, and through them we got to play shows. I come from a very small place, and there was not much happening there at the time.
And then you moved to Berlin.
I felt I couldn't stay there any more. I didn't know 100 per cent what I wanted to do, but I knew I wanted to be involved in music in some way or another. I didn't have a plan though, which was hard for my parents as they wanted me to study or do something "acceptable". I arrived in Berlin two weeks after my 18th birthday. I was extremely shy. I didn't know anybody there. I went to the music academy and was full of hope. I wanted to prove to my parents that you could become a professional musician. But the school turned out to be terrible. You had to pay a lot of money for an environment and knowledge that you could just not connect with. I also realised I'm not a person that can function in a traditional academic environment.
I quit after 6 months. But I was scared I would have to return home. I was juggling several jobs to pay my bills. I thought maybe this is a sign from the universe telling me "OK, Sarah, we gave you a chance, and maybe music isn't something for you." I was a little sad. In 2011 or 2012 a friend of mine said he really liked my taste in music and I should start DJing with him at this small bar in Kreuzberg. I thought DJing was a nice "in-between" thing. It's not as personal as playing your own music. So if people don't enjoy your selection, it just hurts a little bit. We did this for a whole year. From there on, everything developed very naturally.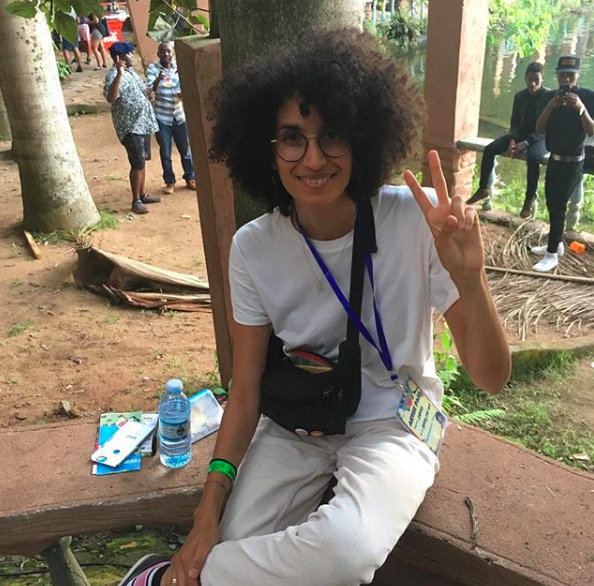 Sarah Farina at Nyege Nyege Festival, Jinja, Uganda, 2018
How has your music taste developed?
First, I was very influenced by my friend Johann who showed me all the Detroit music. Because it was a bar, you could play a lot of chill music, like Sade, or music I was influenced by from my parents. I was still very nerdy, but I didn't connect to electronic music at the time. I'm also not a party person. It took me two years to go out in Berlin. I went out by myself, I think it was Bar 25, and I found the music wasn't very interesting to me. I also liked Velvet Underground, Broadcast, psychedelic guitar music, etc. I just didn't understand electronic music. I'm also straight edge, so I couldn't really connect much. I remember seeing a flyer with Sick Girls presenting Yo Majesty!. I went there, entered the room and I saw Sick Girls DJing. I'd never heard the music they played before, it was very eclectic. I ended up going to their party every month and they educated me as far as electronic music goes. We became friends, and after some time, they asked me to play the warm-up slots at their party. This was a great education. I also met the people who I'm running my label with there.
Can you talk about the label?
Through My Speakers is a label and collective that I've run with my friends since 2012/2013. Some of them are producers, some work as sound engineers. It's a sort of a support network. If someone's producing music and needs help with the mastering, it's all within the collective. We're a group of 17 people. We also organize parties in Berlin sometimes. We'd also like to balance the Berlin music scene a bit, as there's a lot of techno and house around – which is not a bad thing – but we hope for more balance in music styles.
Can you talk about rainbow bass?
That's a term that I came up with to describe the music that I play and love. Bass is the essence of the music I play. If you look at music from a historical point of view, you can see that a lot of styles are connected to each other. It feels very colourful, like a rainbow. My dream is to have a techno nerd and a hip hop nerd having the best time of their lives, together, in one club. People also take themselves so seriously in club culture these days. It starts with the DJs, who think they are the coolest and the most important people in the world. The perception of DJs has changed a lot in the last years, also thanks to social media. I feel it's more beautiful to remain at eye level with people, rather than putting them on a pedestal. It's about bringing people together, and having a safe space. It's about more positivity and letting go, and healing through music.
You also said you are a political person. How does that translate into your music?
It starts with the fact that I'm a woman, and I'm also non-white. My body is political. When you look at music history, most of the music genres developed from a political core (eg. House music was created by queer, non-white people). I want to reconnect with that and I hope more people do the same because I feel we need community much more than ever before. And music can contribute to that because it's such a universal language. I'm not a political person who goes out on Twitter and rants, I'm still trying to learn how I can work with my energy. I need to learn how to transform negative energy into positive. When I see something that I think's unfair, I try to communicate it to them in a kind way first. I'm a very peaceful person. Though I'm at a stage right now, when I see something that is not politically correct or fair, I get angry. I'm figuring out what to do with this anger. I can't just mediate and the anger disappears. We have to have serious conversations with people who are on the other side, people in charge, people who are controlling the system so many people suffer in. I see journalists asking women or people of colour "What can we do about racism? or "What do you think about the music scene right now in terms of gender equality?". I just want to tell them to stop asking me for solutions, I can't do that much. The people in charge are mostly straight, white, older men. We need more people of color and womxn in power positions to really make change happen. Because peace and justice will never be achieved without equal rights.
We are here in Uganda, and you are playing at Nyege Nyege. What are your impressions of the festival?
It's my first time in Africa. I feel very comfortable. I'm happy there's an exchange happening with the locals. Sometimes when you're in a different country, it's hard to really connect with the place. Yesterday I saw amazing artists that I've never heard before. I was really impressed by how people want to dance, how much love there is for music. I'm very nervous and I hope they'll like what I play.
What are your dreams and plans for the future?
I definitely want to connect more to political activism and work on my music. It's such a struggle sometimes to keep working on it. I want to release an EP that reflects a typical Sarah Farina set of mine, "rainbow bass" music. I'm also going to Detroit next year for a residency, and to meet the key people from the music scene there. Detroit is a very important place for me in terms of music. In a couple of weeks, I'm also returning to Africa to play gigs and do workshops with locals about music production and DJing.
By Lucia Udvardyova, September 2018, Jinja, Uganda