Posted on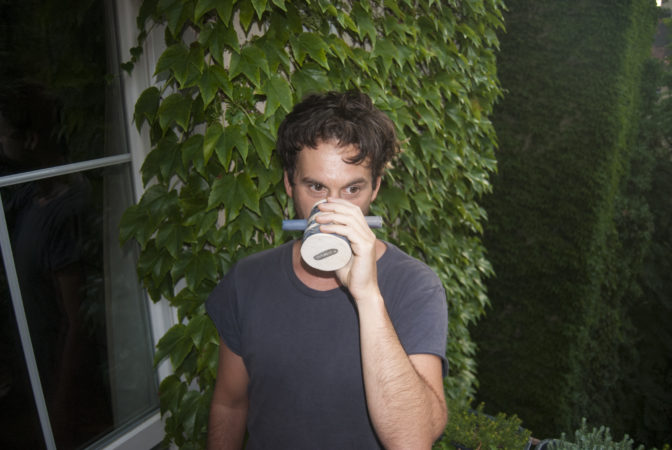 Gosheven is the solo project of Bálint Szabó, member of the improvisation trio 12z and curator at Trafó House in Budapest. Leaper is his first solo venture, released in May 2017 on Opal Tapes. He put to use the several years he spent studying different tuning systems for electric guitar. He's developed a unique electric guitar with strings that can be placed in a stereo field to further enrich the already unusual sounds of the retuned instrument, inspired by some of the greatest American minimalists, such as La Monte Young and Terry Riley, and Italian Renaissance composers ("Unbalanced Holiness" is based on a composition by the great Giovanni Maria Trabaci). His sophomore Gosheven album, Bivaq, is out on Opal Tapes in April. We caught up with him in his Budapest flat, located on the city's leafy, historical side Buda. 
What have you been up to?
I'm preparing for my April concert with a retuned guitar which I've never used before in a concert situation. I will present an improvisation which is inspired by La Monte Young's The Well-Tuned Piano piece. I use the exact tuning which he used on this record. I also used them on my album Leaper and on my upcoming album Bivaq.
Can you talk about the tuning systems that you are rehearsing now?
It's a very long story. I don't like the sound of the guitar, and how people use it. It has been overused during the sixties and the seventies. I really love Jimi Hendrix, but it's already 2018! We have to find other ways how to use this instrument. Tuning reveals a completely new world to me. It's very inspiring when you hear strange harmonies that you've never heard before. I also love Indian classical music with its just intonation, which is the so-called pure tuning. The European tuning system is not pure at all. The mind of the white man is the same as the tuning system we use. There are a lot of disgusting things about both.
In what way?
In a physical way. Music is based on physics – it's the vibration of air. Over the centuries, we've gradually abandoned pure tuning. It was mainly because of the piano, actually – the seven white keys, and the five black keys. It's also completely overused. When I hear piano, it's really hard for me to get into it. So I mainly use pure tunings. But there are also some kind of hybrids, like La Monte Young's tunings, or those of his disciple and tuning assistant Michael Harrison. He's the only man ever to perform The Well-Tuned Piano apart from La Monte Young. He is also one of my favourites. You hear the weirdness of the tuning. I think it's also because of this weirdness that people got interested in Leaper. It also draws from the American minimalist scene, which we forgot about a bit. I'm working on bringing it back somehow, but my approach is a bit different: for me, music is about dramaturgy, telling a story, like in a film. So I have to use chord progressions and I have to make everything happen within the limitations of a few minutes' long tune. And it's actually not a decision. It's instinctive.
Is there a motivation against the Western way of thinking? Leaper was also about getting rid of the dominant male discourse.
Leaper preceded the #MeToo campaign by half a year. Usually I don't want to speak about society at large. It's about my childhood, my thoughts, how I was raised. I don't want to criticise the European tradition, I just want to show other ways of making music. My hope is that in ten years, there will be more and more musicians composing in these different tuning systems. Back in the 19th century, there were 100 types of tomatoes, now they disappeared because of mass production. Which is similar to music.
Can you talk about your new record and how it differs from Leaper?
It's a continuation of Leaper. I started composing in autumn last year. In November, I was asked to score a dance performance here in Budapest. I composed a lot of music, and some of it was used for my new album, too. It encouraged me to work harder on the new material. I'm really happy that Stephen Bishop will put it out again on Opal Tapes. Bivaq is about letting ourselves be vulnerable because we are human, and we have to accept suffering. "Bivaq" means something like a shelter in a virtual place, where you can look at the Earth and think about what we've done – look back and look forth.
There's also something about the end of the world in the liner notes of your new album.
It's not about politics. It's not about Trump or Brexit. The world has always been fucked up. We have to suffer a lot, but that's human life. Politics is about power and money, and this doesn't interest me. I'm quite sensitive in general. I can feel certain vibrations and energies. The point is that the album is personal – personal for everybody, not just for me. Deep inside, I have very apocalyptic visions of the world though.
The album is also quite melancholic.
When everything is in pure intonation, it becomes slower. A lot of people say that if you're slower, you are melancholic. That's not true at all. Slowness is what we really need. La Monte Young's piece is six hours long and nothing really happens. You only have to get used to the strange harmonics, but you have enough time.
You also work as a music curator at a cultural centre in Budapest.
It's my other side. I'm really happy that I can have a job like this. I work on the other side of the so-called industry. I'm quite free to invite anyone I believe in. I've invited Richard Dawson, who is one of my favourite musicians, who will play with Mike Cooper soon. I'm really proud that we'll also have the legendary Master Musicians of Joujouka from Morocco playing. The last event of this season will be with Grouper, Belgian producer ssaliva and my beloved Hungarian musician Carla Under Water.
Does it help you to better understand musicians, and vice versa?
My experience is that everything has become so fast. If someone plays a concert, they only get to spend one night in the city, and the next day they disappear. It's hard to be slow, to talk. I listen to tons of music. I have the impression that most of the musicians don't listen to any. Listening to music inspires me as a musician. I don't believe in the concept of a genius. It's about gathering experiences and making a unique mixture out of them.
Can you talk about your other project, the improv trio 12z and the Budapest music scene?
We're having a studio session with 12z at the end of May, and this will be the first occasion to record in a studio setting. It will be a concert session with an audience so it will be really special. As for the Budapest music scene, I'm 35 and I think I'm not out and about enough like I used to five years ago. I have the impression that what started five or six years ago with Farbwechsel, UH Fest or Jazzaj was a really nice time, and it will remain a nice memory throughout my life. Life goes on, and now I see the next generation coming. There are more and more people around twenty on the scene and they do really strange things that I don't understand, but I'd like to. We did the same five, ten years ago. Nothing is permanent.
Photo: Rebeka Racz