Posted on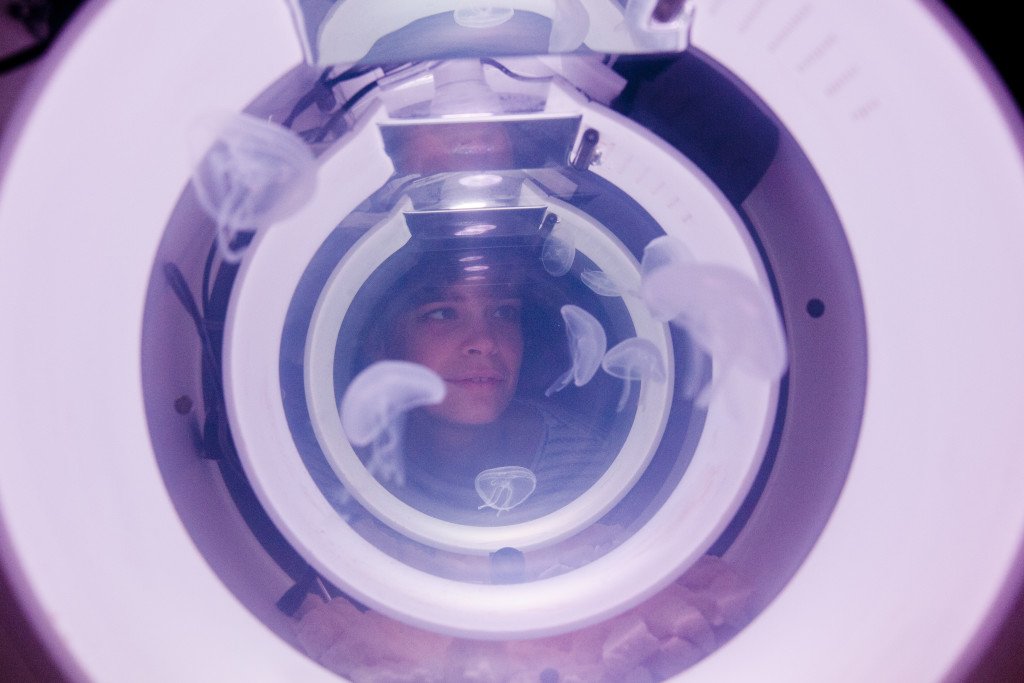 Robertina Šebjanič (based in Ljubljana) works at the crossings of art – technology – science. Her art – research focus has been oriented towards the project developed in the field of Living systems (bio-art), AV performances, noise/sound art, installations and interactive ambiental responsive immersive environments. The context for her ideas and concepts is often realised in collaboration with other authors (artists, scientists, humanists, makers, hackers…), and through interdisciplinary and informal integration embodied in her work. She participates in SHAPE with various projects, and was nominated to the platform by MOTA – Museum of Transitory Art.
Can you talk about your background – the genealogy of your interest/work?
My early works were mostly created and presented in the form of video and/or sculptural/ambiental installations, which used to be my primary medium as I studied sculpture at Academy of Fine Arts and Design in Ljubljana. Soon after my studies I started to become more and more involved with electronics, programming and biology, i.e. living systems. Moreover, I became increasingly involved with bio- and tech- hacking communities. Consequently I started working with non-profit institutions such as Ljudmila (Ljubljana Digital Media Lab), I was among the founding members of Ljubljana-based Theremidi Orchestra (an audiovisual DIY noise collective). Furthermore, it was important for me to get involved with Hackteria which is an international network of artists, scientists, hackers and makers.
My work in the past couple of years has gradually led me to the exploration of water habitats and marine life which serves as a starting point to investigate philosophical questions on the intersection of art, technology and science. This is, I think, the best possible platform through which I can showcase my interdisciplinary practice. Most of my projects involve diverse strategies to promote creative collaborative processes and are as well inspired by philosophy, scientific cutting-edge achievements and science fiction.
Ljubljana has quite a history in terms of new media / art & technology (NSK, Ljudmila, Vuk Cosic, etc). Have you been influenced by the local scene as such?
Yes, of course; the artistic scene in Slovenia has had a strong presence of new media art practices (we call it intermedia art) and politically engaged art. I have to say that coming from an environment with such a strong artistic scene and cultural tradition is indeed great; it certainly helped me in the early stages of my artistic development.
In the period 2008-2012 I was working as a programme coordinator and manager of artistic and educational programmes at Ljudmila, and with that I gained a more profound understanding of new media art practices, as well as getting to know some amazing people on the local scene such as Marko Peljhan, Dragan Živadinov, Vuk Cosic, Marko Košnik etc. These guys were surely pioneers of new media art in Slovenia and responsible for putting this small but very vivid artistic scene on the global map.
There is as a strong network of non-profit institutions focusing on new media art/art-tech-science practices, some of them having venues with a consistent programme, such as Kapelica Gallery, Kibla, Ljudmila, Aksioma, Project Atol, Radio Cona, MoTA, to name only few. There have also been a consistent trend of having immensely interesting generations of young and emerging artists.
Can you talk about the projects that you are participating in SHAPE with?
Project Aurelia 1+Hz has been developed throughout several years. It focuses on the idea of animal-machine-human relationship and interspecies' communication. The aim of the project is to illuminate several issues of marine ecology and sonification of the environment. In the project I work with jellyfish, which is an extremely fragile creature, especially in a closed environment, but on the other hand very resilient as it can live for more than 500 million years. The performance and installation of Aurelia 1+Hz features species of so called Moon Jellyfish – Aurelia Aurita. The immersive audiovisual performance Aurelia 1+Hz / provo viva sonification (developed together with Slavko Glamočanin) is a second part of the work where I am, together with the jellyfish, present and submersed in the sonic experience. I like to use a quote of the poet Paul Celan in order to briefly explain the project: "There are still songs to sing beyond mankind". The central idea of the project is that there is not only human civilisation living on our planet but there are also other species (animals, plants, fungi, bacteria, etc.) with complex and highly developed communication systems which are basically their languages. There were many collaborators as one of them is an excellent jellyfish expert, Professor Alenka Malej (Marine biology station Piran, Slovenia), and the core of the scientific research has been completed at the residency at the Izmir Marine Institute, Turkey in 2014.
Time Displacement / Chemobrionic Garden is a chemical sound installation that was developed in close collaboration with Aleš Hieng – Zergon and Ida Hiršenfelder. Initially this installation was inspired by a theoretical paper entitled From Chemical Gardens to Chemobrionics written and issued by a group of twenty one distinguished scientists on 29th May 2015 which discusses history and future experimentation with chemical gardens. The paper was about to unravel the biological formation at the origins of life. A chemical garden is a chemical experiment, where a reaction from solid metal salts immersed in an aqueous solution of sodium silicate forms growth of inorganic forms. With the use of raspberry pi cameras and a program on the raspberry pi micro controllers, the visual data captured is transformed into the medium of sound.
Aquatocene / Subaquatic – Quest for Serenity is an ongoing project that can be displayed as a sound installation, sound performance, or in the form of a vinyl record. The project investigates the phenomenon of underwater noise pollution created by humankind in the seas and oceans.  The sound compositions are a re-mix between the bioacoustics of marine life (shrimps, fish, sea urchins etc.), the aquatic acoustics and the presence of human generated noise in the world's oceans and seas. This year a new vinyl record will be released by MoTA in frames of the Sonica festival in Ljubljana.
One of your projects, Aquatocene / Subaquatic quest for serenity, explores underwater noise pollution. Can you talk about how this project came about and was executed? (process of recording, etc).
I started to record with hydrophones in the sea during the huge jellyfish blossoming in Izmir, Turkey, in 2014. When listening to the recordings I realised that the soundscape of water habitats is completely different from the sounds that one is used to waves hit the shore. For the past several years, whenever it happens that I am near to the sea, I have been recording the underwater soundscape with hydrophones.
The sounds of marine animals and their bioacoustics are really great to explore and now I am already able to distinguish between different creatures and organisms. Often during my recording sessions I come across some of the loudest animals in the sea such as shrimps (especially when they are in big numbers).
For instance, I have been gathering sound recordings of shrimps in the fjords of Norway during the workshop Pikslo deep diving that I conducted with my colleagues (Slavko Glamočanin, Kat Austen, Gjino Sutic) at the Piksel festival in Bergen. Furthermore, I have recorded sounds of sea urchins on the shores of Roscoff, France and more at Dubrovnik, Izmir, Koper etc..
During these recording sessions and field trips I was surprised again and again by how omnipresent the noise produced by man-made technology is in the sea. Motors boats, ships, sonars, etc. are crucially shaping and rapidly changing the soundscapes of the world oceans because in the past fifty years quantity of marine traffic (more than) doubled. Moreover, increased use of sound cannons (used for oil exploration) also creates huge disturbances in fragile marine habitats. These aggressive soundscapes have led to a number of consequences such as beaching of whales, to the Lombard effect where some species become louder to overcome background noise, thereby gradually increasing sound intensity of the entire habitat. There have been many studies and initiatives that try to point out these issues and to rethink the nature of humankind's industrial endeavour. The technology that people use in marine habitats is certainly invasive. In the Aquatocene project the audience is immersed into sound compositions which are a mixture of all the sounds that I recorded in specific locations of seas and oceans. These are therefore my interpretations of soundscapes.
What are some of the challenges that you experienced during your work and can you talk about the wider scope/context of your work – humanity & nature & technology & philosophy & ecology?
Working on research and combining different disciplines can be very demanding as each of these disciplines demand a different approach – how to work and what kind of environment is needed for research and development. Each of my projects is very specific and the hardest thing is to figure out basic parameters even before the research process starts. When the methodology of the research is clear, nearly half of the work is done.
The scientific part of my research is always challenging because I need to find adequate collaborators and counterparts, and there is as well a challenge regarding the presentation of the findings. With exhibits, I always try to present the entire process from the laboratory and at the same time I try not to distort or simplify the idea behind it; I like to organise alongside exhibitions and performances also a symposium/discussion events to open up the topic.
I strongly believe that beside the scientific research process it is also highly important to pose ethical and philosophical questions as well as to understand current (bio)politics. I also believe that knowledge should be accessible to everybody and I would be very excited to see stronger empowerment of citizens' science in the future. This is in contrast with popular science where the information are sometimes very ambiguous, inaccessible and unclear in the name of simplification of the results of research.
From the point of view of art, it is important to discuss the relationship between the dominant narratives and how they shape our realities. This is one of the aspects I target with my work.
I am also very inspired by some amazing theoreticians among whom I will name only two who influence my work the most:  of Jakob von Uexküll, a theoretician who investigates biology from the nineteenth century, and Donna Haraway, a theoretician whose latest book Staying with the Trouble deals with the issue of how to live on a damaged planet.
What are you working on at the moment?
This year both of my highlights will happen in September. During the Sonica festival MoTA will release a new edition of vinyls for the Aquatocene project. These are the continuation of aforementioned narrative of human sonic noise pollution in the ocean and sea. Furthermore, I already started on research for a new project dealing with water environment and their inhabitants and ecological issues that they are facing. Here I will examine the difference in approach between mythology, pop culture and cutting edge science. The work, will premier in September at Transitio iennale in Mexico City. The 2017 edition of the biennale, curated by Pedro Soler, is following the theme of environment, energy and sustainability, asking: "How to say us?" (¿Como decir nosotrxs?)."
Photo: Miha-Fras-archive-Gallery-Kapelica