Upcoming
Past
More events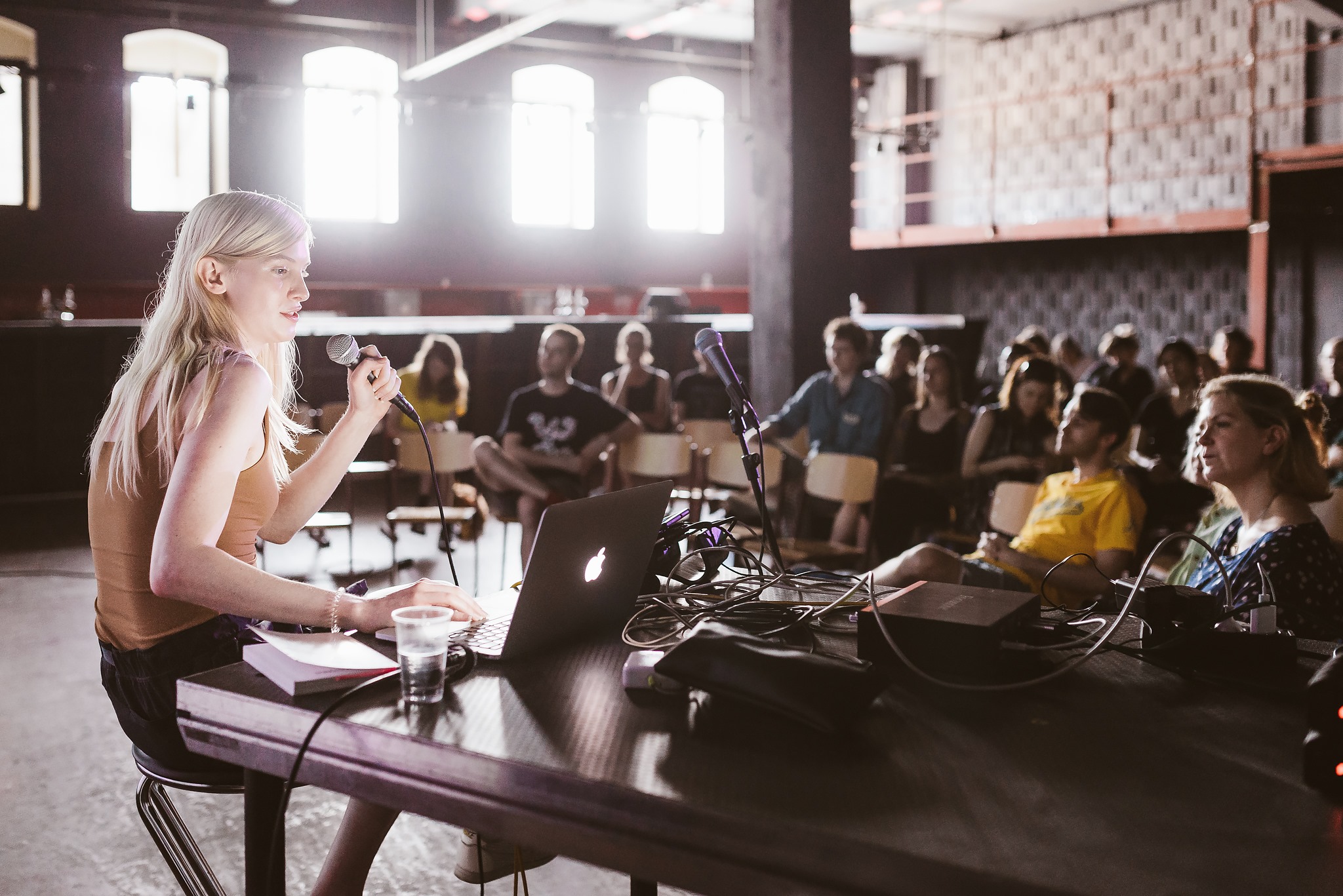 A full day of artist talks & workshops organized by SHAPE+ platform and MeetFactory aimed at both local and European emerging artist community.
Speakers include fine SHAPE alumni (patten, Jennie Gottschalk), well known artists (Andreas Tilliander aka Mokira/TM404) and professionals (Emily Moore from Warp Publishing or Freddie Hudson from Inverted Audio). Current SHAPE+ artist shows in the evening.
Lectures (10:00 →​):
✷ 10:30 | Emily Moore (Warp Publishing): What Is Publishing?
A talk that explains what music publishing is and how it can be useful to emerging artists in the realm of experimental music. Emily Moore from Warp Publishing will go through the details of a deal, advise at what stage in your career you might be ready for one, how to approach a publisher, how to make the most out of your publishing team and the benefits of having a sync team. Emily Moore works in the London A&R team at Warp Publishing. She is also part of 33-33, an independent label, collective and agency providing bespoke representation to composers and artists such as FUJI||||||||||TA, British group Still House Plants and Paris-based composer Amosphère. She is also a DJ and radio host and has played on Balamii, NTS, Reprezent and Clyde Built Radio.
✷ 11:45 | Andreas Tilliander: Creative limitations
Andreas Tilliander (also Acid Lindgren, Komp, Lowfour, Mokira, Rechord, Repeatle, Sheet Fig, Svaag or TM404) is a Swedish music enigma with a body of work stretching over three decades and including a number of high profile collaborations and productions. Known for his hardware focused sound, he has, as you might expect, a very impressive studio at hand. Paradoxically, Andreas often purposely set up limitations for himself as a part of his creative process. Andreas will present how his music is made and how he finds creativity inside and outside the studio, often with scant resources.
✷14:00 | Lukáš Turza: Mixing and mastering. Why doing it yourself may be a bad idea, and why you should do it anyway
Why going the 360-way when it comes to music-creation from start to finish may not be the best idea — and why you should do it anyway. The low-hanging fruits of what one can do in their home studio when it comes to acoustics and mixing best-practices to arrive at pro-sounding mixes. The grey areas and intersections of 'professional' vs 'emotional', and the cognitive biases we face when mixing music. Lukáš Turza does original music production, music-for-picture, site-specific music / sound-design. He has worked with Amon Tobin, Machinedrum, as well as Mári Mákó, whom he met at the previous SHAPE workshop in Prague.
✷ 15:15 | Freddie Hudson: Cornerstones of Communication When Pitching to Music Journalists
Journalist and music writer Freddie Hudson gives a crash course on effectively communicating with press institutions and journalists, preparing information packs and assets for public releases, and provides some insight into the mechanics of the industry. Freddie Hudson currently works at Inverted Audio, a London via Berlin based online magazine, launched in 2008 with the aim of spotlighting electronic music and the visual arts.
✷ 16:30 | patten: CCC. Context, Community, and Cross-Disciplinary Practice
A fast-paced, interactive talk from London-based artist, researcher, and lecturer Damien Roach, aka patten, aka 555-5555, using his multi-platform work across art, creative direction, publishing, sound/music, design, and audiovisual as a jumping off point to explore wider themes of context, community, and cross-disciplinary practice here in 2022 and beyond.
Damien Roach is a London-based artist, researcher and lecturer. His projects span art, design & creative direction, publishing, sound/music and audiovisual, and he is currently Associate Lecturer for LCC's Visual Media MA programme. Recent projects include immersive AV performances at London's ICA and Tate Modern, design for clients ranging from Wysing Arts Centre to Disney, and publishing a journal exploring non-dystopic future visions with a host of contributors including Susan Hiller, Dr Isabella Maidment, Hans Ulrich Obrist, and Liam Gillick. He has exhibited internationally, including at the 51st Venice Biennale, 'Learn to Read' at Tate Modern, 'Housewarming' at Swiss Institute NYC, and solo presentations at institutions including Tate Britain (London), Kunst Halle Sankt Gallen (Switzerland), Arnolfini (Bristol), and Neuer Aachener Kunstverein (Germany).
✷ 17:45 | Jennie Gottschalk: Translation
This talk will offer examples of translation between practices, mediums, genres, from sound to sound, sonification, etc. What does translation make possible, and what are some of the possible creative outcomes? What limitations are productive, and what limitations are actual impediments? Is faithfulness to the original important? Should the original content be made explicit? The answers to these questions will of course be specific to each artist, but we provide more context for them. Jennie Gottschalk is a composer and author of the book Experimental Music Since 1970.
Concerts (20:00 →):
✷ Bella Báguena (ES)​
✷ m.a.t.a.d.a.t.a. (LV) 
✷ Maryana Klochko (UA)
✷ NFNR (UA)
✷ Passepartout Duo (IT) 
Free entry, however registration is required: bit.ly/SHAPECommunityKnowledge.
SHAPE+ Community Knowledge is organized by MeetFactory and part of its SHAPE+ activities. SHAPE+ platform is supported by Creative Europe and Czech Ministry of Culture.