Posted on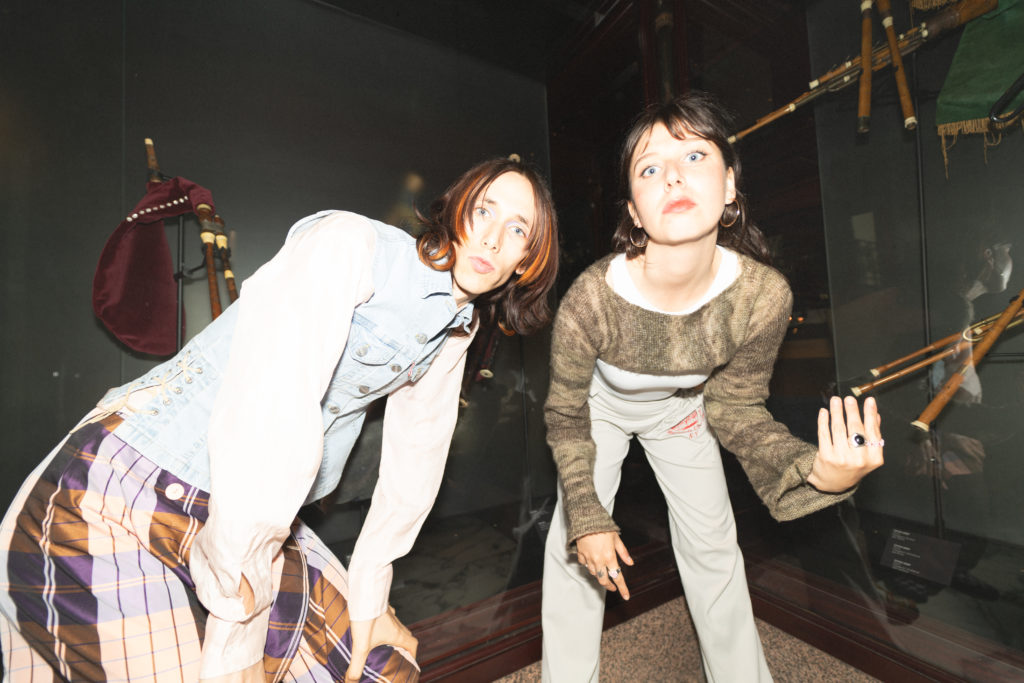 Catoonesque sounds and incantatory chants with spasmodic rhythms: the artistic duo of Victoria Palacios and Loto Retina agitate bodies and heads. Under the name Alto Fuero, they lead you to their club with a cave-like atmosphere. On the walls echoes of flutes, songs and twisted bass frantically bounce. Alto Fuero are playing at UH Fest 2023, and other SHAPE+ events. 
How was the duo Alto Fuero born? Can you talk about your background? How did you meet and create the duo?
Loto is a musician and performer and Victoria is a painter, singer and performer.
We'd been friends for several years, and one day at the end of summer 2021, we met up at a party where we were playing with our respective solo projects. Victoria suggested to join her and play together. We merged quite well: a boiling hot and unlikely mix. The next day, we decided to repeat the experience. After that, we did a residency where we locked ourselves in a big room with a very high ceiling and made a lot of music from morning to night, sometimes recording it all, then listening again, laughing, analyzing, trying to understand it and then bing bam boum here we are.
Where are you based? What is the music scene in your city?
Vic is based in Brussels and Loto in Marseille.
Loto: In Marseille, there are mostly "troll" parties with a lot of reggaeton/jersey/baile core, hot and wet sounds. The party's hot, whether outdoors by the sea or in small venues. I find that the musical spectrum isn't very broad. After a while I've gotten used to it and I'm not surprised often, but I certainly miss out on certain occasions because I don't get out that much. But of course, I'm grateful to the precious people who make things happen
Victoria : In Brussels, I'm surrounded by musician friends and artists, and this city is musically full of surprises. There's a big alternative scene, but I go back and forth between more and less mainstream venues, where I can also go and listen to a violin concert sitting on very comfortable seats, let's say. Unlike Loto, it seems to me that the city where I live offers me a wide range of possibilities. I think that the cultural actors of the scene here are trying to create more space to work and think together so that the music world becomes more inclusive towards FINTA, people of colour and minorities, but it's still too little.
There is something both "old" and "new" in your music: history meets the present, a little bit of a modern troubadourism, somehow. (some of your photos even playfully allude to this aesthetic a little bit)
Loto: Yes, I think we both have a fascination for traditional music, particularly Celtic-sounding music, as well as for very contemporary music. Victoria brings to the table things connected to the living, and I'm maybe a little more lost in the digital world. I have an attraction and a slight obsession for the sounds of the present, and for knowing what new aesthetics have just arrived on earth. I also like to understand the history behind them, the origin of the rhythms, and imagine how this hybridization, this cyborg, came about.
Victoria : trobairitz or troubadouresses in French, this term suits me because it's the idea of going from place to place telling stories and satire with language, and several languages, some of which resemble Occ's language, for instance.
In Alto Fuero, there are two quite strong relationships to language: Loto and I respond to each other with two different languages, me with singing and writing, and Loto with their machines, which are an extension of their speech.
As mentioned above, we also draw inspiration from traditional music, both in its instrumental side and in the messages it carries. Traditional music is intended to tell stories, whether common or more intimate and personal that express an opinion, a judgement. When I sing the lyrics I write, I chant, shout, whisper or repeat things that I claim or put down, sometimes softly, sometimes furiously.
Alto Fuero is like a half-calm stream near Broceliande that could at any moment become a river of dripping lava flowing through a night club.
Which aspects of music-making are the most important to you?
Loto: Improvisation, letting go of control, experiencing trance like Joe Gardner in "Soul".
Victoria : I think the fusion between the two of us is quite important, like warming each other up, there's a form of mischief and complicity that continuously rises as we create this third thing that's done with the 1+1=3.
In a live show, we leave 29 % to improvisation, otherwise the rest is written down. By dint of playing together, we work a lot on the playground we play on rather than knowing our songs by heart.
But now we also realize that improvisation has its limits when we want to talk about something specific, to create more comprehensible and detailed forms. Improvisation, the state of dialogue, is always the source and seed of what takes shape, and ends up as a song.
With Alto Fuero we play in the middle of the audience and when everyone starts to dance it creates something strong for us.
What are your upcoming projects and plans?
Recording more stuff, finishing the album, and continuing to create encounters between performance and music. Taking more time to test things out in multiple contexts. Integrating other musicians who play instruments. Never stopping finding lots of different languages.
We're going to release an album on the Stroom label. We're going to continue producing, not forgetting recording and fixing things, which isn't the easiest thing for us to do, we want to prepare other surprises.
We're going to do a performance produced by a theatre in Brussels in 2024. It's going to be a big project for us. It's exciting, we're going to be able to put a lot of things into it by getting out of the concert format.
Victoria: Personally, I'd like to extend the work on vocals and the body by working with more electronic equipment.
Interview by Lucia Udvardyova