Posted on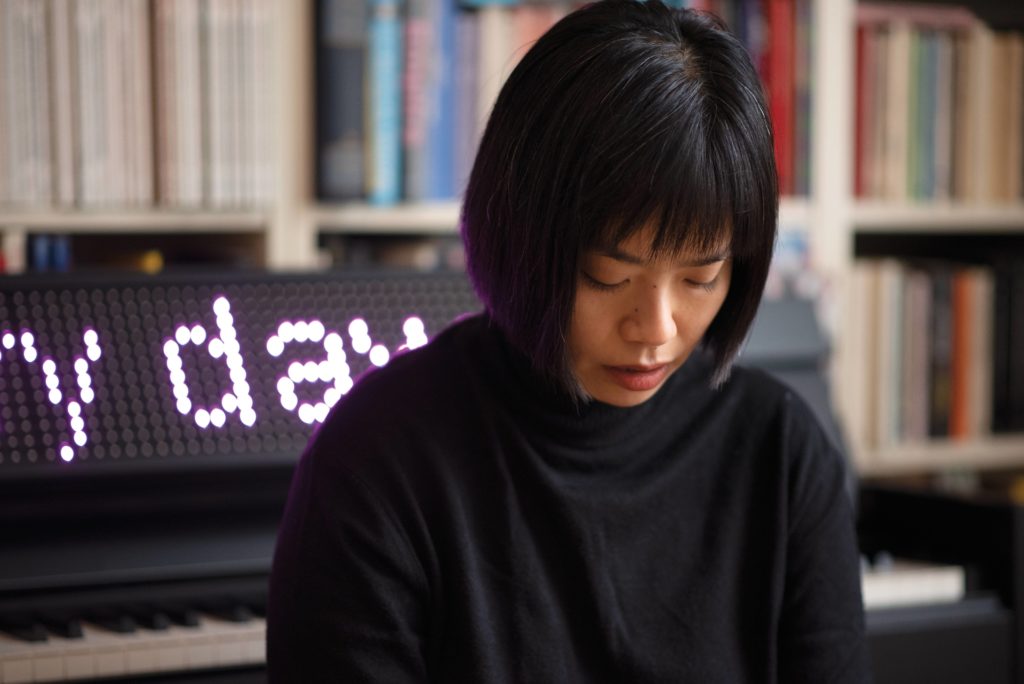 The composer, electronic musician, and media artist Hui Ye, who comes from the southern Chinese metropolis of Guangzhou and lives in Vienna, deals with social identity. For her, art and culture are inextricably linked to politics and technology. Whether it's field research in Taiwan, Chinese pop culture, or artificial intelligence in voice assistants: As a commuter between different worlds, Hui Ye is interested in how voices construct social contexts. In recent years, her work has shifted more and more from purely acoustic to installation and video.
In October 2022, Ye presented "Sonic Exegesis" together with Ulla Rauter and Yara Mekawei at the festival ORF musikprotokoll im steirischer herbst in Graz. This sound project, which was further developed during a SHAPE+ residency, premiered in June 2023 at the Radiokulturhaus Wien. Until the middle of the year, Museum Belvedere21 also hosted Hui Ye's mixed-media installation "Talk To Me", which deals with how human communication and the artificial intelligence of a voice assistant interact.
HEINRICH DEISL: In your art, you deal with language and speaking as a form that most directly informs about the person speaking. In this way, attributions to identity and social status are made. How do these attributions come about?
HUI YE: I take a step back, or rather, change perspective. I'm interested in the politics of listening. What role does auditory perception play in collective memory and how do relationships between music and socio-political identity develop? I believe that there are very close connections between what music we listen to and who we are. In this context, I see music as a social factor. I have my own individual story, which I tell in different media – from music and installations to videos and films.
HEINRICH DEISL: When you came to Vienna in 2003, you were a classically trained pianist and then studied classical and finally electroacoustic composition. How do you implement these artistic approaches?
HUI YE: One of my first works for classical ensemble, voice and live electronics played by me was "Wei" from 2011. The individual letters of "Wei" are repeated in such a way that speech becomes sound. This spectrum is analyzed live by the computer. The repetitions grow in different directions. In my compositional work, I like to play with time. For me, these repetitions are like plants or organisms that multiply and are always constructed differently.
HEINRICH DEISL: In the piece "PIN", created in 2014, you deal heavily with computer music. Could it be said that "PIN" represents the poles between which her work moves: so contemporary music and electroacoustic composition or computer music are two different aesthetics of the same artistic intentions?
"PIN" was one of my first concerts with a live electronic system, which I still play today. For this four-channel system, I use computer-generated sound signals, which are actually very simple – such as pink noise or sine tones. These signals are like beings to me, and I can determine into which spaces they are transferred. At the same time, this system also has its own logic and life. I enjoy the fact that my machines never cease to amaze me.
HEINRICH DEISL: They express themselves only in music, but also in video. Why?
HUI YE: Both music and the moving image are time-based media. In both media, time plays a central role in tempo, rhythm, and duration. In recent years, I've been trying to get back to music and sound in my visual arts.
HEINRICH DEISL: They were part of the artistic research program "Creative (Mis-)Understandings" at the University of Music and Performing Arts Vienna. For this three-year project, which was completed in 2022, you were on the Taiwanese island of Lanyu and researched the Tao indigenous ethnic group there. How did this ethnological field research take shape?
HUI YE: This project gave rise to my own project "Songs of Oblivion". In it, I deal with the history of Lanyu since the 2nd World War from the perspective of the Tao. For almost 40 years there was a large penal colony on the island and the prisoners had to build roads and an airport. When the prisoners went to the construction sites in the morning and back from there in the evening, their ankle chains made a lot of noise. Through my interviews with Tao representatives, I found out that these anklet sounds are etched into the collective memory of this part of the island's colonial history. That was the starting point for "Songs of Oblivion" as a video work. In 2021, I expanded it into a sound installation, which I also performed at the final presentation of the research program in May 2022 at the Weltmuseum Wien.
Recently, Hui Ye has become part of "Linger in Sounds". Originally, this art and research project was an exhibition by the Chinese curator and cultural researcher Qu Chang on how love constructs identity. Since the exhibition could not be realized, it became a platform. In a series of articles, Ye writes about Dakou.
These are cut-out albums, i.e. vinyl records, CDs, or cassettes whose sleeves have been provided with a perforation or a saw punch. As Ye explains, these second-hand music productions were constitutive for the development of Chinese pop music in the 1980s and 1990s.
Dakou started with the Western labels. In the case of records, cassettes, and CDs, the covers were sawn or perforated – i.e., virtually devalued – and these remnants were then exported to Africa and Southeast Asia as discounted copies. Even though it was interesting to listen to Western music, so much plastic waste has come to the Global South. I've met several artists from Thailand, Indonesia, and Vietnam who all know these cut-out CDs, and I've seen a small collection of these remnant albums from an artist from Cairo. Dakou have greatly influenced an entire generation of creative people from China and the Chinese pop music industry.
Koo Mei plays a central role in "Linger in Sounds". Through our research, we have identified Koo Mei and her song "Love never ends", released in 1961, as central references for our project. Singer and actress Koo Mei represents a golden era of Chinese cinema à la Hollywood and her brother, composer Joseph Koo, became one of the most prominent producers of Cantonese pop music. "Love never ends" is so important to the project because the song is such a fitting metaphor. In the chorus, Koo Mei sings "Do not forget, do not forget" and the lyrics also leave open whether the singer speaks from her individual perspective or whether it is about historiography determined by institutions. The song can also be used to address how quickly collective memory can disappear. "Love never ends" reflects the ambivalence between an official account of history and a romantic relationship.
HEINRICH DEISL: In October 2022, the first presentation of "Sonic Exegesis" took place at the musikprotokoll festival in the Graz exhibition space ESC – medien kunst labor. This collaborative work, which was created as part of a SHAPE+ Residency, was initiated by the Viennese sound and media artist Ulla Rauter, to whom she then invited Hui Ye and the Cairo-born, Berlin-based sound artist Yara Mekawei. In June 2023, "Sonic Exegesis" was then presented as part of the celebrations for the 30th anniversary of the "Zeit-Ton" series on Austrian cultural radio Ö1. How did "Sonic Exegesis" come about?
HUI YE: For this residency, we developed a joint working concept, which in the end was to represent three different artistic positions. In between, we had meetings where we met in person or online. I traveled back and forth a lot during this time.
The starting point for "Sonic Exegesis" was a book that deals in a literary and fictional way with urban space as a sonic place and listening as a socio-political action: "How to Disappear" by Cairo-born, Berlin-based author Haytham El-Wardany was published in 2013 by Kayfa ta and was reissued in 2018 by Sternberg Press, a publisher known for its cultural discourse.
HEINRICH DEISL: How did you find out about this book?
HUI YE: I discovered "How to Disappear" by chance at the documenta in Kassel last year. I then introduced this book to Ulla, whom I knew through her festival Klangmanifeste, and finally to Yara. When Yara said that she knew not only the book but also the author from her time in Cairo, it was perfect to have a common focus.
HEINRICH DEISL: What is "How to Disappear" about?
HUI YE: The book presents many descriptions of the auditory environment of Cairo, which I find very special and fascinating. It describes exercises on how to use listening to change one's perception of oneself, one's social and political environment, and one's idea of the world. For me, they are instructions on how to build a special relationship with the world and the things and people that make it up through listening.
To what extent did "How to Disappear" influence "Sonic Exegesis"?
The three of us each chose a chapter or an exercise, of which we then worked out an auditory version. We then met Haytham El-Wardany and told him about our ideas. He liked our sonic interpretations of his book so much that he recorded parts of "How to Disappear" for us in the original Arabic language. Ulla, Yara and I have incorporated these recordings as samples into the respective pieces. Thus, for the final presentation of "Sonic Exegesis" at the Vienna Radiokulturhaus, a very complex environment was created in terms of sound.
Interview: Heinrich Deisl