Posted on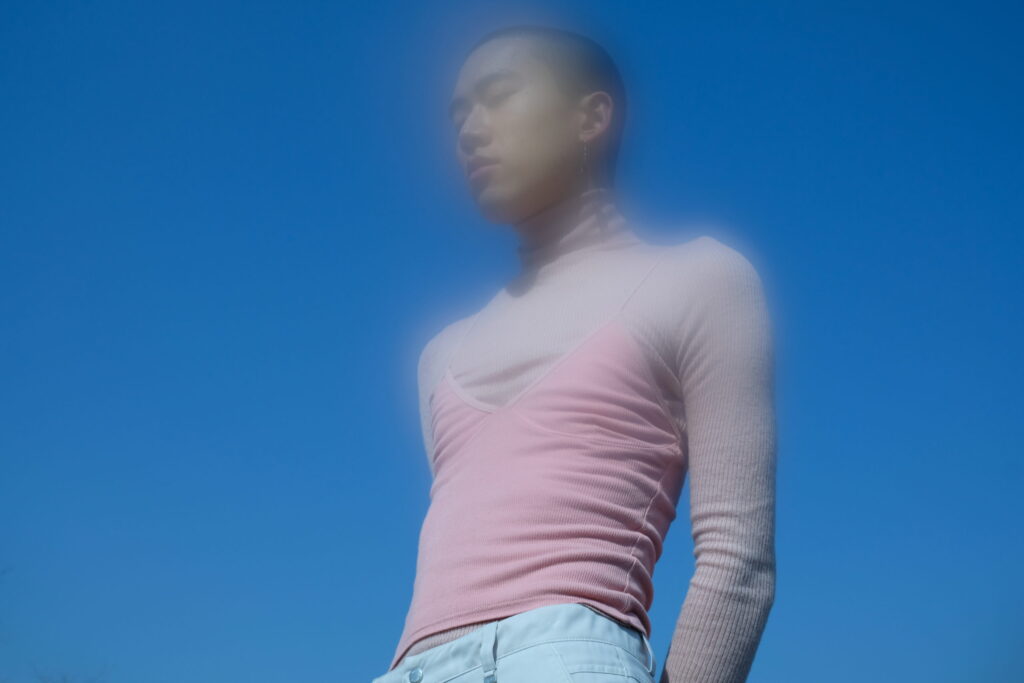 bela is a musician and a performance artist based in Berlin. On stage, bela growls through a diary of poems and slogans over a composition of electronic pungmul music. bela reclaims the depths of queerness and miscommunication through a ceremonial process in which the celebration of club sounds meet their vision of Korean folk music.
Some artists spend the summer touring and performing, while others rest and relax before the autumn/winter club season kicks in. How and where have you been this summer?

I was making an album, going to/playing at some shows, enjoying life… a bit of a mix of everything. Also dealing with some administrative processes. But mostly I remember trying to pay the rent or searching for a room.
Your music recontextualizes pungmul, a Korean folk music tradition that incorporates performance in various forms: drumming, singing, dancing. Can you talk about how you came to work with this tradition, and how you approach it through your electronic/digital means?

I was at Incheon Airport, and I saw these people playing traditional Korean instruments. They were playing Vivaldi as an ensemble. It is totally valid to explore the potential of traditional instruments, but a side of me thought, why not play something traditional and elegant from a very carefully selected catalogue for once, rather than something that is touristy and artificial? Maybe something that instrumentalists actually learn at school? And then after that day, I started observing the clubs in Itaewon and Hongdae and the music that they were playing in our space. Chinese people were doing something close to home; sinogrime was a big influence in the East Asian club scene at the time.
Artists like 33EMYBW and Hyph11E from SVBKVLT were rising and I had also interviewed Tzusing for my local collective. That gave me the courage to make something that was influenced by something that I knew from home. What Korean producers who are trying to create something influenced by Korean folk/classical music usually choose to do in production is to use traditional instrument samples, like a bit of percussion, a bit of Korean flute. Or play some western classical or pop music on those instruments, using the sound of the instrument itself so that the traditionally trained instrumentalists can utilise their training. I could see what was missing, and that was playing with the traditional rhythmic structure itself, but with different sound experiments. I sought pungmul for my project because the 4/4 triplet rhythms, which are quite common in folk repertoires, spoke to me the most. I am also a DJ and I was fascinated by something that could challenge the 4 by 4 patterns. And then I made up a bunch of sounds with FM8 VST.
During the late 60s/70s, pungmul was used in pro-democracy protests. Has this political aspect of pungmul been of importance to you?

A disclaimer: I am no pungmul expert. There are people out there who spend a lifetime learning it! Okay. It is a blurred history that we are looking at. South Korea has gone from being an agricultural nation to an industrial nation to a digital nation in the space of a few decades. As pungmul is an important part of agrarian folk traditions, there are still generations who grew up with it before it started being treated like an ancient thing. Pungmul performances are considered to be celebratory rather than politically charged acts. It is not supposed to represent a particular stance. But when the dictatorship was running the country, large-scale student-led protest rallies became some of the biggest gatherings of the time, driven by anger at the dishonesty and injustice. It was then that pungmul was documented alongside the progressive politics of the time.
I wish that pungmul could play a role in advancing social progress, of course, by creating a space for new solidarity in diversity. Every year at SQCF, or Seoul Pride, I see two sides that use tradition for their purposes: one side is the Christian parents with drum and fan dances, and the other side is the queer pungmul group Baramsul. It shows that this is a very fractured world we are living in now. I can only hope that what I am doing, with the artist themself being queer, can somehow contribute to the extended pungmul worldview.
On your album Guidelines, you were working with government archives, as well as YouTube, to research traditional music. How did you find this research part of your work, and how did you deal with the ethical and aesthetic aspects of this part of your work?

Pungmul is a vast world, I find. I only worked with the accessible part of the knowledge of pungmul – I cannot represent what it really is. I received no formal training in pungmul, I do not belong to that circle. I am not a pungmul performer in many people's eyes and you shouldn't see me as one either. I am something else. Acknowledging that left me some room to be creative and stay on the outside. I am now growling along to it, so there you have it. Sometimes I still wonder if I am using pungmul to have a display of Korean culture on my forehead, or if I am merely borrowing power from the source where it all came from, especially because this is never a level playing field where you can present something naively.
It is complex, it will never be this or that, black or white. But because I have chosen pungmul, I can now discover sounds and expressions that sound great with the rhythms of pungmul. What I do know is that the more stories and influences I carefully select and fold into pungmul, the more I feel it slowly becoming something chimerical that cannot be fabricated or labelled. Unlabelled is the best I can do. I don't know if people working in similar conditions to mine develop similar processes to mine. I hope that my fellow SHAPE+ artists will help me to see things in different ways.
Performance seems to be an important part of your work. Can you talk about the performance aspect of your work?

I read my diary/lyric book in the darkness with a torch and a mic in my hand. When I read, I growl instead of using my speaking voice. Nobody likes their own voice, but I've never reconciled myself to it internally because I don't resonate with its male characteristics. Not belonging to either the male or the female side is really a strange experience in this world. I wanted to transcend the binaries with either a growl or a heavily mediated voice, at least for now. It's a very distinctive experience when a male-passing singer picks up a mic and a thin, femme voice comes out of the speakers.

There is always a gap between what you are, how you perform, and how you are perceived. I want to express myself through that gap and reach out and show a glimpse of my inner workings to the best of my ability. I think of the performance as providing a bridge for the audience to where I was & how I was emotionally and intellectually when I was making the music. I try to create a mental space where I relive the life moments that became the sounds you hear while I am reading the diary and concentrating on what I remember. I try to improve each time because it is my way of digesting my surroundings in a subconscious way. Let's say I have a lot of non-verbal stories to tell that can't be told just in sound or by pressing buttons and turning knobs. They leak everywhere. They are therapeutic and ritualistic. The damage is done, what can I do now?
As well as being an artist, you also co-host the Sorrow event series, both in Seoul and in your adopted home of Berlin. Can you tell us about the event?

I joined from the third Seoul event, and I moved to Berlin after the 9th event. Sorrow Club Seoul has three other hosts, and I run Sorrow Club Berlin alone. SCB is roughly every two months and we host artists like ABADIR, perila, Lucy Liyou, Special Guest DJ, and Atte Elias Kantonen to name a few. We did one collaborative event with the Berlin-based Unguarded crew and the venue silent green.

I have such a love for this party because I love measuring the balance between ambient and experimental, serious and pop, all under the unifying theme of sorrow. I know I cannot represent the whole crew but my purpose in SCB is to present a deep, grounding experience to the queer and BIPOC communities that gather around the kwia venue in Berlin. Queer parties tend to be very camp and hyper, while music nerds and explorers care deeply about listening experiences. But under a few layers of self-protection, everyone has that tender chord that I try to reach with a sensibility that I cherish, which is the calm and balance that can be found in a light dose of sadness. The next SCB will be exciting, with Grischa Lichtenberger and Zaumne performing live and Nick Klein and Baby Vulture, aka Daniela Huerta, DJing for us. Connecting disparate dots to offer some dynamics.
What is up next for you?

I have no idea :D. I'm hoping that it will dawn on me before I go crazy. Send me signs! Until then, my time will be spent developing some beautiful friendships and collaborative projects, like the growling vocal duet project I have with Baptist Goth, aka Dylan Kerr, and a new visual performance to be developed with commissions to look out for. I am also excited to be playing some upcoming gigs in and out of the SHAPE+ Platform!
Interview by Lucia Udvardyova