Posted on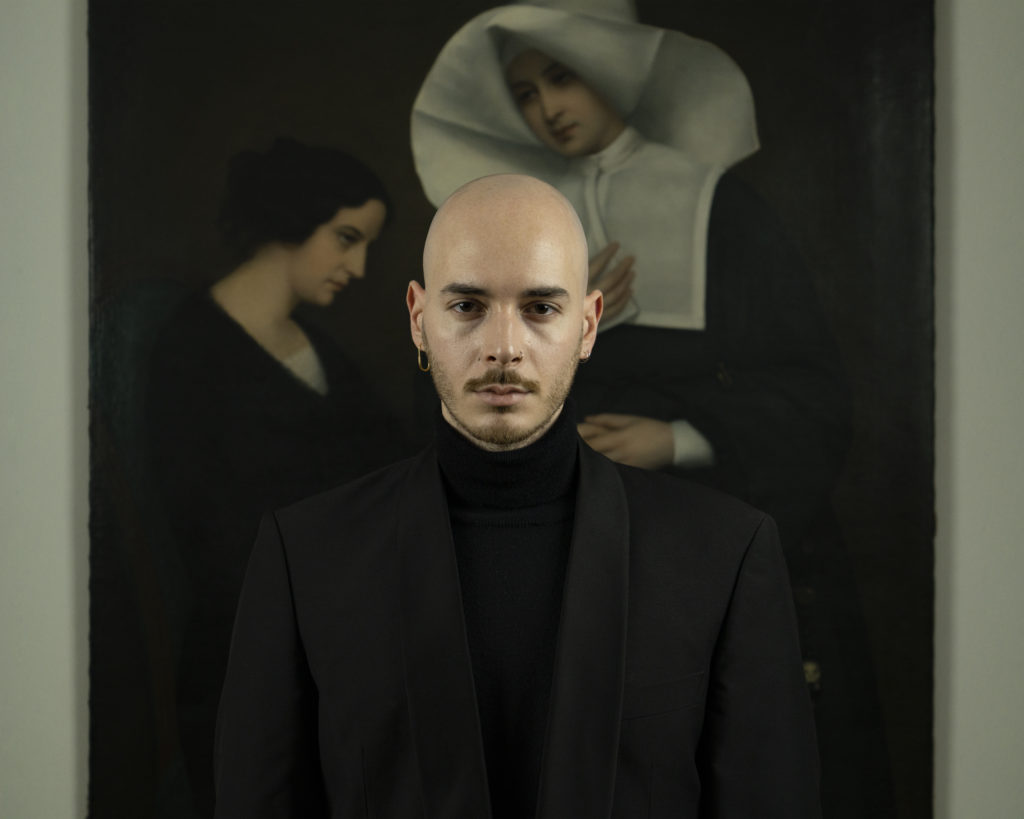 Riccardo La Foresta is a percussionist and sound artist from Modena (Italy) whose latest research aims to question the role of the drum as a percussive instrument. Resonances and vibrations generated treating the drum as an aerophone create acoustic drones, ancestral melodies and complex beats that drastically differentiate the instrument from traditional drumming. The ongoing process of his research is focused on the development of a system called Drummophone. Since 2013 La Foresta, has been active as a curator of experimental music concerts in the area of Modena, mainly with his organisation Bæd and since 2017 with the NODE festival.
How have you been? What have you been up to lately?

I had extremely low expectations for 2021, which ended up being a positive year after all, even though it feels weird to say it. In the past seasons I presented a new live set in various contexts and a couple of sound installations, also thanks to SHAPE.

Now I'm focused on recording materials for a new release; I've waited almost two years to record the set that I play live and now it's ready! One news (for me at least) is that I'm officially back behind the drum set with a new rock trio featuring Stefano Pilia on baritone guitar and the Australian pianist Anthony Pateras on electronics: I'm a drummer yes, but I rarely played the drum set live in the past years in order to dedicate time for my solo project.

Besides concerts, I curated the 10* edition of NODE festival and two residency projects: one with Stephen O'Malley & François J. Bonnet, and the other with Fennesz & Ozmotic.

Can you talk about this new release of yours?
Fenomenologia delle percussioni has been released by SUPERPANG. The title is inspired by the work of French philosopher M. Merleau-Ponty, who attempted to define phenomenology, the experience of the world, space and time. The music was commissioned at the beginning of 2021 by Rihards T. Endriksons for the radio program Tada müzika on Latvijas Radio.
Endriksons is also curator of the experimental music festival SKAŅU MEŽS in Riga where I performed solo and as a duo with saxophonist Arvydas Kazlauskas.
Recorded in January 2021, it consists of three compositions created with the drum kit, a 28″ bass drum, a 12″ frame drum and various percussion elements supporting the harmonic textures of the Drummophone. On the first track, I created a library of single pitches with one drum, then I layered these notes creating chords, like with a synthesizer. John Cage said that percussion music is a contemporary transition from keyboard-influenced music to the all-sound music of the future. There is a crystal-clear relation between his statement and my work with Drummophone, especially when working with pneumatic forces, obtaining an organ-like sound out of the drums. On the other tracks also, every pitch that you hear is recorded on drums, but with the breath, mostly with circular breathing. Arpeggio is played on a 12" frame drum. People usually think it's a clarinet.
What led you to percussion and sound art? What is your background?

When I was a teenager I literally listened to everything that I could discover, from metal-core to jazz, from techno to contemporary music, hip hop and whatever else. I started playing jazz because that was the only way to do "official" studies at the conservatory, playing the drum set. My first concert was a jazz concert. While playing more avant-jazz, free jazz, free improvisation, little by little I lost interest in playing idiomatic music and then I started playing solo concerts. That's where the whole process of creation of the Drummophone started.

I can't really put some of the things that I present live into a specific music category; some feel more like a sound performance to me, some are sound installations, depending on the context, but the central thread is always sound (and drums!). I started to walk away from the stage or from my instrument while performing to reach the audience's perspective. It's a way for me to push my personal boundaries further and see if I can experience, discover and understand something new. And I've been doing this since the first day I started playing, in different ways. That's what keeps my interest in music alive.

You've implemented a system called Drummophone. Can you describe it?

In 2015, I started performing experimental percussion solos using a variety of extended techniques: in principle anything is usable to create sound, but too often new devices are merely used as a sterile (sound) effect instead of a tool for expressing and developing a language.
I developed the Drummophone through the creative path of improvisation. It's a system that allows me to treat the drum as an aerophone, both with breath (like a wind instrument) and electric blowers (like an organ).

So, what is the Drummophone?
Technically, it consists of a folded small cymbal with a convex instead of a concave shape, with a regular bell, to which a tube is attached through its central hole.
When placed on top of a drum, only the circumference of the bell touches the drum skin.
This allows the pressure of the air that flows into the tube, either injected pneumatically or blown by the musician, to make the membrane of the drum vibrate and resonate. It is not an instrument by itself, it's more of a system or a collection of possibilities built around the concept of playing the drums with the air.
The Drummophone has been officially presented at Tempo Reale (a research centre founded by composer Luciano Berio in Florence) in 2017. While playing with it, acoustic drones, melodies and complex beats that drastically distance the instrument from traditional drumming and gestures are created. I use circular breathing or electric motors to generate a constant flow of air that translates into long tones. I've been experimenting with preparations a lot and you can hear them on my LP Drummophone, published by the Kohlhaas label in 2020.
Different transitory evolutions have been already explored, each one of them revealing questions, problems and solutions that made what the Drummophone is today.
The Wire's Philip Clark has described your work as: "La Foresta has pushed percussion music back into the realm of speculative improvisation". I'm particularly interested in "speculative improvisation". Do you feel like it's accurate and if so, how does it translate into your practice?

It sounds pretty accurate to me, yes. Can't speak for P. Clark, but in my mind "speculative improvisation" refers to speculation of abstract ideas that often come with excitement, expectations and high risk in pursuing the unproven chances that you will obtain what you expect the way you desire.
It is always about taking a risk, and working to increase the percentage of knowledge that will lead to the sounds you have in your head.
To me the Drummophone is like a wild beast to be tamed. After years of work it is now clear how it physically responds…but to get what I want out of it, that's another story.
What I do with it always comes out with very risky results.

There's a specific interplay between silence, time and space. Between the kick and the echo. What is your relationship with time and space in your work?

I like to think of my sounds as the architectural response of the room, always and everywhere. Space plays a major role in my live acoustic performances and that's why I don't really like playing outdoors. I love playing in very reverberated rooms, and even more so in spaces with weird and "wrong" acoustics: that bad acoustic behaviour that for some is a weakness, for me is actually the best counterpart to work with live.
For a few years I've played live with my eyes closed trying to emancipate myself from being in the moment and many times I've experienced time in a different way. I don't want to sound naive though, but music (or sound) has the ability to gauge time, to be its unit of measurement and that's why I've tried to present my work in different time frames.

For instance, I presented a new piece at Unsound last October that blurred the lines between installation and performance. It was open for four hours in the 19th century Tempel Synagogue and it was a sound installation with 10 Drummophones around the space with which I also performed during the whole duration, constantly adjusting the tuning according to the resonances of the room. Since we are here…I definitely suggest reading The Order of Time by the physicist Carlo Rovelli.

Besides music-making, you are also active as a curator of experimental concerts. As a musician, how do you approach curating, and what are your most important tools for curation? How do you choose the artists?

Curating has gained a major role in my artistic practice throughout the years, and it has also taught me a lot. While touring I've met a lot of great organisers, and that's been a great inspiration: being creative with music has different forms; it's not only playing or composing. I have been lucky to find the right people here to create festivals, exhibitions and residencies with, but most importantly establishing networks. I had a love and hate relationship with my city (Modena) for some years, but I made peace with it now and I like the idea of having a role in my staying here, giving a contribution to the place where I live, bringing artists where otherwise they could not have the chance to present their work. It's for me, for them and for the people of the area. Generally, what mostly interests me in choosing who to invite is the language and vocabulary building, personality, and unique approaches. We are very unique beings and I love when this uniqueness is reflected in the music.

What would you say curation taught you, being an artist yourself? How's the music scene in Modena?

Curation is a very creative process, and it has taught me that being an artist means being in a bigger network than I thought. Sometimes, we are so focused on our personal work that we forget about this. Having another role in this network has kept me in balance, especially in the last two years. Curating to me means creating and building opportunities for others, sharing ideas of other people. It's sharing in its wider sense. It has taught me how to share.

It's not very easy to be both artist/curator and to keep this balance respectfully on both sides, but I like the challenge. I started organising in Modena because there was no chance for artists to perform certain kinds of music otherwise: curation helps to define a scene. It's also been a side effect, after deciding to stay here instead of moving to Berlin…almost a physiological need. Modena is a beautiful medium-small city, we have to extend to the region/area the concept and yes, then I can say we have a vivid scene, plenty of interesting artists around here.
Interview by Lucia Udvardyova