Posted on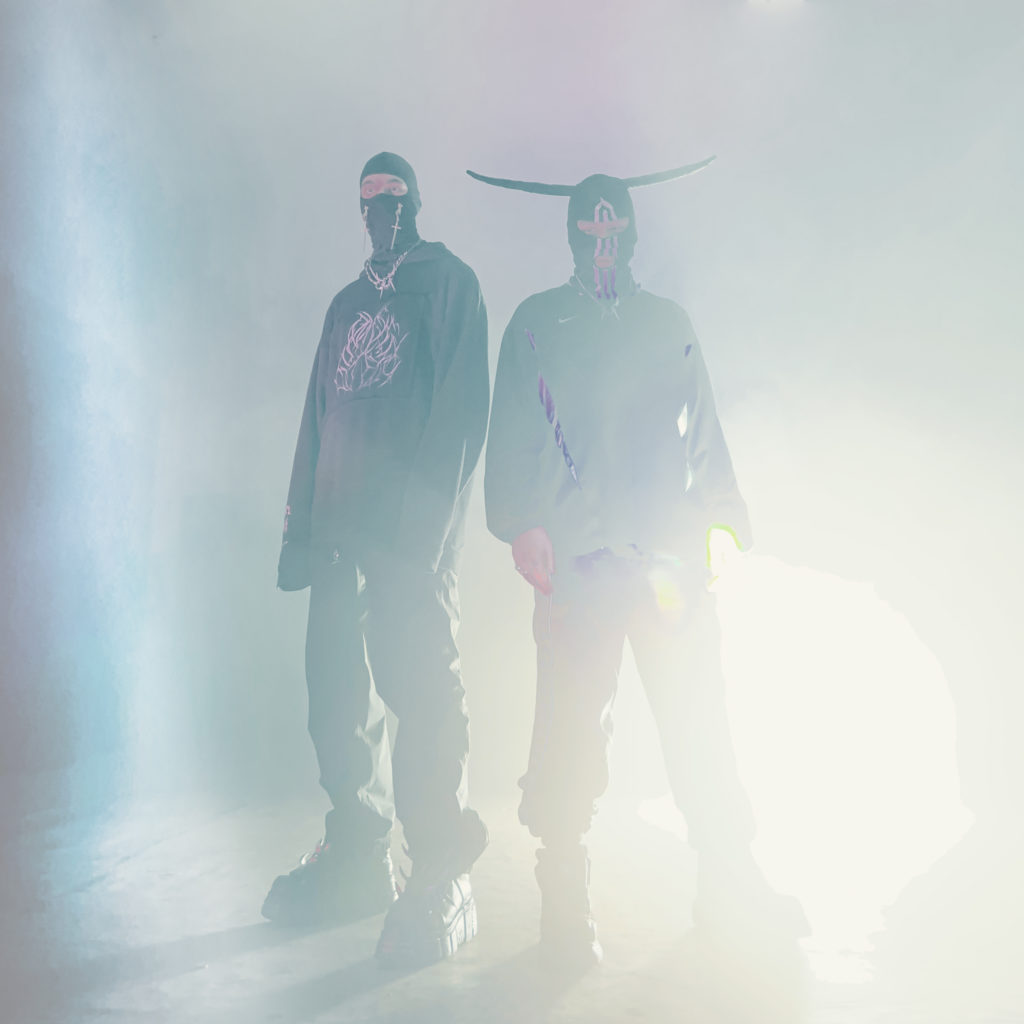 7777 の天使 is a project formed by Swan Palace and DRVGジラ in which the grip of sculpted percussion comes as easily as its complexity. A wave of violent hits tears through but never imposes itself on the delicate, harmonised vocals, drenched in almost weaponised auto-tune. These sounds are a call to the heart, no matter how loud and piercing the noise can get; like any song sung out of truth, it resonates with this world and, perhaps, the next.
Sorry to start off so bluntly, but what do the four sevens denote in your name? According to numerology, it's the angelic number.
The 7777 are part of the whole name (7777 の天使) and are read only as one seven, so it roughly translates as "Seven Angels".
When we thought of the name, it was mostly for the aesthetics of repetition, but it's interesting how we chose that number in particular, without knowing about its other meanings and how it fits with the project.
We came up with a version of that name months before we created the project. It's the name of a track from the first Swan Palace LP, "No Miracles", which was our first collaboration (between solo projects). The track is called "7777 Angels" and it represents the friendship and connection between the two of us.
The repetition of the sevens came to be because of the name of the first track on the Swan Palace record, "1000 Silver Feathers". It was an aesthetic decision to have four numbers in each track so there would be a visual match. So later on, when we decided to start this project, the name was already there.
How did you two meet and what are your backgrounds?
We met in Lisbon in 2017, at a live event where we were both playing with our solo projects. Both of us really enjoyed each other's music so we kept in contact from then on.
We're from opposite ends of the country but ended up moving to Lisbon in 2018, so it got easier to hang out and we got to know each other better.
We were both classically trained from a young age, so the interest in music started really early. Later, in our teens, a curiosity about and interest in producing started developing as we got to learn more about DAWs through the internet.
(Swan Palace) I have also had a big background in heavier music since my teens. I started playing drums and guitar in deathcore and hardcore bands and took an interest in producing the tracks for ourselves so we didn't need to pay for a studio, since we didn't have the money for that. In my late teens, I ended up getting into electronic music and started to really learn about producing in depth. I really enjoyed the freedom that it gave me, not needing a whole band to create a track.
Your voices are veiled in autotune; in your photos, you are wearing masks. Is the obscurity a conscious decision, and if so, what was the motivation behind it?
Yes, definitely! It's the kind of aesthetic that we really enjoy since we both have a big witch house influence. The dark, celestial, heavy and raw side of things.
For us, the heavy autotune and distorted vocals are something we've been experimenting with since we did that first collaboration. They go hand in hand with the mask aesthetic.
Both create a less human feel, which contemplates and creates a balance with the raw, emotional and more human side at the lyrical end. All of this came to us very naturally when we started the project, so we've just been building and perfecting that aesthetic ever since.
Could you talk about your aesthetics?
It started with the ski masks and the angel aesthetics. And as the project grew, we developed a bigger world behind the two angel figures. Which gets more refined with each release that we've put out.
The mix of the divine and angelic aesthetic with the more human, vulnerable and heavy side in the lyrics, is something that we're very interested in.
You are based in Lisbon, Portugal, which has an interesting music scene. (e.g., SHAPE alum Violet and her naive label, the mina collective, Principe Discos, of course, etc). How are you integrated into it?
We know most of the scene and have collaborated in some way or another with a lot of the people in it. It's a very interesting scene and we're very grateful to be part of it. Some of our favourites are Rotten \ Fresh, ARVI, Rádio Quântica, Planeta Manas, ZDB, DARC (Desterro), Cosmos, Tundra Collective, Au Largo, Maythey, Dengo Club, Filho Único, and many more.
What are your current projects?
As of now, we're working on some compilation tracks and on our second LP. We're aiming to release it hopefully sometime next year.