Posted on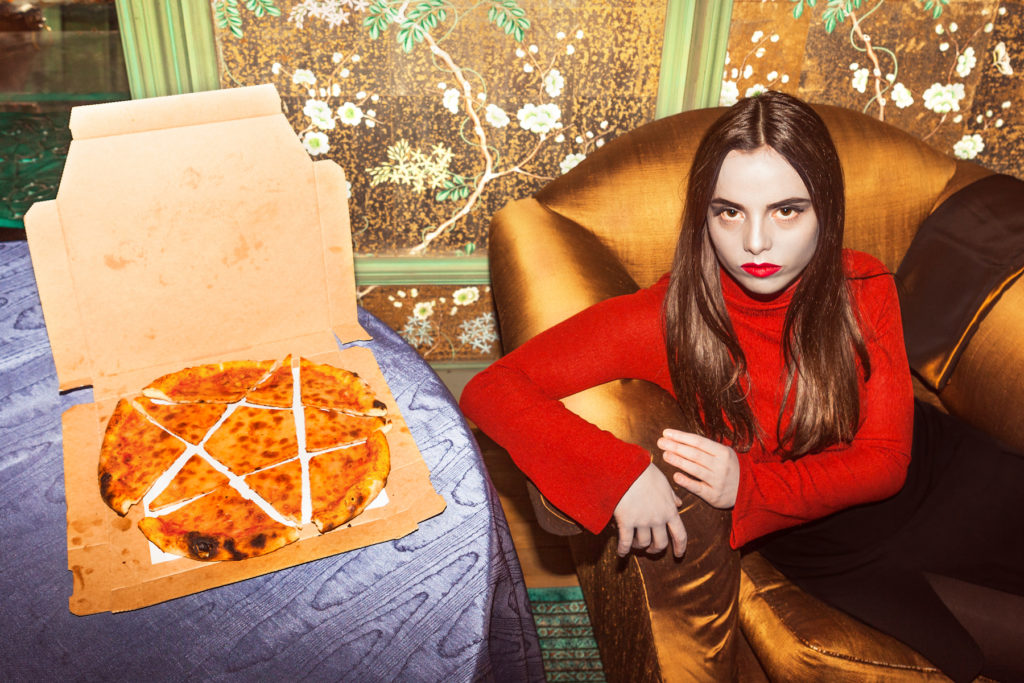 Mathilde Fernandez began her musical project while exploring the various textures of her voice. Her style is imbued with strong lyrical influences from her idols: Nina Hagen, Lisa Gerard, Lene Lovich, Mylene Farmer and Rita Mitsouko… One half of the Hard Dance duo "ascendant vierge" ( EP – Vierge, 2020), she leads her unique musical project on her own. Using both acoustic and electro, she has released 2 EPs – "HYPERSTITION" and "Final Vegas". At the top of her music video clips and visual realisation game, Mathilde Fernandez continually enriches her baroque universe with special collaborations with such as: La Femme, Christophe, Casual Gabberz, La Tendre Emeute, Perez… .. she's been touring and has been invited to play at several festivals in Belgium, France and other international venues. Mathilde Lives and works in Brussels.
Your musical project began while exploring the various textures of your voice, inspired by idiosyncratic female singers with distinctive voices like Nina Hagen, Lene Lovich or Rita Mitsouko. Can you talk about these explorations of yours?
I was in contact pretty early in my childhood with those strong and charismatic voices and characters as my parents listened to a lot of music (especially Kate Bush). I have always found that to feel the music, you have to go through it, you have to vibrate with it. Bringing out your voice to accompany music is a unique feeling and I always told myself that these very strong women were able to transcend whatever they wanted to with their voices. I have always needed intensity; these voices are intense, it kind of showed me how to build my voice and my character as an artist.
Your project is as much visual as it is musical. The covers of your releases are stylised portraits, presumably presenting a different persona of you as well as a different concept. Can you talk about the visual and conceptual aspects of your work?
I see my records as novels, from one book to another you don't want to read or tell the same story. I like the fact that music is a medium that allows me to venture wherever I want. Music offers all possibilities… I don't think I change my personality with each record or with each project. It is also a challenge to know how to reinvent yourself and also to be afraid of yourself.
You have built a sort of gesamkunstwerkian world that encompasses music videos, performances, songs, collaborations. At heart is a sort of baroque feeling, a maximalist vibe. Can you elaborate on it?
I like to open the field of possibilities; destabilisation allows moving forward. I have studied visual arts and have worked in the field of live arts but have always been playing music. At one point, I was annoyed about not being considered as a musician but more as a "performer" as I felt not taken seriously. But today, I feel happy not to have closed all the doors to all the things I was creatively attracted to. I'm finding myself pretty happy, in between the writing of an album, going to perform on stage without any links to my musical projects. Total Art is an amazing playground. This is also why as a French person I moved to Belgium some years ago. I felt that mixing media was more advanced and accepted there.
Your albums have been devoted to themes such as the American dream; the latest album is called Sensible. How do you approach the themes for each album, and their evolution.
I was a teenager when I wrote Final Vegas, talking about unknown destinations, American dreams. I felt really trapped when I was a kid as I didn't grow up in a big city but more in the countryside. I had a lot of fantasies about "abroad"… it's also pretty sarcastic. I guess the last EP is the most personal one, written with blood and sweat. In between childhood, adolescence and adulthood, probably.
You sing in various languages – French, English and even Russian. Do the different languages signify differences in terms of what you want to express?
French is my mother tongue, I have always thought this was the hardest language to sing… a lot of words are pretty hard in the mouth and not that romantic… English is easier, in the mouth but also in the vocabulary… but I don't like to hear bad English accents… hahaha ! I've tried to sing in English to translate my song "Amerique", which was a funny exercise, but I don't feel really comfortable in English at all! I love Russian… it was a great challenge to translate "Temple Sourire", my last single, into Russian. It is a strange experience to transpose the ideas and make them fit the rhythm and the music. I would love to be able to sing in every language of the world, even though music is an universal language…
You also have a hard dance duo, ascendant vierge. Can you talk about it?
I created AV with Paul Seul, founder of Casual Gabberz, three years ago. It was kind of love at first listen (if I can say that). I asked Paul to remix "Oubliette", a song of mine, and after listening to it, I thought it was the best track of the whole album. A few weeks later, we decided to start our new band. We released our first EP last year entitled vierge. It's more like a "hard dance" project and the public have waited a long time to see us performing live as we launched our music at the beginning of the pandemic. We're just back from our first tour (one year after the release) and it was such a blast.
What are your current projects and dreams?
I'm finishing writing and recording ascendant vierge's first album with Paul. I'm also preparing a little solo tour around my last release, in June, of my third EP Sensible. There will be some gigs in Brussels and Paris and I hope in other cities, too. My dream at the moment is to never stop touring and also to write and create a new living art project with my mate Cecile di Giovanni.
Interview by Lucia Udvardyova
Photo by Raphaël Lugassy