Posted on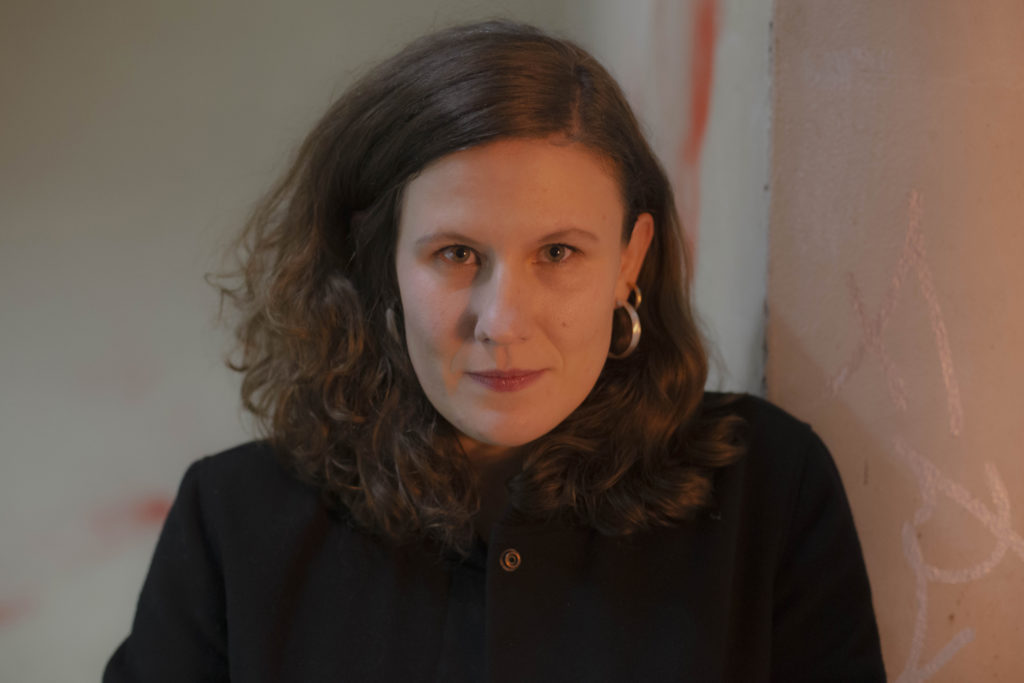 Justyna Banaszczyk, aka FOQL, is an experimental electronic and dance music artist, author of radio dramas, film scores and video game soundtracks. Her tracks bring to mind IDM and industrial, but their most distinctive features are complex rhythms and often harsh sounds, which constantly explore and contradict the artist's musical identity – a trait that is reflected in her largely improvised live performances. FOQL is also the co-founder of Mother Earth's Doom Vibes, a noise duo with performer and sound artist Edka Jarząb. She has co-curated the Oramics collective, community Radio Kapitał, and she also co-runs the Pointless Geometry imprint. In 2020, her collaborative album recorded with Fischerle was released by Paralaxe Editions.

As a professional artist (with music your main source of income), were you able to get by throughout the pandemic? The support for the arts has varied geographically across Europe. Whereas artists in Berlin might be able to get state support, this hasn't been the case everywhere.

I won't lie – it is hard. But not only for artists, for all people in a precarious situation and in general – for poorer people. All concerts and performances have been cancelled and, to be honest, I feel very unlucky to have my SHAPE year during a pandemic. But I really don't want to complain. I'm the kind of person who always finds a way to somehow survive, even though I also always choose the harder paths for myself because of my unapologetic character. I mean, it was always pretty obvious to me that my situation would be complicated when times of crisis came. I knew it very well, but it was my very own choice to give up all the "normal" jobs I hated and dedicate my life to art. This is my way of life, not my hobby, so I'll just try to find ways to get through the hard times and stay true to my values.
I guess you cannot even compare what the State offers to artists in Germany and in Poland. In Poland, art is always at the very bottom of the pecking order. Especially independent art. It's not considered to be anything important or anything that builds and keeps alive bonds between people. Art is only useful when it's state propaganda or a tool for historical politics and it's not only like that now. Every government acts for its own good.
I managed to receive social benefit from the Ministry of Culture, I'm also on a 3- month scholarship funded by the state – so again, I'm not gonna complain. I think that it happened only because I was super patient. I was waiting for this social benefit for almost 3 months and I had to make 15 phone calls and write 10 emails to get it. Many people are not so cheeky as I am and I'm sure they just give up even before they try.
For me, this situation is very interesting to observe because it perfectly unmasks how essential it is to be financially privileged in the so-called "art world" in order to be successful. People don't realise how extremely hard it is to not give up your dreams when you come from a poor, working-class background as I did.
You have recently relocated from the capital Warsaw to Łódź, a city in central Poland with an industrial legacy. You grew up and had your formative musical experiences there: from attending music school from a young age, to first encounters with musical subcultures (punk, etc), to organising events and creating music. How do you view your musical evolution in retrospect and what led you to return to Łódź and what are your plans there?

I think I can say that the pandemic relocated me back to my hometown, because I really did not plan this. I moved to Łódź in March, at first only to help my Mother and then, after three months, my partner and I decided that it made more sense to move here for good. Now I feel it's a very good decision. I left Łódź almost 10 years ago when it was in huge economic crisis. I had no job and no prospects, so I just packed my stuff and landed at a squat in the centre of Warsaw. I didn't plan it. I was very angry, and I hated my hometown because it made me struggle a lot. I spent almost a decade in Warsaw, and it was an extremely good time for me, it helped me realise that I wanted to, could and would be an artist. I met hundreds of amazing people from all parts of the country and I learned from them that we could really build this world together. I don't want to sound like some kind of childish dreamer, but I really believe that what you can change is your local environment, your local scene etc. That's what I've learned.
Now that I'm back in Łódź, I'm amazed at how much it has changed. Its beautiful industrial architecture is being renovated and I think it's only a matter of a few years until it becomes one of the most interesting cities in Europe. Believe it or not – its architecture and vibe are unique. I'm also coming back with a slightly different energy. I know what my worth is and what my skills are – things I didn't know when I was leaving the city. I want to work here and get involved with local artists. My plan is to open a second Radio Kapitał studio here in Łódź.
Łódź is also perfect for artists, I guess. Flats are cheap, life is cheaper, there's not so much gentrification around and I guess you can be a little bit more down-to-earth when living here. It's also very close to Warsaw so if I really want to, I can get there in an hour.

This city has a very bad reputation of being a "shithole" but that's not true; people saying that have usually never been here and they are using some stupid stereotypes. Yeah – it's a working-class city and the atmosphere is harsh sometimes, but I guess that's what made me strong when I grew up here.
I think my working-class background is more important for me than I ever realised and only now have I started to slowly understand it and not be ashamed of it. It's of value. I have started to more deeply understand how it formed my character, my aesthetics and my approach towards inequality and hard work itself. Everything. Including my music.

I'm happy that I'm back.

Aside from making music, you're also active on the music scene, having co-founded the Oramics platform to support women, non-binary and queer people in the electronic music scene, which has evolved into a booking agency and a podcast series. You're also involved in the Polish community radio, Kapital, and the tape label, Pointless Geometry.

Yeah, I was a very active member of the Oramics collective for two years and I think we accomplished a lot of amazing things. Personally, I believe that the curating of "Total Solidarity" VA is a really big achievement and it also somehow created a microtrend for charity compilations in Poland. But at some point, the feminist profile of the collective became too narrow for me – I wanted something more and got involved in building the local scene on many more levels than just a feminist one. That's why I decided to leave Oramics last year and dedicate all my time to the development of Radio Kapitał – the first community radio in Poland. I guess it worked. I consider Radio Kapitał to be a huge success and soon we will have our first birthday, which is something amazing for me. Not many people believed we would survive that long, but we did, and we have over 300 people involved in building the project. This is really mind-blowing. It's like one of my biggest dreams coming true. My second important project is co-curating the Pointless Geometry label. Today we are having three amazing premieres and I'm very proud of them. The label is also celebrating its 5th birthday so I'm not ashamed to say – check out our 39 amazing releases. If you don't know much about the Polish experimental scene it's a good place to start.



When it comes to your own music, you had a strong connection to the Dutch electronic scene in the past, known for its specific, electroid output. What role did it have in your music, and, in general, do you feel your music is more influenced by inner feelings or thoughts, or external input?
The Dutch scene was very important for me when I was a newbie in the club culture and electronic scene, but it was around 15 years ago so I'm not sure if I can still confirm that it has some kind of special impact on my sound right now.
I also have a strong bond with the Dutch label Enfant Terrible/Gooiland Elektro, because it was one of the first that believed in my music. It released my first solo vinyl in 2015, and soon the new one will be premiered – a 12" vinyl titled "Szkarady". The label and its boss, M., have a very specific work ethos, kind of an outsider vibe and that suits me well, I guess.
I cannot say what inspires me in general. It's different each time – sometimes it's a book, sometimes it's my newsfeed, sometimes it's just one single feeling I have, sometimes it's other people. What I can say for sure is that I don't really find it interesting to focus my work on the formal or technical side of the whole process.

It's interesting that your music is truly diverse: it explores various corners of psychedelia, dub, electro, techno, industrial and it never stays straightforward or predictable.
Yeah, I know, but I don't really think about genres. To be honest – I don't care. Maybe that's the reason. I just do what I hear in my mind. I also never think about my music as a "DJ tool". It just sometimes happens to be more "danceable", sometimes less.

One of your recent tracks is called "No Need to be Mean". Was it a statement about something specific?

Only because in general there is no need to be mean and we really can help one another even if we don't like each other personally. I try to be mean only to fascists and Nazis.
Interview by Lucia Udvardyova
Photo by Filip Preis