Posted on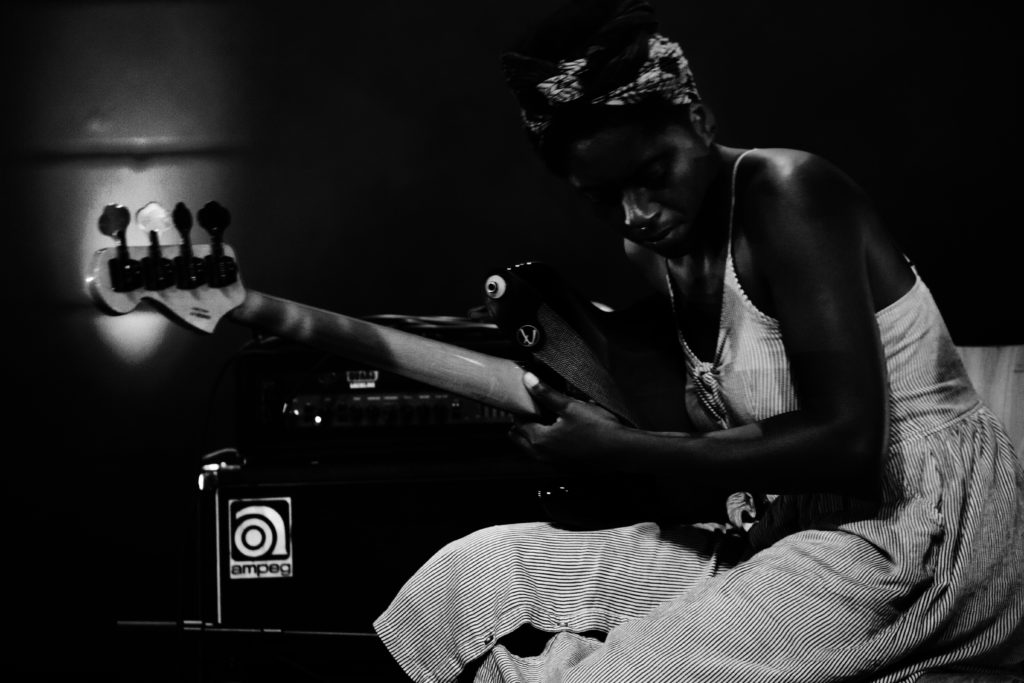 Farida Amadou(b.1989) is a self-taught bass player based in Liège, Belgium. The electric bass has been her main instrument since 2011. In 2013, she started to play various musical genres, including blues, jazz and hip-hop. That same year, she developed a great interest in improvised music when she met L'Oeil Kollectif members and started to play with percussionist/drummer Tom Malmendier. The Nystagmus duo was born in late 2014. Since 2014, she has performed with many musicians all over Europe. In February 2018, Farida Amadou joined the punk/noise band 'COCAINE PISS'. A few months later, Cocaine Piss recorded their album Passionate and Tragic at Electrical Audio Studios in Chicago with Steve Albini. In May 2018, she started a new duo project with the London-based drummer Steve Noble, including trio collaborations with Alex Ward on clarinet, Chris Pitsiokos on saxophone, ex-Sonic Youth guitarist Thurston Moore on guitar and recently, with the free jazz pioneer Peter Brötzmann.
How have you been in the last few months?
Great! Not playing much but I've been working on a label project for video and music. It's called 19 MARS PROD. I want to create a new collaborative platform for a network of artists and partner venues in order to produce, disseminate and promote visual artists and musicians. A collaborative platform that doesn't exist yet in Belgium. One of the purposes is to create events where artists from different backgrounds can meet and perform + a music label that can give an opportunity to musicians to collaborate with visual artists on video clips, for example.

Can you talk about your background, you're a self-taught bass player. Do you come from a musical family? In what environment did you grow up? What led you to learn the bass?
I began to play the guitar when I was a teenager and sang a lot of pop/rock music until the age of 20. Then I started to play the bass and study a bit of traditional jazz music and jazz standards. Then I discovered free jazz and free improvisation and joined a collective of musicians in Liege. It was the beginning of my unconditional love of that world of free music.
My family is from Niger. My dad used to play a kind of West African guitar called the 'Hoddu' when he was young, before I was born, and my mom listened to a lot of West African music when I was a kid, so I grew up listening to my mom singing and improvising over African music cassettes.
Were you aware of any specific genre that you were mostly interested in, or did you rather experiment with a number of them?
For me, it's possible to experiment with any kind of music. I simply prefer experimental music because there are fewer constraints and I'm more comfortable playing it.
It's all about the energy. Right now, I'm working on a project with a great Belgian singer/songwriter. I love experimenting with bass melodies because he gives me the energy I feel when I play experimental music. It's all about emotions.
What in particular are you focusing on when playing live?
When I'm playing live, I'm really focusing on the other musicians, their energy, and trying to react right away to rhythms or melodies without thinking. It's like I'm in a trance. And then I try not to be too much into my emotions so I can really interact with others. Sometimes, it's like I'm travelling on a really fast train where I'm with people I can have fun with.
What was the moment you became interested in improvised music?
I met a friend who is a drummer and we were in a hip-hop band together. He was playing a lot of improvised music and he took me into that world by going to concerts, listening to a lot of people I admire like Peter Brötzmann, The Ex, Okkuyng Lee, Ken Vandermark. I've been into it from day one until now! And now it's people I have the chance to collaborate with.
When I started to play, I felt right away that it was what I wanted to do. Again, being on the train and having fun with wonderful people.
In 2018, you joined the punk/noise band Cocaine Piss, whose work was recorded together with the legendary producer Steve Albini. How was this experience?
Waouw! What an amazing experience! Steve Albini is really unique in his way of working. Just watching him working with the tapes was insanely instructive! I really respect him as a musician and sound engineer. Our sound on the album is exactly what we expected from the pre-mixing to the mastering that was done by another member of his band, Shellac. He was really listening to what we were expecting, not as a musical director, more like a 5th member of our band who just wanted to produce the album we had in our minds. Really amazing.
Can you talk about your collaboration with Steve Noble?
I met Steve at a festival in Belgium. The Summer Bummer festival 2017. We were both playing in different bands. We had a great discussion together and laughed a lot that evening. The day after, I got an e-mail from him, asking me if I wanted to play in the UK. He had been looking for an electric bass player for 20 years.
We get along very well musically and also spiritually and that's very important for me.
I feel like he gets immediately where I want to go in the music and follows me or challenges me to go in another direction. I've never played with someone so inventive before. I learn a lot.
We've recorded and played with great musicians like Peter Brötzmann, Chris Pitsiokos, Alex Ward and ex-Sonic Youth guitarist Thurston Moore! That makes our duo stronger!
Hopefully some records of ours we'll be out in the next year!
What about your solo endeavours?

Playing solo is really challenging for me. I have a record that will be out next October! It's a mix of small textures on the bass strings and noise/punk heavy bass.

Playing different kinds of music with a lot of different people helps me on my solo road, too. I hope I will never be tired of experimenting and trying to find new solo paths.
My next challenge is experimenting with people who are more into electronic music. Make people dance!
Interview by Lucia Udvardyova
Photo by Laurent Orseau