Posted on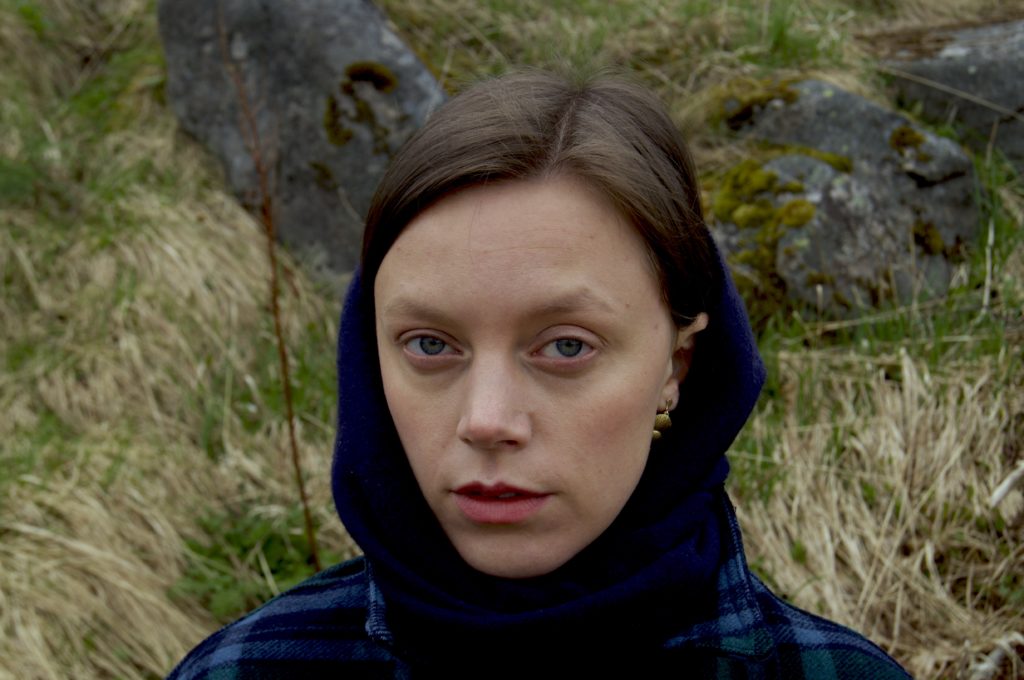 Elina Waage Mikalsen is a multidisciplinary artist and musician from Tromsø, Sápmi/Norway. She is currently based in Oslo, Norway, working within the fields of sound, video, performance, installation and text-based media. Her core source of material is the body, in its physical, remembering, sound-producing and acting capacities. She explores the woman's body in particular, most notably in her sound work, where the possibilities and limitations of the female voice are explored in a physical, historical and gendered context. She is playing at the upcoming Insomnia Festival in Tromsø.
How have you been in the last few months? What have you been up to?
I have been okay the last few months, but I think the Corona-time has been really hard, it has been hard to deal with the isolation. But it has also allowed space for some new thinking and new ideas, I feel a bit different after Corona. In some ways it has made the new world come closer, with reduced production, travelling and consumption; a slow life that I really believe in, where the human world for a short while gave space to the earth to breathe.
In the summer, I released a cassette on the small label, Breton Cassette, so I have worked a lot with that. It's a 28-minute long sound work in addition to a crow silver-plated box, handwoven key-chain and a poster with a text. I started doing field recordings at the beginning of March, and had an idea of a changing landscape, that the soundscape would take us from where the sound leaves the mouth, through the forest, into the ground and up again. I wanted to explore the idea of hauntology, of a past that keeps coming back to us, and of the relationship between our world and the underground world. I already had a lot of bird recordings and I was interested in how I could create a sense of a place that is both known and unknown at the same time. I decided that I would not be strict about what sounds to allow into the sound piece, that whatever happened during the period the piece was created in could make its way into it, that it would be sort of meant to be. Now I'm back at school in my final year of a Fine Arts MA at the art academy in Oslo. So, there is a lot of work connected to that right now.
Not many people know that, for instance, Joni Mitchell was of Sami heritage. You also incorporate your Sámi heritage in your artistic work. But also work within the duality of Norwegian/ Sámi cultures. Can you talk about how you do it, and its importance to your artistic identity as such?
It's very important for me to work with it…or, it rather feels like I cannot work with anything else. This is me, and it's such a rich cultural heritage and a rich position to be in. It's a hard position to be in, to be in between cultures, but it's also a rich position because it gives access to different views of life and the human connection to nature and landscape. All the ambiguities and problems that occur connected to this are also very important for me to work with. I don't think I have a method for working with it as such, it's just there and I'm trying to be with it. There is a very polarised situation these days between many peoples, but also between Sámi and Norwegian societies. So, to take the position of being in the middle or being in between, to not use polarising language, is important to me. Look at both lying beside each other and understand what it says about our time.
Were you interested in music from early on?
I started singing from a very early age and there was a lot of music and song in my family. I started singing in a choir when I was nine, because my father sang in a choir. I also played the clarinet, cornet, accordion, djembe and guitar at different times, without getting really good at any of them. The voice is my instrument. For a long time, I thought I would be an educated musician, but it turns out I needed to express myself in different forms, and to work in the area between music, sound art, field recordings and experimental music/art is the best way for me to work freely.
What is the role of the female voice / body in your work? Can you talk about your explorations of the possibilities and limitations of the female voice in a physical, historical and gendered context?
For me it's important to be aware that my voice will always be read differently from a male voice because it has a higher pitch and historically it has been reduced and ridiculed as something that is unpleasant to listen to and as something that has been undesirable in many contexts that have historically belonged to men, and still do. I think it's interesting for me to work with that, to be aware of this position and to maybe try to disrupt the connotations of the voice, and to work both with and against those connotations.
I guess I've always been interested in how high and how low I can go, and how it changes the structure and sound of the voice, and how much the body is part of this work. What can my voice do and what possibilities are there for a voice like mine, and how can I use it in a rich way, not only as singing but also as an instrument?
You also work with field recordings and various recording techniques. Sometimes these recordings are raw, with occasional disturbances. What is it that you're trying to capture and mediate sonically?
I've been very interested in unwanted sound, or sound that is considered wrong, like noise from the recorder itself, a shaking hand sending vibrations, the thundering noise of wind in the microphone membrane. Sounds that suddenly became part of the recording but that will be taken away later in the editing process, the things that happen by chance. Maybe I shouldn't call them unwanted at all, I guess they are small gifts that occur in the encounter with an environment. I want to use those failures, or whatever you chose to call them, as a possibility, and maybe a possibility to break with the hierarchy of sound, where something is considered more valuable than other things. I guess this is also a way to work with the western view of sound and music and try to give space to what has been cut away. And I mean that in a multi-layered way, what has not been part of the stories about ourselves.
I also find that these sounds have a very interesting quality, I like to listen to them. Sometimes I will unconsciously close my ears to those sounds because I know they're a mistake, but if I instead open my ears, the sounds open up for me and reveal their possibilities.
You don't only work with sound as a medium, but also with film and other artistic forms. What is the interplay between them?
I don't work so much with film these days, but rather installations, text and performance in addition to sound. And sometimes I of course document it, using film. I think I don't make so many divisions between what I do. Everything is connected, and the common ground of the themes that I am interested in, which are connected to the body, voice, landscapes, stories, forgotten stories and forgotten landscapes, is colonial history. My practice takes different forms, sometimes it's supposed to take the form of an installation, other times a text that is performed, and often it's everything in between, the process itself.
What are your plans for the upcoming months?
The plan for the upcoming months is to play at Insomnia Festival at the end of October in the Arctic Cathedral. I'm very much looking forward to that because it's my home city and I'm gonna play a live set of the cassette release. I have some exhibitions coming up connected to my studies, but also other things like the opening exhibition of the national museum next fall. And in between all of this, I hope to just do nothing, to be, to listen and to work artistically.
Interview by Lucia Udvardyova