Posted on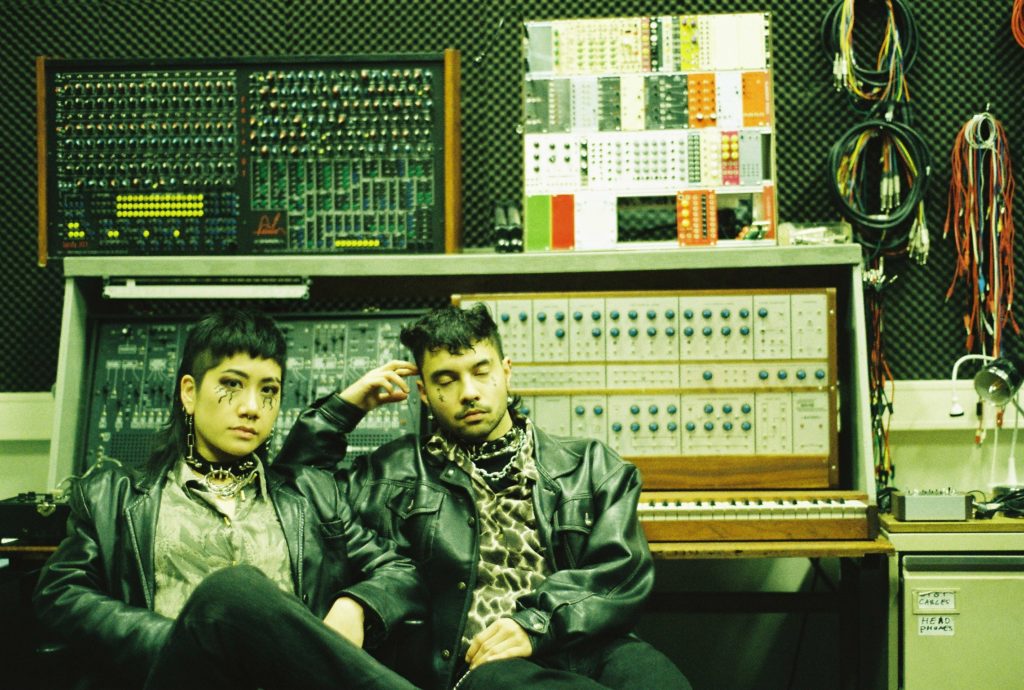 Animistic Beliefs were born to perform. They live to play live, and thrive on stage. They hail from Rotterdam but flourish in dark, strobe-lit basements during the witching hours. It is there that they breathe new life into electro by twisting, turning and contorting it into new forms that are utterly spellbinding and occult. Their debut EP, Sinuous Gullies, was released on Solar One Music's sub-label Between Places. More is planned, as is a debut album and a collaboration with Legowelt, Audiosport 8, which has been captured on cassette tape. If you act quickly, there is still time to jump on board the good ship Animistic Beliefs before it once again sails off over the horizon into yet another another alternate reality.
Animistic Beliefs were born to perform. Is live performance your primary tool of expression?
It´s when we play live that we can really let go and release all of our energy. It´s the vibe and energy from the dancefloor that really gets us going, haha. We like to interact with each other and the crowd a lot. Linh enjoys doing live screams/vocals, it really is an outlet for her. The live performances give us more room for aggression and we tend to turn to our productions to express our other emotions. I feel that our studio work and live performances are like day and night.
How important is technology in your work – is it more a tool of expression or rather something whose character and possibilities inspire and influence your work?

I think technology is both a tool and an influence, but mostly an inspiration. All synths have their own character and personality. We like how analog machines behave, you can do a lot of cool things by accident – we tend to get really inspired by this element of surprise.
Your electro sound is part of a lineage that draws equally from Drexciya's Detroit to the Dutch electro scene with Bunker Records, Legowelt, etc. Are all of these inspirations?
Drexciya/Dopplereffekt, Underground Resistance, Bunker and Legowelt are definitely inspirators, especially when it comes to their way of working – rich with fantasy, experimental, rough around the edges and not catering to DJs too much, lol. Soundwise we are also influenced by Rotterdam sounds (harder electronic music sounds: techno, electro, rave culture). IDM, Fluxwork and other contemporary sounds are also starting to get more and more prominent in our recent work. Electro is a really nice canvas to start to paint our picture upon, but it's not all we do or are inspired by:)
Similarly to Drexciyan sub-Atlantic afrofuturist mythology ("Drexciya" was an underwater country populated by the unborn children of pregnant African women who were thrown off slave ships") you also frame Animistic Beliefs conceptually. As a project inspired by Animism.
Linh is of Vietnamese descent, her family fled to The Netherlands through Malaysia right after the Vietnam-American War. Marvin is of Moluccan descent, a people indigenous to the Maluku Islands in Indonesia. His grandfather had to fight as part of the Dutch Colonial Army (KNIL) during WW2. Our Animistic Beliefs project is a combination of our ancestors' mythologies and modern technology like A.I. and futuristic themes. "Animism is the religious belief that objects, places and creatures all possess a distinct spiritual essence". We see ourselves as shamans tapping into the souls of our machines, communicating with the ghosts in the shells.
The Dutch scene has been one of the strongest electronic scenes. How's Rotterdam in this respect these days?
We have a strong local (electronic music) scene. There are many talented and inspiring producers, DJs, visual artists, (graphic) designers and photographers from and residing in the city. There are a lot of sick events, but at the same time, Rotterdam is a little gentrified. Everything is too polished and catering to the majority. The events are driven by money and the clubs always book the same artists/DJs, it's really boring. It makes me miss the raw illegal raves a bit that mainly do it for the music and the people. Also, the government isn't supporting the clubbing scene as much as they should in our opinion. We really enjoy places like WORM, Roodkapje and MONO, that book and support local and international artists. You can usually find us in one of these places. Events like Pantropical and Klauw in WORM or Klankvorm, Colorspace and Bound Centre are forward-thinking and a quality asset to the city. Record stores like Clone and Pinkman and the Operator radio station are also of great value for the music scenes in the city (and outside).
Besides feeling part of the local scenes in Rotterdam, we also feel really connected to the online scene. Nowadays the scenes are not bound to a certain location in the world anymore, they live and grow on the internet. The internet gives us the ability to stay connected to and get inspired by sounds, images and creative people all over the world. We both feel a strong connection to internet culture. It's our free space to share different interests and ideas.
Interview by Lucia Udvardyova