Posted on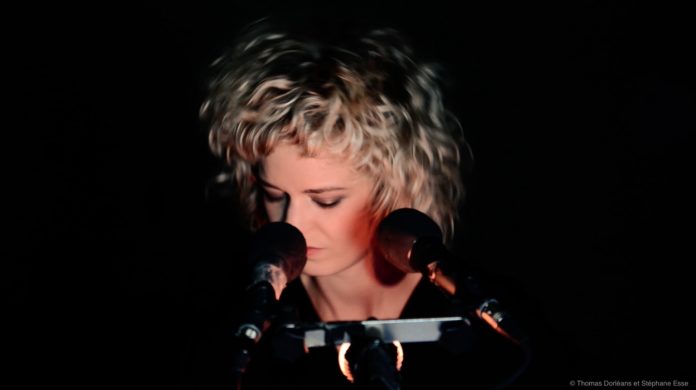 Perrine Bailleux's practices range from music and song-writing to performance, visual art, philosophy, teaching and writing. By means of different media and forms, her commitment consists in searching for artistic and theoretical means dedicated to expanding the horizon of possibilities and escaping prefab futures. Some of her current projects have not been released yet: she tours a lecture-concert about a painting by the avant-garde artist Malevich during which she presents, in songs, a completely new perspective on his last period; she is writing an essay in which she gives her account of what a song is; and she is working on a fourth PEM album based on bird recordings.
Your practice ranges from music and song-writing to performance, visual art, philosophy, teaching and writing. Can you talk about all the disciplines you are involved in?
I am not involved, per se, in each and every discipline mentioned but I rather concentrate a number of them together in my work. A good example could be this lecture-concert I created about a painting by the avant-garde artist Kazimir Malevich.
It is both a lecture-concert and concert-lecture. By this I mean by that both musical and theoretical dimensions are equally at stake. Following my encounter with a Malevich painting entitled "Two Sisters", an impressionist canvas backdated 20 years prior to its actual execution, I became passionate about the oeuvre and philosophy of Malevich, one of the most important Modernist artists.
The performance BE AS IT MAY is the result of this exploration: it departs from a proper and thorough analysis of the painting and then develops into a speculative thesis about Malevich's last period. I decrypt the painting and extract the secret code that allows us to apprehend part of Malevich's figurative late paintings as pre-conceptual works. To be rigorous, my reasoning demands an understanding of Malevich's philosophical account of the notion of Time. So in the end, it is a performance that mixes visual art history, philosophy, pedagogy (as it is a lecture), writing and music, since all of it happens in songs.
From a formal perspective, this work falls within the domain of experimental song. I explore what song-making can do as a specific art form: here it becomes the vehicle of arduous theoretical reflections on image analysis, history and metaphysical concepts. More generally, I think that I like to create forms that hybridise artistic and epistemological dimensions. This is also the case in my next album in which I secretly aim to help the audience to recognise bird species from how they sound (see question 3).
Can you talk about where you are based, the environment you are working in and how it influences your practice?
I am based in three different places: two cities, Paris and Amsterdam, and an art residency in the countryside called PAF. Home is in Paris, love calls me to Amsterdam, music calls me to PAF. It is not by chance that I am now working with bird music. If we humans have managed to kill a third of the bird population, the ones that are left can be best heard in the countryside where sound pollution is limited. Of course you can hear birds in the city, but only a very few species (mostly pigeons, crows, blackbirds, a few chickadees, fewer and fewer sparrows, not to mention the green parakeets who took over in Amsterdam). In the countryside (the Picardy region in France), there are dozens of different species singing in your ears every day. They are the soundtrack of nature and the clock of the days. So when I am there, I listen to the birds' music. I get up with them, record them, let myself be inspired by their musical freedom. They help me make music.
What are your current projects?
I have two main projects at the moment: an album and a baby 🙂 The second project took me by surprise and became my priority number 1. I realised I was pregnant during a SHAPE trip to Prague! So it basically postpones everything else in my life as I will give birth in February. Nevertheless, I am still working on this next album and I can still play gigs with my big belly, which are occasions to experiment with the new songs. This 4th album will be called "Chanson animale" (animal song). On the basis of self-made recordings, or recordings made by the French ornithologist Fernand Deroussen, I am trying to compose in tight collaboration with birds. I want my human music to be altered and influenced by birds' music and not the other way around. Far too often bird songs are used as anecdotal ornaments, atmospheric sounds, or raw materials meant to be sampled and transformed. On the contrary, in my approach, bird songs are celebrated for what they are: music in the strongest sense, singular and free.
Each title corresponds to a bird species, each song includes the singing of that specific bird, non-modified and integral, and is composed from this particular animal music with its rhythmical pattern, speed variations and/or weird harmonic mixes. Yet I try my best to keep the songs on the pop side as I've always tried to reconcile the experimental with the popular in my music.
Technically speaking, I changed my set-up for this work: for the first time I used a computer on stage but also the ARP ODYSSEY analog synth together with my voice and, of course, plenty of birds. Soon I will perform in Die (France) on October 23 with the great Japanese musician Aki Onda and the amazing drum duo Kristallroll, and in the Schiev Festival in Brussels on November 15, with a lot of good people.
Perrine en Morceaux plays Schiev Festival.