Posted on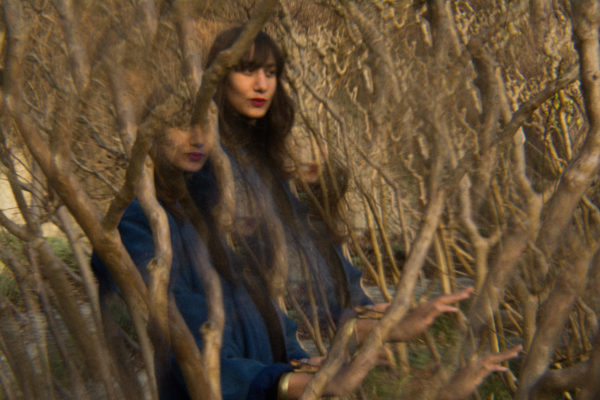 Myako is a French DJ and producer based in Paris. Her sets are rhythmic equations of break, Techno, UK music and Noise, with a Dancehall spirit. She has played at clubs like Tresor and ABOUT BLANK in Berlin, and Concrete and Rex Club in Paris. Myako has been a resident DJ at Rinse France since 2015, where she hosts the Bluepanther show twice a month. Following a residency at Bastl Instruments, she released an EP called "White Tiger" for their in-house label, NONA Records.
Her music draws inspiration from the natural sounds that she makes in dialogue with the rhythm of her machines. The composition work she did for GrooveBox, using music of the Charrúa tribe from the sound archives of the Quai Branly Museum, is a good illustration of her work. She participates in workshops, festivals and residencies around Europe and Africa, dedicated to dialogue between cultures and meetings between acoustic musicians and modular synth musicians.
You worked on a composition for GrooveBox using music of the Charrúa tribe from the sound archives of the Quai Branly Museum. Can you talk about this project?

This project on the music of the Charrúa originates with the DJ Piu Piu. She was to play at the Quai Branly Museum for the Siestes Electroniques, and she offered three artists – Alec Notal, Geena, and me – the opportunity to produce edits from the sound archives of the museum. She chose this tribe because she is from Uruguay where the Charrúa people are indigenous. We were free to interpret and edit these field recordings. I decided to dig into their universe and tried to understand the experience of this tribe, which was decimated by the Spanish conquistadores. They had cults connected to the forest and traditions of shamanism, a subject that attracts me a lot. I tried to respect their chants and at the same time to work with my imagination as a producer.
You've participated in several residencies across Europe and Africa. Can you talk about this inter/cultural experience and its influence on your music and art?

There are different types of residencies. Some where the goal is to perform or to finish an ongoing or defined project, like the ones I did with GRM (Groupement de Recherche Musicale) or RBMA, and others are more collective and turn out to be great trips. Both are very important for me and for my music. They allow me to get out of my comfort zone, to meet new cultures, to learn new production techniques, to cooperate with well known or unknown artists, and to discover countries that maybe I wouldn't have gone to otherwise.
This year I was in Algeria for the Phonetics festival. It was a 2-week residency with about twenty artists; some were European, others were Algerian. It was intense; a big family created itself. There was the opportunity to play with traditional music musicians, to discover the local techno scene, to get to know more deeply some artists that I ran into in France. I met Rehab Hazgui over there, and also Mika Oki, who I already knew really well.
Rehab is one of the best encounters I had this year. She is an artist with a profound sensibility, and she has a very good knowledge of modular synthesis, an open mind, and a passion for transmitting to others. We've keep on seeing each other and working with one another, so thanks for that! A good example of how enriching residencies can be. The next edition of Phonetics will be next November in Beirut, with Rabih Beaini as curator. It will focus on instrument manufacturing. Wassyl Abdoun-Tamzali is at the origin of these beautiful projects.
You also have a radio show on Rinse France called Bluepanther. Can you say something about it? How important is radio – especially community radio – these days?

With Rinse it has been a love story for the last 5 years. The first year they were open in Paris, Raphael, the boss of Fragil Records, had a show every two weeks. He offered me the chance to host with him and I loved it. The next year, I started my own show, which is on every other Monday and is called the Bluepanther Show. The idea is to invite artists who inspire me, who create interesting projects, or to share the decks with friends, such as Marylou, who also has her own show now. It's a place where I like to broadcast dub, ambient, sometimes hiphop, organic music, urban, music from the past and from the future, some sound poetry, live performances and jams. Radio stations like Rinse and LYL in France, Red Light in Amsterdam, or Cashmere Radio in Berlin are crucial because they give a space where artists are free to express themselves for a couple of hours. To me it's a lab where I can experiment, and it feeds my thinking on what I can offer as a club DJ.

When you were at the workshop in Prague, it seemed that the Parisian dance scene is pretty strong, with lots of women involved, and it seemed you are all part of a big family. Can you say something about about it?
SHAPE's French section is indeed full of very committed women. We don't all have the same background, but I think that we have the same vision, and are sensitive and supportive. We are from different generations but the music binds us. AZF has done a lot to consolidate the local scene with her project Qui Embrouille Qui. It created a supportive environment and mutual respect. We have different personalities but we listen to each other.
Visuals and dream-like images are an important part of your work, as seen in your videos, as well as press images.
When I was child, I was lucky enough to travel, to discover the natural world in various ways. I was a very solitary, dreamy kid, and I have always felt at ease in mountains, forests, or by the sea. When I became a teenager, I then discovered electronic music and I got attracted by its urban atmosphere – raves, abandoned industrial places, and so on. Today there is a duality in my thoughts between the urban and natural worlds, which I like to play with because both environments intrigue and inspire me. A good example of that is the clip of "Spider Monkey", a track from White Tiger that was out on Nona Records, and directed by Armand Morin. In it there is a tiger, lost in an Industrial Zone. Humanity is not very present, but vestiges remain, the factories for example. The tiger again becomes the king of the jungle, the urban jungle, which he was not destined to dominate and yet…
When I produce I like to try to make the machines and acoustic instruments speak with the language of nature, it amuses me a lot, it's a kind of meditation that soothes me. When I DJ, I am attracted by Industrial, techno, bass music, UK music, that carry the density of the city, its cultural wealth, its passions, its social struggles, etc. It can be as powerful as nature in a way. Nature and the city are often mixed in my dreams and overall I think that dreams translate our sensitivity to life. It is sometimes difficult to express them, and I thank music for helping me to do so. Every EP, album or collaboration is usually inspired by a moment in nature or by a human adventure.
What are you currently working on?
I am working on a live project with Irwin Barbé, alias Basses Terres, that is called Innoxia. It's about a legend of the Piaroa tribe which says that there is a hill at the heart of the Amazon rainforest, on top of which one can hear all the sounds in the world. Inspired by this mystical topography, we propose a spatialised exploration that mixes together live acoustic instruments and modular sounds. We showcased it once already on the GRM scene at the Inasound festival in Paris, and we will do it again at the RBMA festival at Concrete, alongside OKO DJ and Tryphène, in September. We'll also produce an EP from the live performance. There is also the next 'various artists' release from Fragil Musique, Fragilistic, which will be out in September. And of course, I keep DJing, and hosting the Bluepanther show on Rinse France.