Posted on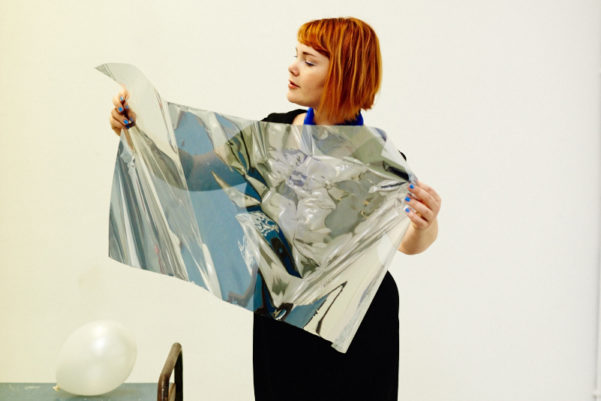 Sally Golding is a British-Australian artist whose work considers participation and liveness in audiovisual art as a mechanism for shared experiences and dialogues within technological contexts. Golding's audiovisual performances play upon the politics of listening and seeing – edgy and intense in nature, they unravel in the style of a 'happening' to incorporate aspects of the performance space, blending discordant sonics and harsh lighting to investigate the social potential of opto-sonics.
Can you introduce yourself and briefly introduce your work?
My work is often a live experiment – performativity and participation are ideas I explore alongside investigations of audiovisual texture and 'experience'. I like to think there is a kind of 'politic' and a social aspect in the processes of liveness, and in considering the effect of perception which is inherently different for every participant when experiencing sound and vision in a collective environment.
My audiovisual performances are a synthesis of amplified and sonified lighting – exploring the sonic outcome as indivisible from the visceral, physical presence of light and the sensation and effect on our bodies. There's an instability to the work I perform – keeping in mind the idea of perceptive experience – I'm using tools like a laboratory strobe light, camera flash units, LED lighting and projection to suggest a duality across threshold and space. Often audience members will talk to me after a show and tell me about what they thought they saw and heard – there can be so many different versions and experiences!
I'm also creating participatory installations – in which the viewer's presence through reflection and image capture is essential in completing and creating the artwork. I've presented installations at Institute of Modern Art in Australia, and South London Gallery, UK, in which I meld concepts derived from folklore blended with explorations of human biological and psychological processes, and then mix this with an interest in media and technology as an ephemeral experience. The installation space for me is a chance to bring about a kind of meditative and reflexive experience. My works are also often highly gothic in the sense that there is something deeply disturbing lurking beneath – but that which is also worth confronting and celebrating. I've had people laughing and screaming inside my installations, and also saying that it can make them want to run and hide and look under the bed in case the sense of scariness followed them there!
Can you talk about the concepts of discourse, participation, liveness, collaboration as part of your artistic practice?
A recent project Decompression made with UK artist Spatial, seeks to create an encounter between audiences and the space – specifically in this case reimagining the elements of cinematic abstraction from within a traditional cinema venue. A cinema is such an incredibly insular and womb-like space – and it's often overlooked as a site for the exploration of liveness and collective experience, even though it's often a highly available choice of venue. This work recently premiered at Tyneside Cinema in the UK, and is a decidedly an immersion situated between cinema and club and delivered in the spirit of a 'happening'. Through our collaborative process we evolved an improvised mix of live coding, activated LED light compositions, improvised direct to camera manipulations, and the use of devices such as a 'prepared' light sensitive screen and tactile projection beams – the space created is alive with sensory textures.
There's an abstract discussion we're trying to have with the audience around the viewing experience and even the idea of mass entertainment. This work is led by recontextualising an original text – Expanded Cinema by Gene Youngblood written in 1970 – though I've retold it necessarily through a de-gendered perspective. The text can be read as a futurist's obsession with technological-utopia – and it's relevant now more than ever to today's networked culture. In Decompression – we're working towards a 'dematerialisation' of technology; 'deterritorialization' when rethinking the audience's potential role; and 'detemporalization' – embracing generative processes to evolve new and unexpected narratives and structures.
Can you talk about your project "Unconscious Archives"?
Unconscious Archives is the curatorial platform which I established in London around 2011 after relocating from Brisbane, Australia – and it has always been a community effort originally undertaken with film experimentalist James Holcombe, and then with lots of participation from UK based artists including Spatial and Phantom Chips. It's a very community led forum in the sense that it exists to support the diverse artists that I get excited about presenting and programming together, and I think it has certainly successfully generated new dialogue between artists and audiences. Even the venues for the events are importantly part of a community and network which has the idea of grassroots firmly at the core – Apiary Studios, Cafe OTO and Close-Up Film Centre. 2017 marked a shift from the multiple parties and gigs and into a festival format crammed with over 40 artists, musicians, DJs and writers, which evolved out of a partnership with the Austrian Cultural Forum London.
There's lineage behind these events – it's been nearly 20 years that I was first excited by the London improv scene in which I witnessed creative freedoms and inspirational approaches such as the openness towards absurdity as a creative task and risk, and I draw upon my hometown scene of punk and DIY style gigs in Brisbane including my co-curated OtherFilm events or participation in forums at the time like Audiopollen Social Club. It's rare to find public space that nurtures true experimentation and is not just industry focussed promotion – those kinds of forums can leave artists behind very quickly. It's crucial to allow a breeding and festering of art and community – and this is what Unconscious Archives has in common with all the great artistic community events in cities globally. Producing events is a compulsive exercise for me – a rewarding experience of research and participation.
Can you talk about the formalistic, aesthetic aspect of your work, in particular "'darkroom compositions'?
Ultimately my work is sonically driven, and I think about sound and light in terms of tactility. My background is in experimental filmmaking and expanded cinema, and also archiving, so for me augmenting materiality leads to creative compositional methods. My experiences have also given me a perspective of technology as a medium – however not in an autocratic way which is in constant compliance to the new – as it's worth remembering that all media was new media once.
From this perspective, 'darkroom compositions' are a sonic series I created reminiscent of tape cut-ups formed by re-working the optical soundtrack area of the industrial film sound system – which I think of as a psychoacoustic radio play. Since it's a complex photochemical process, I'm not able to hear or see the results immediately so I necessarily compose in my head in the dark while expecting certain results. Sounds are sampled or recorded directly into a Auricon news camera to be reformatted as waveforms, and then hand printed onto film like a photogram. It's an arduous process but one which brings about experimental optical sound compositions – with a rather ghostly undercurrent. Though I'm not working in this way any longer, it informs how I think about new compositional styles I've experimented with such as generative sound collage created using digital processes, which for me also opens up the possibilities of the liminal and the serendipitous.
What are you currently working on?
I'm excited to be working on a research and development project supported by Arts Council England in which I'm creating an installation which imagines contemporary ways of seeing – from the perspective of computational vision, and the influence that has on our own 'portraiture' or sense of self. With view to the long history of photography – it could be said that the image can now see us as an emergent process. More 'unfixed' than ever, in this sense the image – or the photographic – is both increasingly democratic and highly problematic. Pervasive systems of seeing – such as facial recognition or eye tracking, and our response and interaction to them – are political and social acts in which we might engage with big data and surveillance, but they are also highly influential on our emotive and physical being. I'm interested in how these processes are at once highly technical in the sense of photographic vision, but also how these processes can be abstracted in such a way that our relationship is one of our own perception to these exposed environments. It brings back sensation and emotive response into the conversation, completing the cycle of 'self portraiture'.
Coming up in May 2019 I'll also be performing an entirely new audiovisual composition for Radiophrenia at the Centre for Contemporary Arts (CCA) in Glasgow, which will also be broadcast on radio. I'm looking forward to auditioning the sound of light and bringing forth new specially made soundscapes using voice, reimagined sound effects and optisonic devices.
Sally Golding is also editor of the recent publication Parsing Digital which features new conversations and critical urgencies in digital art with contributions by practitioners and curators, which can be downloaded for free via Zenodo, or copies requested directly from the Austrian Cultural Forum London.
Listen to Sally Golding's mix on our Resonance FM show: