Posted on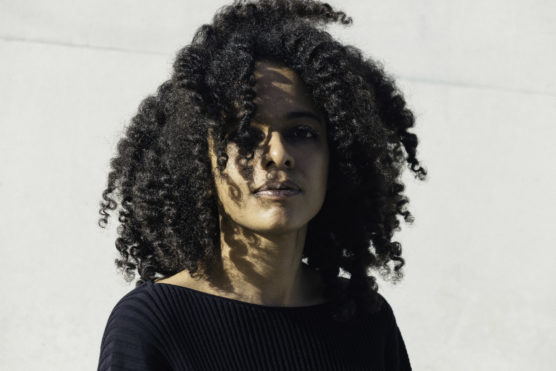 Jessica Ekomane is a French-born and Berlin-based sound artist and electronic musician. Her practice unfolds around live performances and installations. She creates situations in which sound acts as a transformative element for the space and for the audience. Her quadraphonic performances, characterised by their physical aspect, seek a cathartic effect through the interplay of psychoacoustics, the perception of rhythmic structures and the interchange of noise and melody.
Her ever-changing and immersive sonic landscapes are grounded in questions such as the relationship between individual perception and collective dynamics, or the investigation of listening expectations and their societal roots. 2019 will see the release of her first LP via Important Records. A Berlin Community Radio [INCUBATOR] resident for their 2017 edition, she now hosts a monthly show on Cashmere Radio. « Open Sources » is focused on linking folk and traditional music with contemporary musical experiments.
You are currently at a residency in Jogjakarta, Indonesia. Can you talk about the environment you are staying in and the purpose of the residency as such (especially from your personal perspective).
The residency is part of a project called Nusasonic – Crossing Aural Geographies. It was collaboratively created by Yes No Klub (Yogyakarta), the WSK Festival for the Recently Possible (Manila), Playfreely/BlackKaji (Singapore), and CTM Festival (Berlin) and was initiated by the Goethe Institute. For the residency itself, I'm staying in Yogyakarta with Nadah El Shazly who's working on her own projects as part of the residency, and I'm getting to know the local scene and culture. It's more of a research residency at the moment, I'm being curious and gathering thoughts that will hopefully lead to new projects in the future. I have a music studio at a place called Komunitas Gayam 16, a studio and gamelan practice space that is run by the daughter and son of Sapto Raharjo – who was a composer and the director of the Yogyakarta Gamelan Festival.
Another current project is an installation presented at the ongoing Venice Biennale for which you created sound. Can you talk about your installation work in general – how do you approach it in contrast to more abstract sound-making, and what standpoints are the most important to you when you are deciding whether to accept an installation commission.
The installation at the German pavilion is by Natascha Süder Happelmann. She invited six composers – Maurice Louca, DJ Marfox, Jako Maron, Tisha Mukarji, Elnaz Seyedi and me – to create sound compositions in one of the rooms using the sound of a whistle, so that's my contribution there.
For this context I would try less to do a "track" or let the musical elements take over, and rather emphasise the underlying concept and sometimes the process as well. In general, I accept commissions when I like the project, but also when I feel there's room for me to add something to it and when I trust the people that are part of it. That was the case with Natascha; I felt connected to the other people she brought in and I believe in her way of working. This is something happening behind the scenes and that the public thus doesn't see, but she really takes care of her collaborators, she trusted us although she didn't know us personally before, and she has a really critical approach when it comes to systemic problems in the art world.
https://soundcloud.com/berlincommunityradio/jessica-ekomane-common-fate?in=berlincommunityradio/sets/common-fate-jessica-ekomane
Your work is closely connected to community radio. You were part of Berlin Community Radio's Incubator series and have your own show on Berlin's Cashmere Radio. Can you say something about this show, as well as the broader context of radio (and community radio as such) as a tool for presenting your sound and music choices?
The projects I did with radio came more from external invitations. My show on Cashmere Radio right now is called "Open Sources"; it started with an interest I had in the Lomax archives, and I wanted to share it by recontextualising it and shedding light on some related contemporary experiments I liked. I am now trying to expand it by having guests, other voices that speak for themselves. Recently I had Rully Shabara and Wok the Rock presenting the Yes No Wave Music label that's based in Indonesia, for instance, or Drew McDowall talking about the influence of Scottish Pibroch music in his work.
I like working with Cashmere radio as it is more motivated by a common ideal than driven by all the pressures monetary profit involves. So you're quite free regarding content. I see this show as an archive of discourses available to everybody, and am trying to get closer to the way I'd like things to be, within the limits of my means. i.e. people talking deeply about their own cultural context instead of having an external gaze on it, or integrating related topics such as critical discourses, popular culture, the cross-pollination of influences, colonisation etc.
How do you structure/compose your sound pieces – for instance, the relationship between melody and noise, the production and perception of your work.
Sometimes I start with something specific but there's always a good bit of experimenting, making mistakes and seeing what emerges in the process. What interests me in this "dichotomy" between melody and noise is mainly the contrast, that one wouldn't be so strong without the other. And so it is with silence and saturation, etc. I don't really have a rule working with perception, and I'm not dogmatic when working with concepts either. I'm my own guinea pig, so in the end the result is based on what I like to hear.
There is a quote on your homepage: "They were myths I once believed, and now they were beliefs I felt were myths". Can you elaborate on this?
This quote comes from a book by John Fante called "Ask The Dust". I read this book when I was a teenager and I loved it. I come from a working-class environment and Arturo Bandini's funny experiences, coming from a working class migrant family and struggling in this world with his young intellectual tendencies, was a really refreshing read. I put it there just because I like to hide little things in code sometimes. That quote makes me think of getting lost in complexity, grey areas, and the fall of long-standing belief systems.
What are your upcoming projects?
There's an LP that's going to come out on Important Records, which should be in September. Besides this, I will continue to tour, and hopefully some new ideas will emerge out my residency in Yogyakarta.
By Lucia Udvardyova