Resonance FM show on Varg, Julien Desprez and Anna Zaradny in Riga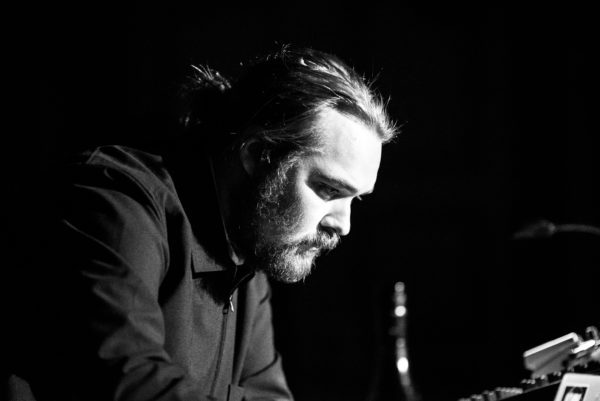 In this episode of SHAPE  platform's monthly show on Resonance FM, we re-visit a concert night, organized by Skaņu Mežs festival as part of the White Night forum, featuring live performances by Swedish dark electronics artist Varg, French noise guitarist and improviser Julien Desprez and Polish composer and sound artist Anna Zaradny.
Skaņu Mežs, an association devoted to experimental music, has been participating in Riga's White Nights since 2006. As always, Skaņu Mežs participated with a five-hour concert program, presenting what can be considered a mini-festival, comprised of very (genre-wise) diverse performances that range from contemporary music and minimalism to free improvisation and techno. In 2017, Skaņu Mežs had changed the venue for its White Night event for the very first time – this time, it was the Ave Sol concert hall.
Julien Desprez is a musician and performer based in Paris. Jazz and rock were his early musical loves, but they evolved rapidly to free forms where body and space find their places through sound. As his practice progressed as well as his conception and approach to his instrument, the music and space changed. He is now considering the guitar more like a battery, an organ, a modifiable instrument deployable at will.
Anna Zaradny graduated in conducting and music theory at the Szczecin branch of the Academy of Music in Poznań. She lives and works in Warsaw, she is a sound and visual artist, composer, improviser. As a composer and instrumentalist she works in a wide spectrum of genres: from acoustic improvised music with a contemporary minimalist language to the complex structures of experimental electronic music compositions.
Under the moniker of Varg, Jonas Rönnberg runs a cunning operation. Covert transmissions, alongside penetrating statements from techno's core, are stacked adjacent to self-assertive live performances with an agility and depth of focus rarely summoned so instinctively. With a still-rising presence, Rönnberg makes sense of the decadent overdose privy to underground musics at this time.
The show was hosted by Lucia Udvardyova.