Posted on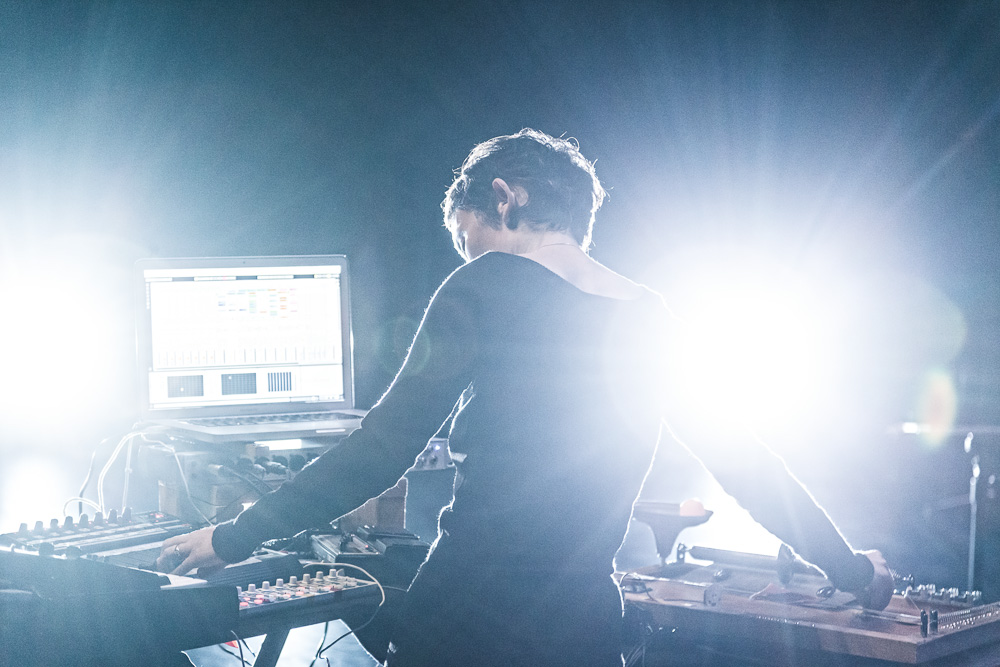 Sis_Mic is the new project by Pom Bouvier B., an eclectic artist: a video-maker, scenographer, dancer and performer, especially influenced by her musical background. She has studied electroacoustic music for several years and her pieces have been played in several countries all over the world. Pôm Bouvier B.'s work includes various musical forms, as music for dance, installations, radiophonic creations and concerts. Alone or in collaboration, she works on projects that seek different kinds of public perception and listening.
Where are you based?
I live between Brussels and Marseille. I like northern European countries. I've also been developing a research project in Finland. For instance, the approach to music in countries like Sweden or Finland is different. Landscape is an important element there, it changes the music and the people. I'm interested in contemporary and traditional music of these countries. For example, the Joik (traditional singing of the Saami) sing a landscape or a situation. You can sing the movement of stones or water, you can sing somebody. I like this approach. My work is close to the idea of landscape and time.
Your work is also quite organic.
It's very close to orality. Orality is not only about singing and words, it's kind of being in the world. I'm interested in how you learn and give. I've never learnt music the usual way, I don't read notes. I'm listening to lot of different music. I also learnt electroacoustic music through observation and listening. This is the way how I chose to make music.
By listening?
It's very close to the principle of orality. For example, I like the gamelan because it is an instrument that everyone from a village can play, and people learn to play it by observing others. After a while, you get the feeling of the gamelan.
Can you talk about your approach to music-making?
I started making/producing music ten years ago. Before that I'd done lot of artistic projects. My music is a result of all of these activities. I was a dancer, scenographer – everything was about space. This was also important for my music. I then started studying electroacoustic music in an old way in the beginning because I used tape recorders. It takes time, but it's similar to sculpting. I've done different pieces like this, also with other musicians. Then I wanted to work solo, and I developed my own instruments. I knew I needed an instrument that can express gestures, not only a computer. I built a wooden table with several microphones, strings and objects, which I then process on a computer. Gestures are very important. I also have another system involving feedback and I can work with fragility. Men dominate music, the artist must be in the centre of the stage with power and a kind of domination. I don't want to go along with this. I would like to think about other forms, other paths of giving music. A blur, borders, periphery, instability, fragility are more powerful because they are more complex and elusive. With feedback, I'm like an animal trying to keep it alive. I also work with the acoustic of a place. I don't want to be in front of people, but with them.
What are you currently working on?
I'm developing two projects: a kind of installation, but, in fact, a musical score with a beginning and an end – with visuals and a specific location. The images were created in Finland involving my research of time and landscape. I'm very interested in working with concepts that come from science, like the string theory, theory of relativity, quantum theory. I'm also interested in entropy at the moment. My work is like an archipelago. I have several points – the island of time, the island of material, several islands like this, and I try to find what binds them together. At the same time, I'm also interested in meditation, philosophy and politics, and I try to find what they have in common.
Can you talk about your research – can you talk about how you approach it in practice?
At the beginning I decided my research will be about time – I wanted to know how we use time, how music employs it (which kind of music uses circular time or linear time). It was very important to be in Finland because in Finland you have these two seasons – winter and summer, and in between them, there's a special modification of light. It's some sort of stretching of the day and night. I went to Finland and asked people how they live, what they do. Afterwards I discovered that the relation to the landscape was very important to me. I came across a writer, Kenneth Write, that has written extensively about that. You are in front of the landscape and you are going through it, and the landscape is going through you. This is like your rapport – a position in front of the world. You are acting and things are acting upon you. My research is very political. How we are in front of the landscape, in front of the world. We have computers with flat screen, tablets – we are in front of this, in front of this landscape, far from nature. I was wondering how to put this into my music.  I would like to open perception – different layers of perception. Our ancestors were in touch with different layers of life and the world. Music is very important, because music is vibration and vibration is at the origin of the world. I don't care about playing a concert and being on stage, I just hope that there's a possibility to exchange something with the audience. Sometimes we cannot speak about that, sometimes we don't know. Sometimes it's unconscious. But let's do this thing together.
What are your plans?
I'm involved with a network of female musicians called Fair_Play. We are trying to make women more visible in this kind of music. We organise events and run a Facebook group. We are connected to female:pressure and others.  It's similar, but our initiative is focused on electroacoustic music and radiophonic and other experiments. It's mostly Paris-based, but we are also opening a branch in Brussels. I'm also working with a storyteller, Aline Fernande, in a duo with words and vocals. I have another duo with François Dumeau where we play on a modular synthesizer. And a long collaboration with William Petit, a performer and choreographer. Then I have the dream to work with a music ensemble and find ways how to write music without notes!