Posted on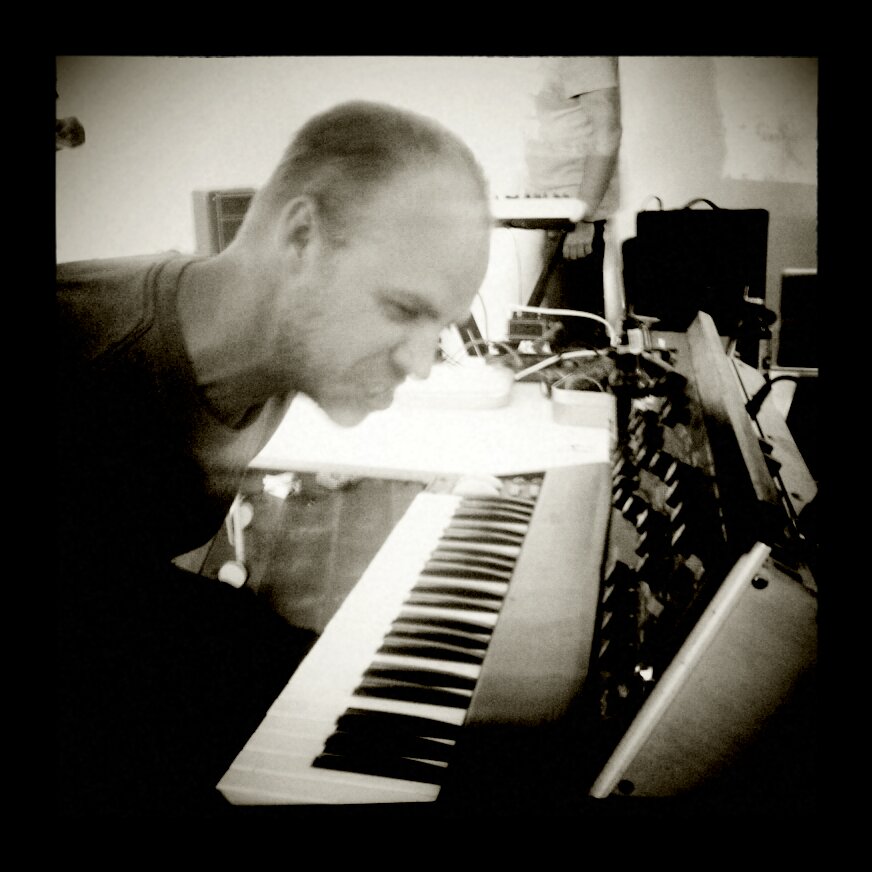 Elektrovolt is the electronic alter ego of Jimi Hellinga, living in Den Haag, the Netherlands. At an early age, Jimi took viola lessons but making noises and experimenting with sounds and other instruments was what he really wanted to do. After buying his first synthesizer his first tracks appeared, all played live without sequencers, and so were the first performances too. Influenced by Logic System, Kraftwerk, the Hague electronic scene and also medieval music, his own music could be described as melodic, electro, drone, techno. Over the years, Elektrovolt has played on Dutch festivals such as Langweiligkeit, State-X New Forms and Todaysart and collaborated with Legowelt (Nacho Patrol, Zandvoort & Uilenbal), Tjebbe van der Kooij (Black Helikopters), Trapper Drone Orchestra and as a medieval musician with Carole et Brullare.
Can you talk about your background? How did you get to music?
At an early age I was fascinated with music and sounds, some specific songs reminded me of a place, an energetic field, an emotion, a feeling.. I remember my father was playing "Aperitif de la mort" by Liaisons Dangereuses and I was afraid of it, but attracted to it at the same time. That voice, the electronic sounds, so haunting. And I didn't understand the words but this song made an impact and I could not really figure out why, because the other kids did not know it and were not interested in other music than what the radio at home played. Various other songs had similar effects on me. Classical music, country, African music, electronic music: there always was a tune that had this strange effect, it just felt like a strange mysterious place with lots of tension but especially the electronic music had those sounds that were not from this world, so mysterious! Meanwhile, I took lessons in playing the viola. It is a lovely instrument, but looking back, I never really cared for the lessons itself. Discovering melodies and sounds was more what I was after.
Through my grandfather I got interested in early and medieval music: great melodies and again those strange instruments that sounded continuously with a drone, I've never heard those sounds before. Electronic instruments were too abstract for me at that time, but with acoustical instruments, you could actually see how the sound was generated. Organs and bagpipes got most of my interest but one I've seen the hurdy gurdy (a bowed instrument with a wheel, keys and drone strings) I was hooked instantly. Those mechanics and that spooky sound: I could not believe it! Unfortunately there was not much information available and you couldn't get one easily.
During the next years I forgot about music a bit but after I got an old Korg ms10 synthesizer, many memories from those songs came back: those strange electric buzzing sounds, basses and leads that I knew, but never knew where they came from. So with this synthesizer and a tape deck I went on to record noises, melodies and also echo effects with another tape deck and cheap echo device. A second ms10 and a tr-606 drum machine were added later and this is what was used with my first live performances, playing bass with the left and melodies with the right hand.. One of the very first performances was in a hard rock bar where no one was interested in electronic music, quite a strange situation! Soon a sequencer, an Atari 1040ST with Cubase 2.01 was added so I could record, playback and multitrack with other synths (that were cheap back then) I got soon after. Buying and selling gear helped me discovering new sounds too but you will fall into that 'gear buying thing' quite easily where the gear is more important than the music itself. It is fun for a while, but distracting from what you wanted to do in the first place. After some years I got my interest in medieval music back and really wanted to play the hurdy gurdy and bagpipes: there was more information available though the internet and since nine years I do play those instruments also, with similar melodies as I do with electronics. Slowly I am trying to integrate both electronics and the hurdy gurdy, it could be a great combination.
Apparently you were influenced by Logic System, Kraftwerk, The hague electronic scene – can you talk about these? And how specifically did they influence you? What in particular was it that made an impact?
It was just like the Liaisons Dangereuses song I told about, Some music had a huge impact when I was still very young and those sounds and melodies will keep playing in your head. "Logic" by Logic System was one of the first records I liked at the age of four or five, and it still is a favourite. It sounds so Japanese: very precise and tight, deep sounds.. That deep pulsating bass in "Unit" is soo deep and the slow tempo, it's just magic. I always wanted to remake some of those tracks but then stop trying as that music is on such a high level that I cannot touch.Kraftwerk is also a very iconic group of course, they are still playing but I prefer listening to their earlier work. The Ralf und Florian album has such a loose feel, not as tight but with that perfect German sound: Minimoog, flute, organ and echo. Also that mysterious sounding album Radio Activity is such a gem, really dark, music for the mind. They imitated sounds from radio transmitters and similar electronic devices, that feeling you get when listening to that album is live having a huge buzzing electrical net around you. All this music will always be in my head, playing day and night all at the same time.
When I was sixteen I first heard the music of Legowelt, I-F and other Hague artists and especially the more melodic tracks were interesting to me. It was nice to know that there was some interesting music being made in your own city, by people that are not being recognized in the streets. Also, you cannot really speak about ¨the Den Haag scene¨ because there is not one, but many different people that kind of know each other and doing their own thing. Danny (Legowelt) became a good friend and we did some projects and performances together, even an album with harmonium and electronics that does not have that typical 'The Hague sound' people talk about. Also, the Langweiligkeit organization helped me with various performances and getting to know new music friends, such as Tjebbe : we are playing together occasionally, mostly in The Hague at underground parties. Happy music are for poppy bands, deep music is for the freaks that know where to find it.
You are also interested in medieval music, having cooperated with medieval musician Carole et Brullare. Can you talk about this fascination, and cooperation?
Since early age I was interested in medieval music, there's lots of beautiful music that has been composed so many ages ago: enjoying this music feels like a musical time machine. Those melodies can be quite simple but very powerful. Also lots of medieval music was based on a drone-note: a note that is being played all the time and the melody wraps itself around it. Some instruments, such as the hurdy gurdy and bagpipes are well suited for this music: it is so powerful and hypnotizing, almost like some modern dance music. Also the great Hildegard von Bingen wrote many fantastic and deep songs that are just magical and intense.. When I was working in an historical theme park as a hurdy gurdy and bagpipes player I met a few people that were interested in medieval music as well so we decided to start a medieval music group: Carole et Brullare. We found that we needed to find a signature sound that was different from other historical music groups that we knew,
What have you been working on recently?
Recently I have been very busy with graduating in music and studio technology, not so much with making new music but that will change soon as there will be more time for that. There is an ambient music project with Danny Wolfers (Legowelt) called Occult Orientated Crime, we are making a new album and doing a special live performance at the Dekmantel festival in Amsterdam. There will be lots of synthesizers on stage too! An EP with four tracks of my own music will be released this fall by Clone, Rotterdam. Apart from making music there were some classical recordings of other musicians which I've done, it is great to do because when the playing and acoustics are great, you could make it even better with proper recording and mixing techniques.For me, it helps you to get into the music even deeper