Posted on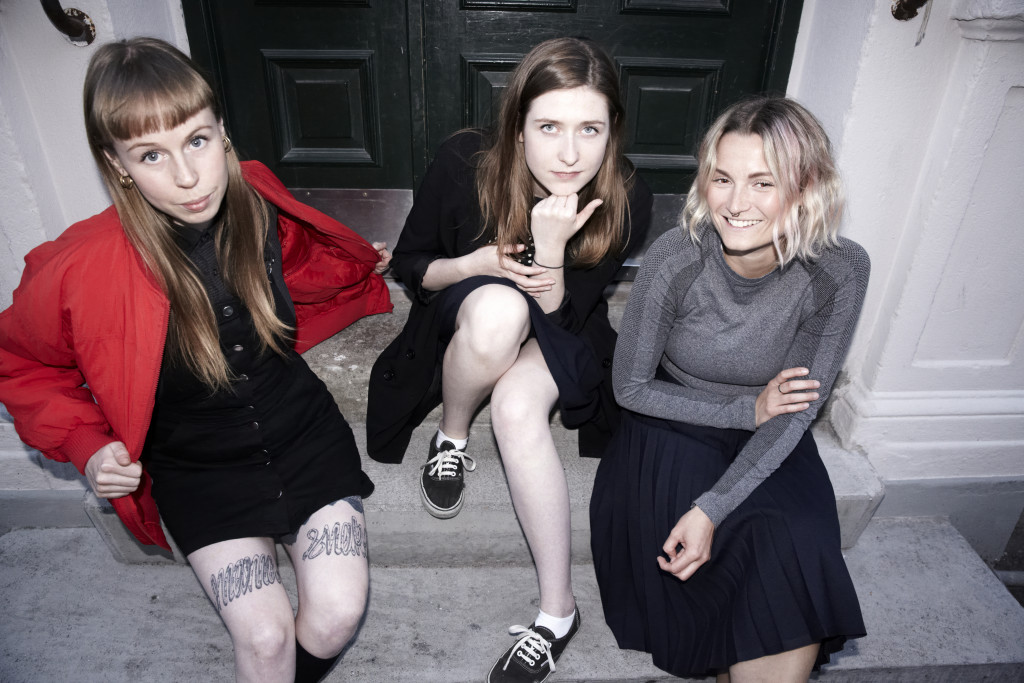 DJ trio Apeiron Crew, founded in Copenhagen, is made up of Danish natives Sara Svanholm, and Simone Øster, and Scottish export Emma Blake. The three are likewise respectively considered as solo artists, and known under their individual aliases Mama Snake, Smokey, and Solid Blake. The three became mutually associated through a steady and ongoing contribution to the Copenhagen techno scene, noted for their active passion for the underground electronic environment and the ability to utilise divergent tastes into a unifying force. Since 2014 the three have worked their music motives together throughout the city, from their residence at Culture Box to throwing one-off secret location events and holding down regular radio slots for the masses. Apeiron Crew hold an incredibly enthusiastic approach to DJing, encompassing the intensity and flare of the underground after party potential throughout every set.
Can you talk about your beginnings – what are your individual backgrounds and how did you meet?
Mama Snake: We were all introduced to the Copenhagen clubbing scene through pretty different music styles and parties. I think I got into electronic music and club culture when I was in high school and went deeper into it after I graduated. I went to a lot of different parties with music from all around the spectrum and finally found my haven within the techno and house scene, which is also where and how we met – Emma and I worked in a record shop together and I met Simone through Emma, because they had met at the legendary club, Dunkel, a few years before.
Solid Blake: During the madness of my teenage years, I was introduced to some great music and an amazing scene in Glasgow. My friends there helped me to discover a lot of stuff that still influences me today. After I moved to Denmark, I wanted to make sure I was in similar surroundings. I was lucky enough to meet a bunch of interesting and talented people pretty quickly, including Sara and Simone, who I love playing with as Apeiron Crew and very much admire, as well as Troels Knudsen (Ctrls), who I've been making music with for the past few years as Historical Repeater.
Smokey: I'm from the outskirts of Denmark and I spent quite some time, during my teenage years, attending and organising illegal rave parties. I was also digging for electronic music at the library as I seemed to be the only one into it. That interest carried me to Copenhagen, where I was immediately swirled into the scene and have been more or less a fixture for the past 8 years, both as a promoter at Culture Box and Strøm Festival, and as a DJ. Before I got really involved with Emma and Sara, I'd known Emma vaguely through the scene and we once met at Sonar Festival in 2013 (at the Karenn live show I believe). We were SO excited to randomly meet there and decided that when we come back we should be friends for real!
You also play individually. How do your individual sets differ from when you play together?

Mama Snake: When we are playing by ourselves, we get to present exactly what we are into at the moment as individuals. My strongest love goes out to techno – these days especially to the faster, trance inspired stuff since I have played a lot of closing or after hour sets around Copenhagen where that tends to fit in really well. But I do also love house, which I never really get to play when we DJ as a crew since Emma and Simone are not always feeling my cheesy and/or deeper tracks. So I can't bother them with that when we play together, haha.
Smokey: I like your cheese, Snake! I've been doing the warm ups a bit lately, which I really like actually. I like to play a slower, bassy, percussion flavoured selection these days.
Solid Blake: At the moment I'm going through a bit of a transitional period with my own style of DJing. Part of that is borne from the fact we're switching up how we do things as a crew, but I'm also seeing this year as an important pivotal point in my own approach to music. Working on live sets recently has helped me to better understand what I want to deliver with a DJ set, and the same is true in reverse. I still have a lot of work to do before I get close to the vision I have for either of these things, but the process of getting there is very rewarding.
Can you talk about how you structure your DJ set when you play together? Do you talk about your music selections beforehand? Have you ever been surprised by one another's track selection?

Mama Snake: DJing as a crew doing b2b2b sets is sort of like being in a band. When you don't meet up ahead of a gig and practise it doesn't always turn out how you want it to. Getting busier with our studies and work has made it more difficult. We thus started dividing our long sets a bit more to keep the crew vibe, but with a bit more of the unique Solid Blake, Smokey, or Mama Snake approaches.
Smokey: Yeah, this has actually worked out fine. You could imagine that we all wanted to do the closing set, but agree pretty easily on that. Have I been surprised? Oh boy, yes.
Solid Blake: I love the challenge of a b2b for fun, but I do think when we're doing this professionally we have to make sure the set is coherent and interesting to everyone in the club. When we're being booked to play for a crowd who have paid to be there, it's not about us having fun really, but of course it's great that we usually manage to do so anyway. For that reason, the b2b will be reserved for extra special occasions, to make sure we know the kind of music we collectively want to present to an audience.
Collectives have been a force in the history of underground music, Underground Resistance with their collective vision as being one of the best examples. What would you say is Apeiron Crew's collective vision/stance in the context of club culture?
Mama Snake: To keep moving forward I guess. We never sat down and defined what we do and I don't think we need to. I think it's important to constantly improve your mixing skills and spend time on finding new music. In the context of club culture, I like to play more liberating and left wing clubs and parties that seek to create spaces for people who don't necessarily feel welcome in the norms that society sets. To DJ was never intended as a political project of mine, but you can't ignore the fact that it has a strongly political aspect, and recently I have explored this more. I mean, Trump is the fucking president and the UK is leaving the EU, so we all need to get involved in one way or another. I hope this is something we as a crew can do somehow. We have been put in this position of being part of a movement that promotes women in music by a lot by magazines, journalists and online forums, without this being an intentional goal of ours, but I feel that we should live up to that and take on the task. We have talked a lot about not exploiting some good cause to further our own careers within music, but I think everyone should contribute to make the environment in electronic music more welcoming, especially if you are in a position to do so.
There has been a lot of talk about creating inclusive, open-minded safe spaces on the dance floor as a reaction to the status quo. Do you strive for something like that?
Mama Snake: 110%. Even though this is something that is strongly enforced at most of the events we are a part of, some people still, unfortunately, experience harassment of some sort. A friend of mine who also participated in a podcast about techno feminism made a valid point, that sadly the problem goes way beyond club culture and is based in how our society works, so changing things within club culture only is in some way trivial since it does not necessarily affect the bigger picture. That being said, I think it's still precious and extremely important to at least be able to go out and to be freed from whatever shit's going on in your life, even if it's only for one night. You have to at least try to make your surroundings better, even if it only changes something in the habitat you live in.
Solid Blake: I can't imagine anyone I know disagreeing with the principle of having inclusive, open-minded, and safe spaces. The difficulty seems to come from the fact that people will always have differing ideas of what that actually means and how to achieve it. To me, the pursuit of some utopian ideal of nightlife is misguided. The process has to be ongoing – you can't just write a manifesto and fix the issues in your scene. That said, attendees, promoters, staff, and artists being respectful to one another should be up there as one of the most important indicators of an event's success.
Can you talk about the scene in Copenhagen? The city is known as the base of the noise/experimental label, Posh Isolation, but we perhaps know less about the city's dance scene. Is there cross-pollination between the various music scenes?
Mama Snake: To be honest I love talking about the scene in Copenhagen since I am so proud and happy to be part of it! Since the city is quite small there is definitely pollen being shared and spread amongst the different scenes. You mention Posh Isolation, who are actually friends of ours that, for instance, celebrated their birthday this year with a 2-day bender with experimental, noise, and techno acts (myself included). For sure there's a lot of love going around for each others' projects even though they don't necessarily fit into your own taste in every facet. The dance music scene is thriving with new labels, club nights, off-venue raves, and the newly opened Percy Records, where we can all meet during the week to spend way too much money on the great records the owner curates. Copenhagen is kind of a secret rave heaven these days. Crews like Fast Forward Productions do collaborations with crews from all around Europe to showcase the best of techno from our hometown and abroad. Twin Cities do amazing house music parties, and there are secret raves done by Et Andet Sted ("another place" in Danish) at the old vegetable market and open airs on the artificial island in the middle of the city called Refshaleøen.
Solid Blake: I often think about how lucky I was to end up in Copenhagen and be part of such a lively scene for its size. There's a lot of interesting stuff going on, but the city is not totally saturated with too many parties. A new venue, event, or label popping up generally still has the space to be celebrated in the scene.
Can you talk about your label, Ectotherm?
Mama Snake: Ectotherm is a techno label I started with Courtesy last year, spawned from being surrounded by a bunch of talented people in Copenhagen. It's definitely a representation of the Copenhagen sound these days, with our signees Schacke, Rune Bagge, and IBON being active DJs in the scene for many years. They're now also starting to play more international gigs, spreading the sound just as we intended. Running a label puts a different perspective on the electronic music industry and is definitely a way for me to stay connected with the scene, to secure my future within it.
What are you up to next?
Mama Snake: I'm graduating from medical school this winter, which means adapting to a new life, trying to fit in the gigs when I'm not working the night shift on weekends. Changing from one kind of night job to another I guess, haha. We have a bunch of exciting gigs coming up this year, from Optimo 20 in Glasgow to some really interesting festivals through the SHAPE platform including the UH Fest in Budapest. I'm really looking forward to that one, since I also have some friends there that I am excited to visit. Ectotherm keeps on growing with new releases lined up from our Copenhagen crew, and our monthly show on NTS continues with guest mixes from friends and family, which is a lovely way of showcasing the various aspects of your music taste and those of others outside of a club environment.
Smokey: I am doing my BA in Spatial Design at The Royal Academy of Fine Arts and Design here in Copenhagen, so I am very busy with that. It is my number one priority, to be frank. I'm not doing many solo gigs beyond Apeiron Crew, which is nice actually. I really like going on wee tours with these nutters. My 28 year-old body and mind just demands more peace than earlier. Just gotta respect that.
Solid Blake: As well some pretty special Apeiron Crew gigs coming up throughout the second half of the year, I'm working hard on my own music both for live sets and future releases after my first full EP that's coming out on Glasgow label Outer Zone at the start of July. Gig-wise, I'm very much looking forward to playing live at Roskilde Festival at the end of June. Attending the festival seems to be a rite of passage for young people in Denmark, so being asked to play there was a huge honour.
By Lucia Udvardyova