Posted on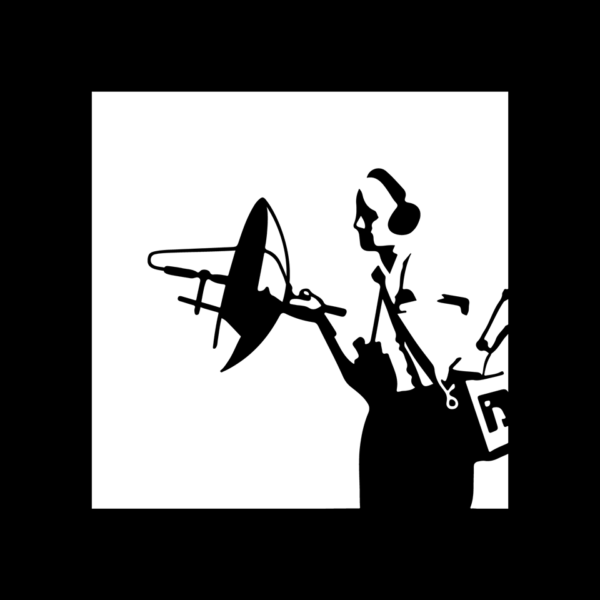 UH Fest is one of the rare events dedicated to adventurous modern music in Hungary. Since 2001 it has staged more than 450 performances during 7 festivals and a number of one-off events. Not focusing on genres is a principle that is reflected in UH's overall activity and programming. Any given member of its audience is likely to hear music s/he did not "intend to", or, from another point of view, to explore something new. Theirs is a deliberate strategy to juxtapose artists not only from different genres, but also with different approaches and moods. UH Fest and events are organised by the Ultrasound Foundation, a not-for-profit, grass root organisation that functions only with (incredibly dedicated) volunteers. This year, the event will take place between 2 and 9 October 2016 across numerous venues in Budapest (check out the programme here). Several SHAPE artists are set to play: Klara Lewis, Lanuk (who were both nominated into SHAPE by the festival), Syracuse, Ignatz, Stine Janvin Motland and Stara Rzeka. We talk to UH Fest organizers András Nun and Krisztián Puskár. 
How did you start?
András Nun: We had the idea to do something in the field of music and there was an initiative called x-peripheria, which was connected to an internet radio called Pararadio at the end of the 90's. The guys approached us to do something together – they would programme one day and Ultrasound would programme the other. By that time, we'd already had our first event. At some point they stopped doing it, and Ultrasound carried on alone. The official beginning – at least for me – was in 2000 with the first concert.
What was the main motivation?
AN: The motivation comes from the previous decade, which I spent attending concerts in Vienna and other cities close to Budapest, being envious of the music events they had over there. The biggest inspiration was a festival called Phonotaktik, which only had two editions.
But it all started from a DIY perspective, rather than an institutional one?
AN: At that time and still to this day, we are just ordinary citizens without an institution behind us. We have a foundation, which is a legal entity, but not in terms of an office or infrastructure. It was a grassroots initiative, a family venture in the beginning, because my sister and brother-in-law were also involved.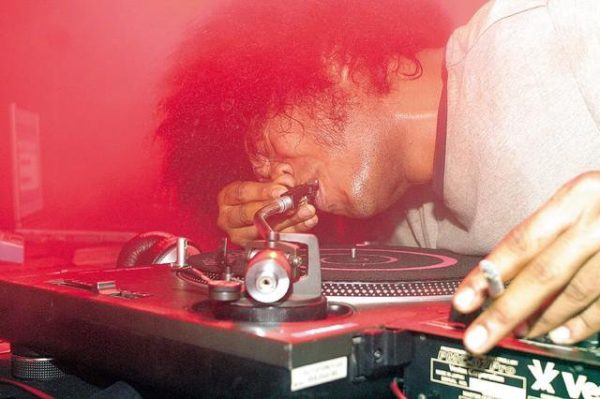 UH FEST 2005 / Dalek
Did you do it every year afterwards?
AN: No. That was also a principle, that we'd do it for fun and there was no pressure to do it every year. We only did the festival when we could get money because we didn't want to endanger our private households.
The state never supported you?
AN: Not really. By that time, I'd had a history of working with NGOs and grant programmes, which helped. In the early 90's, there existed an example of support for music initiatives through a seasonal autumn festival in Budapest. I clearly remember approaching them with an idea to invite Coil and it wasn't possible. Being an independent grassroots initiative without any institutional or political support means that we won't ever have access to state money.
Has this relationship changed depending on the Hungarian government currently in power?
AN: It doesn't make any difference. We have applied to the local art council, but they never supported our initiative unless we had an EU grant (because they would have to support the initiative locally). I can compare it with my day job, which is more political in a way. There is no difference between the governments. If it's a left-wing or liberal government, the relationship is not friendly, they approach us for advice, though they never listen to it. If it's a right-wing government, they don't even consult with us. It's similar for these cultural ventures.
Has the programming of the festival changed in terms of its concept?
Krisztián Puskár: It has always been about inviting people that are doing something special. There is no shift in the concept. Of course, the world is changing. After 2010, a new generation has arrived.
What about your motto: "New Kind of Joy"?

KP: UH Fest's Gergo Kiss had written a text about the basic concept of the festival, and this part seemed perfect. We wanted to express the joy in something that is considered very abstract, dark and artsy.
AN: We are interested in music that inspires us. We don't want to cater to mass demand. We don't want to produce a festival with hyped names, so that we can be 100 percent sure that it will be sold out in a minute. And it's very difficult to do something like that in Hungary.
KP: We say 'no' pretty often, and it's not easy.
AN: We say 'No, thank you'.
But you don't do annual festival themes.
AN: No, that's so artificial to me. So we just stick to our motto. This year, combined with the visuals, we want to be a bit darker, more political and confrontational, reflecting what is going on in today's world, and this doesn't really go well with "New Kind of Joy".
KP: I think resistance is full of joy in a way.
Can you describe how a lineup is born out of this idea, for instance this year?
AN: It's important to have somewhat popular acts. But it is also about consciously trying to build an open-minded audience that is ready to listen to something new. And thus, we try to slowly and organically build it. We don't want to remain in a closed circle of well-educated and snobby music lovers who look down upon those people who are a bit younger or come from different corner of music. It's important not to grow rapidly, but constantly try to convert new listeners and try to show them new sound strategies and offer them this new kind of joy, which is missing from their life. This also comes from my experience when I was around 30, and all those friends who had collected tapes with me suddenly abandoned music and said they wouldn't come to a concert because they didn't know the band playing. It pisses me off so much that, past a certain age, people are not open to new things, not only in music, but in general.
KP: New kind of joy is about an intuitive approach to music and about showing how to break out of the stylistic ghettoes we all live in. Over-intellectualisation has the same physiognomy as over-hypeness.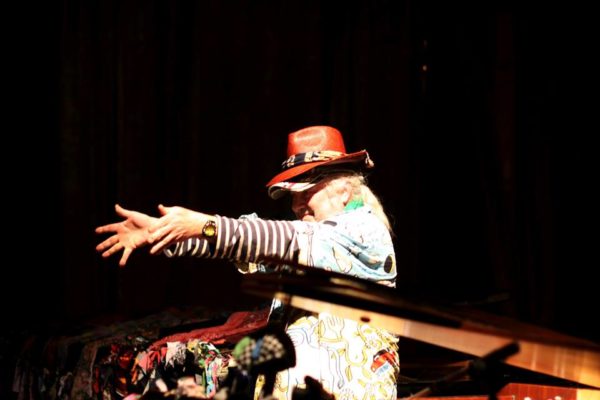 Charlemagne Palestine @ UH Fest 2014, Vakok Iskolája (fotó: Csatári Gergely)
How do you put together a programme each year? Is it a mixture of who made what album that year, and your personal choices?
KP: It's a mistake to invite somebody based on an album. It's a mixture of recorded music, live music, and our own choices. We all discuss this.
You mentioned resistance as one of the themes this year.
KP: Activism is at the base of our festival. But we don't want to be didactical about it. It's a personal experience for everyone and we have to reproduce the tension. A strong stage performance and powerful art are always political acts. It should be the performance that brings attention, not the name.
AN: When you are living in times when hatred towards minorities is high, you can present very strong images showing that you're against it. But we don't want to do it explicitly. Sometimes agencies require an artist name to be put in big letters as a headliner, but we reply that it's not possible. It's against our ethos. There is no hierarchy. It's also about venues, which in our case also creates categories. The venue is important and has to fit the performer. We also pair artists together. You can highlight contrast and certain quality.
KP: We try to avoid misusing artists. A lot of festivals lack the relation between a space, artist and dynamics.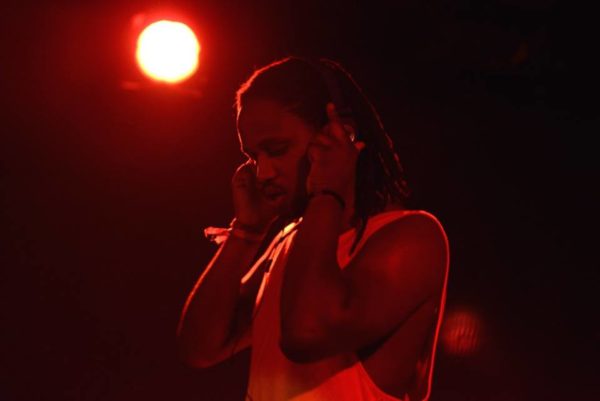 DJ Nigga Fox (fotó: Zólyomi Károly)
What do you think is the relationship between the festival, the public and the artists?
KP: There's always this tendency, but this has been the case in every decade, that something becomes an industry. It's always important to find a way to not be influenced by that. It's very interesting that so-calledexperimental music has become an economic category, which is against the basic notion of what experimental is.
What is your relationship with the local scene? You also organised these Demo events where you gave emerging artists an opportunity to perform for the first time.
KP: We started these Demo events to find musicians who publish their music on the internet but don't necessarily perform live, and give them a kind of open rehearsal space with an audience. We had several editions twice a year. Lots of acts grew out of this, such 12z or Gábor Lázár.
AN: A certain part of our audience are musicians themselves and the Demo events created a possibility to build trust and an audience during those years that we didn't hold a festival. In terms of the festival itself, what I find important is that it's really a kind of festivity, a communal happening with a certain atmosphere. It cannot be compared to open-air summer festivals, which are recreational events where music is not the focus. The atmosphere and the vibe of our events sets the festival apart from everyday life in this country. For instance, there are many foreigners at our festival, which engenders a different atmosphere.
KP: We have a conscious audience, which is a result of the festival's 16 years of activity.
Is there anything that stands out over the last 16 years of the festival?
KP: I nearly broke my ankle during a Vatican Shadow concert two years ago. It's a weeklong experience, there are many great moments every year.
Interview by Lucia Udvardyova