Posted on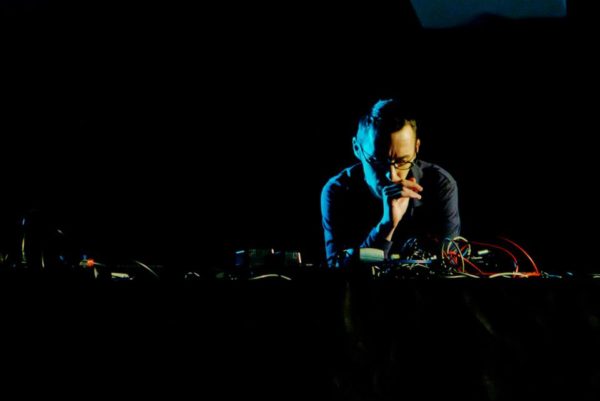 Hungarian musician Árpád Gulyás aka Lanuk started making music when he was 13, cutting his teeth in several noise and experimental punk bands. His Lanuk outfit began as a bedroom project in the middle of the noughties and led to appearances at numerous festivals, clubs, art galleries. Aside from Lanuk, Gulyás also moonlights as a bass player in a band called derTANZ. Lanuk's early records (Nerma, Batla) came out on the Hungarian netlabel Pushya, and 2014's 'vV' was released on Prague's Baba Vanga tape label. His last record 'd_ork' was released via the New York-based Immigrant Breast Nest Records in 2015.
Apparently you started with music as a 13 year-old, cutting your teeth in several noise and experimental punk bands. Where do you come from and what sort of music scene was there when you were growing up?

I grew up in the north of Hungary, in a place with 4,000 inhabitants. It's also where I started to make music. After the change of the regime in 1989, people started to open up a bit and experiment with new stuff. The local youth centre supported young musicians. We had speakers and amps, which were cheap but usable. In the early 90's there were 5, 6 bands and one of them asked me to play with them because nobody wanted to play bass. These were unassuming, alternative, punk rock bands. We weren't really able to play, but it was all very exciting. Everything happened locally, we rehearsed and played on the estate. It was a little isolated. We'd play for about 20, 30 people, but sometimes we had an audience of 100. Musically speaking, one of the most crucial points happened when I got a home made guitar distortion pedal, which constantly beeped and crackled. I enjoyed its sound immensely. I put together a punk band where noise experiments came to the forefront.
How did your music-making develop – you play both a lot of instruments, but also synths – in bands and your solo project. Could you compare the two?

Over the years, I've played in many bands on many instruments. From noise punk bands to acoustic ones, and beyond. I've always retained my experimental approach though. Sometimes it created difficulties because the bandmembers didn't share my conviction. That's why I started to make music alone, collecting samples with my dictaphone, manipulating guitar loops on my computer. In the early 2000's, a friend of mine once took me to the X peripheria festival in Budapest, which impressed me. A year later, at UH Fest, I realised there's a huge amount of freedom in working and playing with sounds. It fascinated me and I started to save up for my first synth.
Of course, there are certain differences between playing in a solo project and a band. In a band, you have to adjust to another person, and it can happen that someone is in a bad mood or they simply have different expectations about certain things. Sometimes it's hard to find the shared sound. But at the same time, bandmembers can motivate each other. I believe one can develop while being in a band. In a solo project, it is more introspective. The big advantage is that if you suddenly get an idea, you can just sit down and play it. Whichever instrument I'm playing, regardless whether in a band or solo, I'm always looking for these strange, meditative moods which I can't really explain, but they are always there.
Do you mostly improvise with your electronic setup?

The live aspect is important. There's no pre-recorded sound, I can change any parameter at any time. I spend most of the time setting up the instruments – the sound design aspect basically. I rarely compose. When I'm ready with the setup, I start to improvise. There are boundaries, but improvisation is the main aspect. Often there's no consciously built-up structure, I modify the theme during improvisation, change the parameters and try to react to the situation. I'm trying to feel the music. The recordings are also made this way. I'm just playing around.
Your music is quite dense, with tangible influences of breakcore, glitch, and IDM. How are your musical structures born?

My music is changing constantly. It's an instinctive, improvisational type of music. I don't really think about the various musical styles and genres. Often, it's determined by a specific mood. I never listened to breakcore, for example, but I find fast, noisy music with a lot of broken rhythmics expressive. In my case though, it is more grotesque than serious. Children's chirping, for instance, often follows after heavy rhythms. When I hear my last two records, I realise the sound got a little more aggressive and frustrated. I used to play more chaotic music, but nowadays I prefer slow rhythms with less sounds. I like the raw sounding of my music and also the mistakes. I wouldn't like to play professional, clean music.
How do you make your music? Do you have a certain routine?

It changes. Sometimes I consciously try to tweak out a specific sound, but a lot of the times it is an accidentally generated sound that spawns a development. I used to be more active at night back in the day, but nowadays I do music early in the morning. I'm still fresh and can concentrate better, it makes more fun. Most often I do this in my small studio, but sometimes I also go outside. When I travel, I sometimes bring my instruments and jam a little. I listen to the recordings while I jog in the forest at sunset.
What are you working on at the moment?

I'm working on a new record. Currently I'm putting together the setup, but I've already recorded some stuff. My new themes are probably cleaner and more minimal, with a lot of improvisation. I'd like to put together a well-built, unified record in autumn. There are also a couple of gigs planned.
Interview by Lucia Udvardyova