Recording of Christian Wolfarth's solo at Skaņu Mežs
Stream this solo percussion improvisation by SHAPE artist Christian Wolfarth, recorded on October 10 – on the closing concert evening of Riga's Skaņu Mežs festival for adventurous music.
Christian Wolfarth has never expanded his instruments with electronic devices, nevertheless he explores an aesthetic that could be called «electronic» in some respects. Reduction plays an important role in Wolfarth's music as does an almost obsessive love for the detail and an impressive palette of sonic possibilities that the drummer has been developing over the past 20 years of intense solo-playing. In his actual solo project, he just uses a numbers of cymbals. Wolfarth has been performing solo since 1991.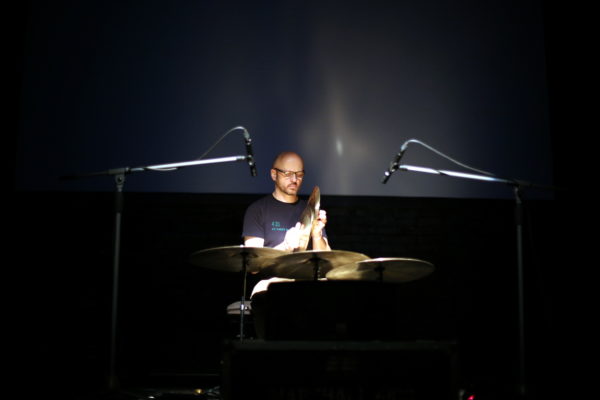 Wolfarth live at Skaņu Mežs'2015 (photo by Arnis Kalniņš)
Tristan Bath of The Quietus wrote the following words on Wolfarth's performance at Skaņu Mežs: "Percussionist Christian Wolfarth hails from Zurich, and at the tail end of the night performs his intense solo work using little more than three cymbals [..]. A few minutes of tinkling and toying with the cymbals quickly gives way to Wolfarth wielding two violin bows over the edges of the ride cymbals, stroking up and down and up and down with precision. Over some 30 minutes he crafts a slow moving set of blissfully intoxicating microtonal drones, varying his speed and energy with virtuosic precision so as to microscopically mutate the glistening ringing of the cymbals."
Find out more about Christian Wolfarth here.