Pasajera Oscura mix for NTS Live
Stream this mixtape by SHAPE artists Chra and Irradiation, together known as Pasajera Oscura. The mix was made as part of SHAPE's ongoing collaboration with London's radio station NTS Live, and is announcing that the duo will perform at two SHAPE festivals in October: Riga's Skaņu Mežs and Musikprotokoll in Graz.
The mix does not have a title in a conventional sense, but it is accompanied by a quote from Shakespeare's King Lear: "We make guilty of our disasters the sun, the moon, and stars, as if we were villains on necessity, fools by heavenly compulsion."
The track list:
01 – Pasajera Oscura – Perseides – unrel.
02 – Objekt – Cataracts – PAN
03 – Ca.tter – Mine – Sounding Functions
04 – Dasha Rush – A Minute After The War – Raster Noton
05 – Dorian Gray – Il Fluss Oscuro – Nulabel
07 – Trdlx – Hate It When Ambient People Do That –Voxxov Records
08 – The Result – Alias Out Of You Mind – Catenaccio
09 – Kobosil – Head – RK
08 – Cio D'or – Zepto – Semantica
09 – Irradiation – Entropy – TEMP~
10 – Raime – Passed Over Trail – Blackest Ever Black
11 – Shelley Parker – Restrictions – (Manni Dee compilation) – wotNot
12 – Black Rain & Shapednoise – Autonomous Lethality –  Cosmo Rythmatic
13 – Scorn – 1.75tc – Ad Noiseam
14 – Shampoo Boy – Nadel – Substance/Trost
15 – LCC – Adamas (Throwing Snow Remix) – Editions Mego
16 – Haxan Cloake – The Growing – Aurora Borealis
17 –  Mika Vainio – Devil arrives to Finspang – comfortzone
About Pasajera Oscura:
When Irradiation and Chra teamed up as representative musicians for Pasajera Oscura, they didn't know what to expect. They were invited to do some shows in Vienna, based on sinewaves, dark beats, low frequencies and synthesizer improvisation. A long break followed, which both musicians used to record their solo works.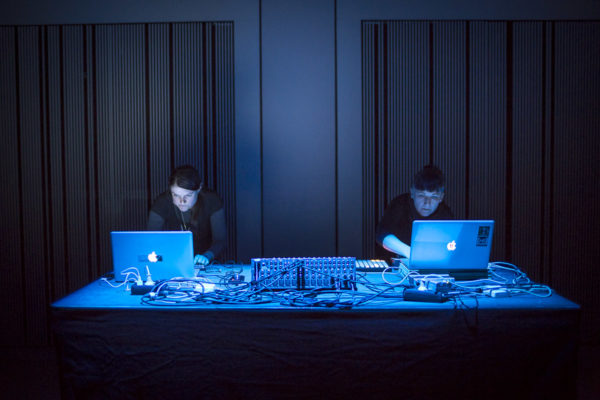 In autumn 2014, Pasajera Oscura got an invitation to play at a little festival organised by skug music magazine. for this event, Irradiation and Chra created a 4-channel live set, and during rehearsals decided to continue to work on their tracks in 2015 – and start to record some tracks for a compilation on Comfortzone (Chra's label) and an EP together.
For other SHAPE-related broadcasts on NTS, click here.
Photo #1 by Christian Koenig, photo #2 by David Pinzer.