Posted on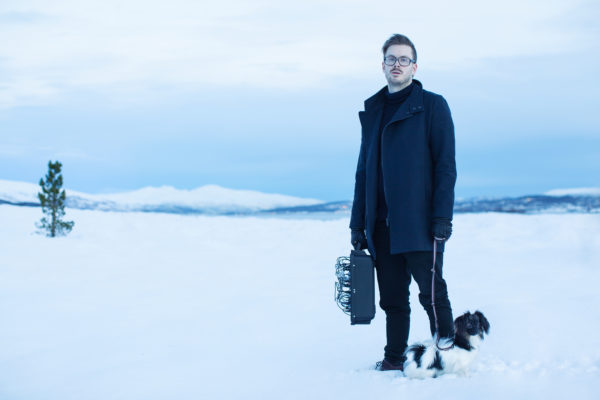 The pianist and composer MØRK is a melody-maker. He tells gripping stories without words, using his mechanical piano. The Norwegian word «Mørk» translates as «Dark» in English. Mørk is from the island of Senja, which lies in the northern part of Norway. His musical influences range from Esbjørn Svensson Trio, Nils Petter Molvær and Motorpsycho to Deep Purple, Kraftwerk and Americana. 
You're a pianist, composer and electronic music producer. Can you describe your journey to music?
I started taking piano classes at my first year of school, at the age of 7.  I joined my first band around 12-13, playing electric organ actually! We did covers of classic rock songs as kids (and many grown-ups) do. Eventually we ventured further into a kind of 70's West coast pop and became obsessed with ie. Toto. To this day the synth-sounds of Steve Porcaro in the late 70s and early 80s are still a big influence for me with his ridiculously big live-rigs and fat sounds from both Moog modular stuff and early FM-synths like Yamaha gs1.
At high school I became interested in jazz, and from my second year there until my last year in college (6 years) I was mainly working on piano-based nordic-style minimalist jazz. Håkon Gebhardt (Motorpsycho) showed me how to make piezo microphones at home for $5 so I started making a lot of those and fiddling around with them on the grand piano and ended up getting a lot of lo-fi mechanical sounds, which to me sounded really, really cool. And so that laid the groundwork for the heavy piano-sound you can hear on my 2 "mechanical"-jazz records.
After finishing college I completed my last record "Meantime Lifetime" and toured with it, having some brilliant experiences and some really shitty ones as well. I was touring a month alone and tried to perform the material (which originally had been made for the entire band) all by myself with new more electronic arrangements. This turned out really shitty on a few occasions (some good ones too), and I actually lost gigs because of it. That was a terrible feeling and I swear I will never do that to myself or the audience again. But, to my rescue, I discovered an article-series in Sound On Sound called Synth Secrets written by the excellent Gordon Reid. I also moved into a new studio/office-house here in Tromsø with (amongst others) Per Martinsen (Mental Overdrive) and Poppa Lars (Tungtvann). That has really shifted my day-to-day influences and been my way into what I am working on now, which is electronic music, in many forms.
Anyways, I buried myself in this 63-part, highly mathematical series on what synthesis of sound is and really re-discovered the joy of music. When you study music at a conservatory (which I did) you only study one instrument, which in my case was piano. And that's all fine and good. But there is so much else out there!
Can you talk about the narrative of your music/music-making? (it was mentioned you create stories without words)
I often have some sort of visual idea when I start out with a tune, at least the good ones usually have a visual idea. And that visual evolves to certain stories in my head. But what stories other people hear when they listen to my music, is really up to them. I have heard quite a few different versions. And that's the beauty of it, isn't it.
Can you talk about the creation of your music – several musicians are credited on your albums, is it all recorded with instruments?

Yes, they are all instruments. The two Mørk albums have all been composed by me and recorded by the band which consists of myself on grand piano and three of my closest friends (and brilliant musicians): Kristian Olstad on guitars (check out his free-project Leagus), Christer Jørgensen on drums, and Dag Okstad on double bass. In my head we were trying (maybe subconsciously, again) to fuse jazz, rock, classical and electronic music. I am very proud of both of the records, but never listen to them.
You are from the island Senja. Can you describe it and has it had an influence on your music?

Senja is a huge island in the northern part of Norway, which nowadays is getting a lot of tourists who go there to experience the Northern lights, mountains that run all the way down to the sea… In the summer we have the midnight sun, so it's all about nature. And the people. The kindest and most down to earth people on the planet. It also has a really strong cultural heritage. Whoever is reading this, you really should come to Tromsø (easy by flight via Oslo), and take a few days detour to Senja (which is just a couple hours south of here).
Mork apparently translates as "dark" in Norwegian, but your music is anything but. It is interesting that on one hand you have this doom, dark world of metal in Norway, on the other there's the bright nu-disco scene with Lindstrom etc. Where do you put your work within this spectrum, if any?

I have never played in a black metal band, so I would definitely say closer to the Oslo Disco scene. But at the same time I feel some sort of a connection to that scene, I think I draw more inspiration from the strong history of electronic music here in Tromsø and at the same time more international influences.
What are you working on right now and what are your 2016 plans?

I will be delving further into the electronic world, focusing on my solo stuff. I have just finished working on a disco-esque EP entitled "Disco in Odd Times" which will be released on Beatservice records in March 2016. Also I have been selected for something called "Festival Profile" at Festspillene i Nord-Norge, which means I get to play a lot of concerts over a whole week at one of northern Norway's biggest and most important festivals. This I am really looking forward to! Other than that I will be making music in the spring and doing other festival shows.
Photo: Knut Aaserud