Posted on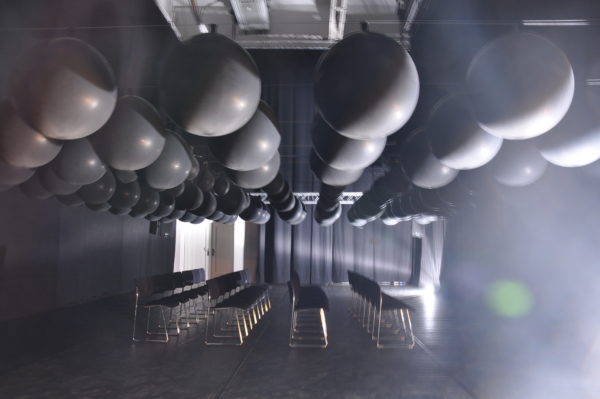 NEUNUNDNEUNZIG (99) is a kinetic sound sculpture by Martin Bricelj Baraga and Olaf Bender (Raster-noton). The project is hosted by the ongoing Biennale Némo in Paris. The opening is on 26 October 2015. The work can be seen at Galerie Fernand Léger – Ivry on 27, 28 and 29 October from 2-7PM as well.
NEUNUNDNEUNZIG (99) is comprised of a matrix of 99 balloons composing an immersive yet intimate performance. While being inflated, the balloons surround visitors to create an intense physical, sonic, and visual experience.
NEUNUNDNEUNZIG (99) is a dark field of intensities where sound, light, and objects are inhaling, exhaling, and pulsating in a space that is shrinking and extending, thus creating a highly intensive, even claustrophobic psycho-physical and socio-spatial experience that mirrors the current conditions of our society.
NEUNUNDNEUNZIG (99) is inspired by "99 Luftballons" an anti-nuclear protest song by the German band Nena.