Posted on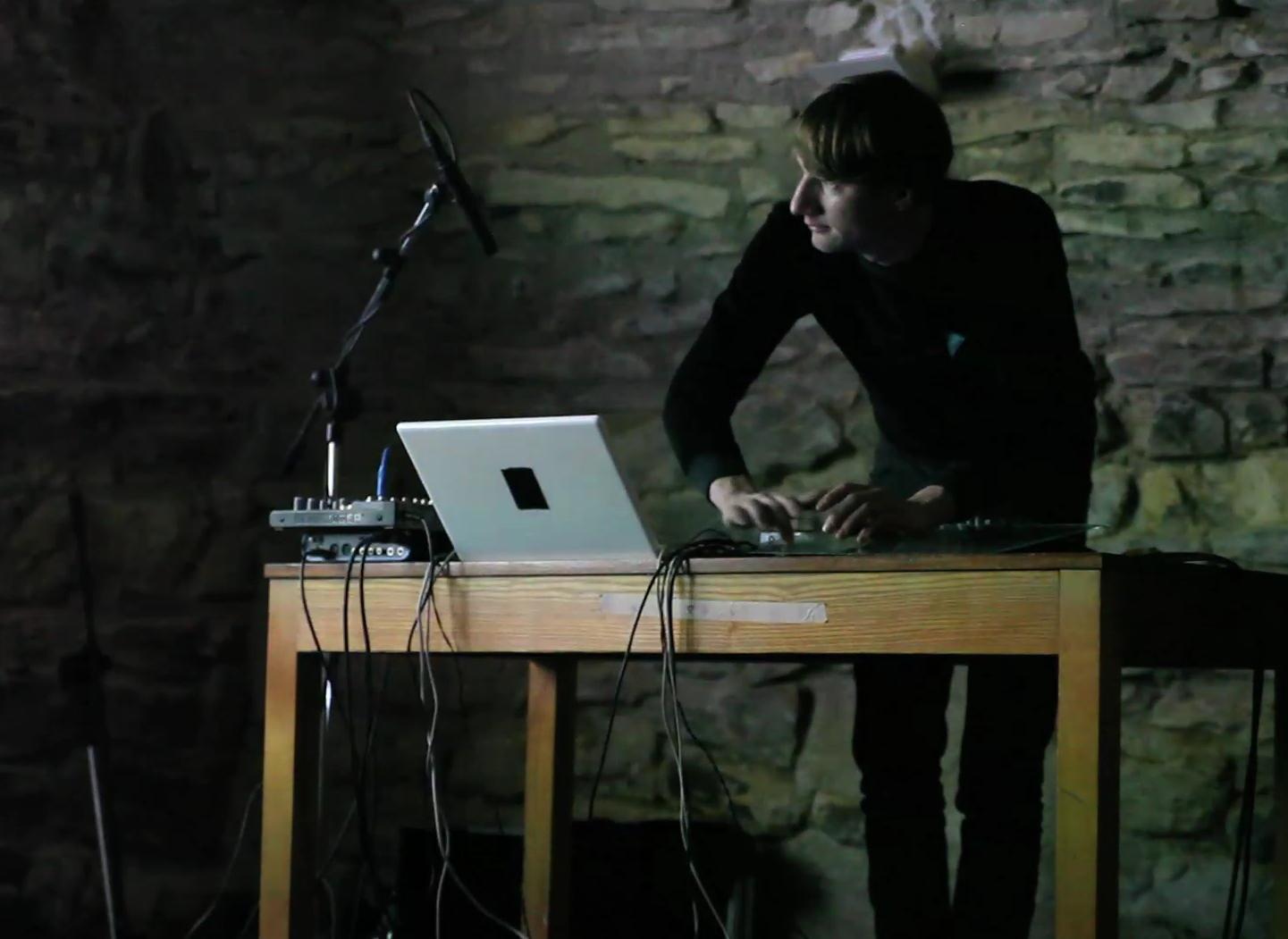 Stanislav Abrahám is an audiovisual performer, sound and new media artist based in Prague, Czech Republic. He has crossed over from music and pure sound art to more conceptual works. As a sound designer, he collaborates with many sound, visual, and performance artists on various interdisciplinary projects, such as theatre and dance performances. He also does studio production, recording and sound post-production in audiovisual works. He was nominated for SHAPE by MeetFactory, where he will play next Thursday, 9th April, at a joint SHAPE event.
With Michal Šeba, who is also part of SHAPE, you had a project called Funtasy Milk back in the 90s. But that was a completely different musical direction – reggae dub.
Stanislav Abrahám: I'm thinking a lot about it, how things changed. The band started in 1997 and disbanded in 2003, but we continued with Michal in another project, this time electronic, called Data Live. Funtasy Milk was a reaction to the moment when turntables entered rock clubs. It was a huge change, we were teenagers at the time, inspired by music we heard from DJs who played it from dubplates and this was mostly reggae or dub. Our influences were Leftfield, Chemical Brothers, Underworld, bands which I nowadays consider part of the establishment. Back in the day, we felt they represented our underground, it was something different to what the generation of our parents listened to.
How come that in spite of these influences, you embraced a more traditional, reggae dub sound?
SA: We were a live band, and tried to play electronic music live. Today I call it the band as a medium. It was a traditional group with guitars, keyboards, vocals. I have a totally different view of these things today.
Reggae and dub has a specific technical and spiritual aspect tied to it. There is the concept of the dubplate, the soundsystem, the studio as an instrument. Were you influenced by any of these elements as well?
SA: Yes, it was the reason why I started to work with electronic instruments. We imitated world music with our band Funtasy Milk and I wanted to imitate it well. I realised we need some electronic instruments and I bought my first sampler in 1998. It was a step away from a natural, intuitive style of playing to programming.
What are the roots of your work in new media and sound art?
SA: During my studies, many things in my mind changed because I met new people and gained new knowledge from the realm of the history of – especially 20th century – music. I was influenced by the likes of John Cage, Maryanne Amacher, Pauline Oliveros, Chris Watson. My approach to music transformed due to the awareness about the concept in sound and music and the differences between playing and listening to music.
Around early 2000s, Prague had a quite lively seen revolving around Radio Lemurie, which placed its focus on electroacoustic performances, psychogeography, and the emergence of new media art scene of the city. You were part of this circle. Can you describe it?
SA: I collaborated with Miloš Vojtěchovský, who was my teacher at the time, and who headed this project. I joined the Radio Lemurie team in its last period. It was an internet streaming radio based in the then experimental space NoD/Roxy in Prague, an open arts space for artists and musicians. When I came into the project, we soon realised that something was changing about the relationship of people and media (internet or streaming media). We knew that we have no way how to be an alternative to the new, official internet streaming. It was when Youtube changed from a community to mass medium, and these happenings were in the backdrop of the demise of Lemurie.
The change was that all these previously niche media suddenly became mainstream?
SA: The streaming production became huge and it was hard to get people's attention.
How has this changed over the ten years since then?
SA: Many open things on the internet have become closed or commercial.
You studied at the Art Academy in Prague, at its Film Faculty, which is a renowned educational institution with many famous personalities attached to it, including Věra Chytilová or Woody Vašulka.
SA: I did an audiovisual degree. It was a crossover between traditional film studies and new media art practice. I mainly worked with the medium of sound, but I also did media performances and installations.
You are interested in the relationship between the human element and new media. What is it specifically that interests you in this realm?
SA: I'm interested in the phenomenon of the "disembodied voice". It's connected to telecommunications, phones, radio, TV. It encompasses the acousmatic situation, something physical which is separated from its sonic representation. I'm trying to keep my attention to the question about the balance between being a consumer and a user or participant. I think this is still an important issue and it's connected to the beginnings of internet and the changes that we talked about in connection with Radio Lemurie.
Is it important for you to stay critical of these changes?
SA: Not so much critical, rather just being careful and keeping in mind the balance I was talking about. Whether I'm able to participate on a development of an instrument or a medium, or whether I'm only a blind user. It's the issue of the black box, which is still around.
Where should this border be?
SA: As an electronic musician, I see the border somewhere between Ableton Live and Max MSP, but now these two softwares were connected in Max for Live, and it's a paradox. The question is, can I do music only because I have the instruments, or can I use or build instruments because I have an idea about what kind of music I want to do. This is the difference.
To be self-sufficient and create your own tools of expression?
SA: I do both. Of course, I'm also a user of proprietary software and a consumer in some sense. I also do projects where the idea or the imagination of the result is the first step to building the instruments for its realisation.
When you work on a project, is the idea or the concept of it more important than the actual sound? Do you have a certain hierarchy of these processes?
SA: I'm trying to enjoy all these elements. It's true that when someone asks me about music, I say that I hate it. It might be paradoxical to hear it from me, but I get skeptical about the use and abuse of listening and consuming of music. Sometimes I enjoy playing or listening to music, or creating sounds, just intuitively. Other times I stop a project at the moment when I have no clear idea about its final concept.
What you do nowadays, do you still consider it music, or is it more sound/art?
SA: It depends on the situation, where the sound or music will be heard or seen. I have no strict borders. I was asked to make music for a dance performance, but the result was a more in line with a conceptual soundtrack, because it wasn't so musical or emotional in the end.
You also use samples and ready-made sounds, how do you then compose these into sonic structures?
SA:  I only use my own samples, field recordings. I said I hate music, because sometimes – and I don't mean to be negative – I just don't like this primitive enjoyment of music and its emotions. More important to me is the aesthetics of the acoustic quality of sound. This is present for instance in the music of Alva Noto and similar artists. To me it's more like sound architecture, rather than the emotional musicality of the sound material. But it is not about technical parametres from a sound engineer's point of view, it is about aesthetics.
So for you the structural qualities of a music are more important than the suggestive?
SA:I'm really glad when I forget the knowledge of a sound engineer and I feel – but to me it's not about emotions based on groove, movement and dance. It's more about a satisfaction from the acoustic construction or relationship of the sound being in a balance that I like, in touch with my imagination.
Do you have in mind the effect your sound will bring onto the audience?
SA: Since I started with music in bands, I've always been used to playing for an audience. For four years, I was a member of the improv live cinema project called Microloops where I created improvised soundtracks for abstract analogue generated projections. It was an experience of making something from nothing for audiencein real time. It is very important to be sensitive to audience in this case. And this is an aspect which I keep in a large chunk of my work. It's a challenge, but I like it, it's like an adventure.
You also work in theatre. How do you deal with sound in this context and how does it differ to your other sonic projects?
SA: Working in theatre can get difficult, because the level of connecting music or sound design in theatre in the Czech Republic is not where I'd like to see it. It's sometimes just about making an illustration of the interaction between the actors on stage. It can get nice though. Once I worked on a piece where I could work on an interaction between the sound and the projection.
Which aspect of working with sound is the most interesting to you, since you have worked on a lot of its perspectives – the sound engineer, the musician, the sound designer, the sound artist. Is there one that's the closest to you?
SA: I don't see many differences between these parts. Sometimes it can be good to have an experience of sound design on a commercial project, to do location sound for shooting, for instance. It's good to know what is on the other side of my field.
What are you working on right now?
SA: I'm starting to work on a movie about Czech hikers, so this is more sound design work for audiovisuals. I'm planning to go with my friend to countryside for one week and make recordings from stones and bass guitar. I managed to find nice stones in a really interesting place near Prague, which were part of a roof of an old church. I have also some recordings from a coal mine from four years ago. I was in an underground shaft and recorded a lot. It's lot of gentle noises and mechanical sounds. The reverberation of space is specific. I would like to make a composition from them.